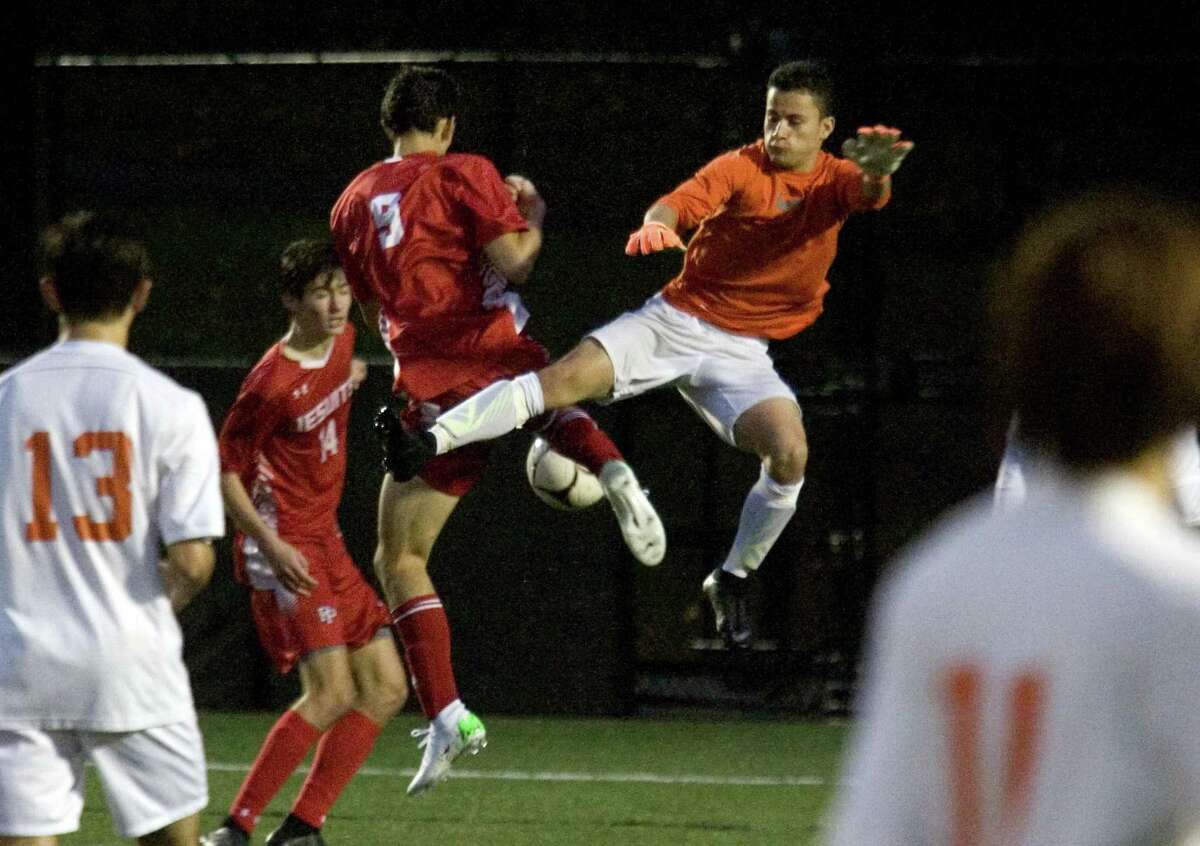 FAIRFIELD — Fairfield Prep boys soccer coach Ryan Lyddy said he knew early in Tuesday's Class LL first round state tournament game that his team was going to win. In fairness, though, a spunky Stamford team was playing the Jesuits fairly even and was within two with 11 minutes remaining in the second half.
Those final 11 minutes did prove Lyddy right as his team scored two goals to earn a 5-1 victory. Those final 11 minutes also left a bit of a bad taste in everyone's mouth.
"After the first couple of minutes I knew we'd win the game," Lyddy said. "Anyone could've seen that. We were the better team. And then Stamford showed their true colors at the end."
The final 11 minutes were marred by some chippy play by both teams and some calls by the referee that did not sit well with the Black Knights and their coach Mario Caminiti. Stamford was given one yellow card and two red cards in that time after each team had been given a yellow earlier in the game.
"There were a lot of questionable calls," Caminiti said. "And then I think both teams lost focus, and then we lost our composure. Everything, the environment, got out of hand."
The first 69 minutes went well with third-seed Fairfield Prep (18-1-1) in the lead but with No. 30 Stamford (6-8-3) hanging in. Prep had taken a 1-0 lead on a boot by Jose Maria Garcia-Mina in the 29th minute to give the Jesuits, who will host East Hartford Thursday at 2 p.m., a 1-0 halftime lead. The goal was set up by a nice through pass by Axel Whamond.
Whamond then made a great individual effort to give Prep a 2-0 lead in the 52nd minute, beating SHS goalie David Collazo (nine saves) from 10 yards out.
Prep then took advantage of a Stamford penalty and Joe DeVellis converted on the penalty kick with 13 minutes remaining in the second half. But the Knights answered that when Brian Coronado knocked a rebound two minutes later past Prep goalie Ryan Cowles (three saves) and it was 3-1.
Then the craziness started.
"Stamford is an FCIAC team and their record didn't matter, we weren't going to take them lightly," Lyddy said. "But they showed their true colors late in the game. Stamford didn't show any discipline."
"I feel we had the upper hand for 50 or 60 percent of the game," Caminiti said. "In the second half we started to lose a little focus, maybe we were spent.
"As for the red cards and everything that happened, I think we needed everybody, the ref, the players, to be on the same page, and that was not happening."
Prep added two more goals while the Knights were shorthanded due to the red cards. DeVellis first scored his second goal of the game from 10 yards out with 2:29 remaining on the clock against SHS's second goalie Estevan Vargas before Santiago Gil capped the scoring with 17 seconds remaining.
So now Prep is four wins away from its first state championship. The Jesuits were runner-up in 2012.
"It's one at a time," Lyddy said. "It's great to think about (winning the title) but hopefully we can get one closer on Thursday."
FAIRFIELD PREP 5, STAMFORD 1
STAMFORD 0 1—1
FAIRFIELD PREP 1 4—5
Goals: S — Brian Coronado; FP — Joe DeVellis 2, Jose Maria Garcia-Mina, Axel Whamond, Santiago Gil. Assists: FP — Whamond. Goalie saves: S — David Collazo 8, Estevan Vargas 1; FP — Ryan Cowles 3. Records: Stamford 6-8-3, Fairfield Prep 18-1-1.