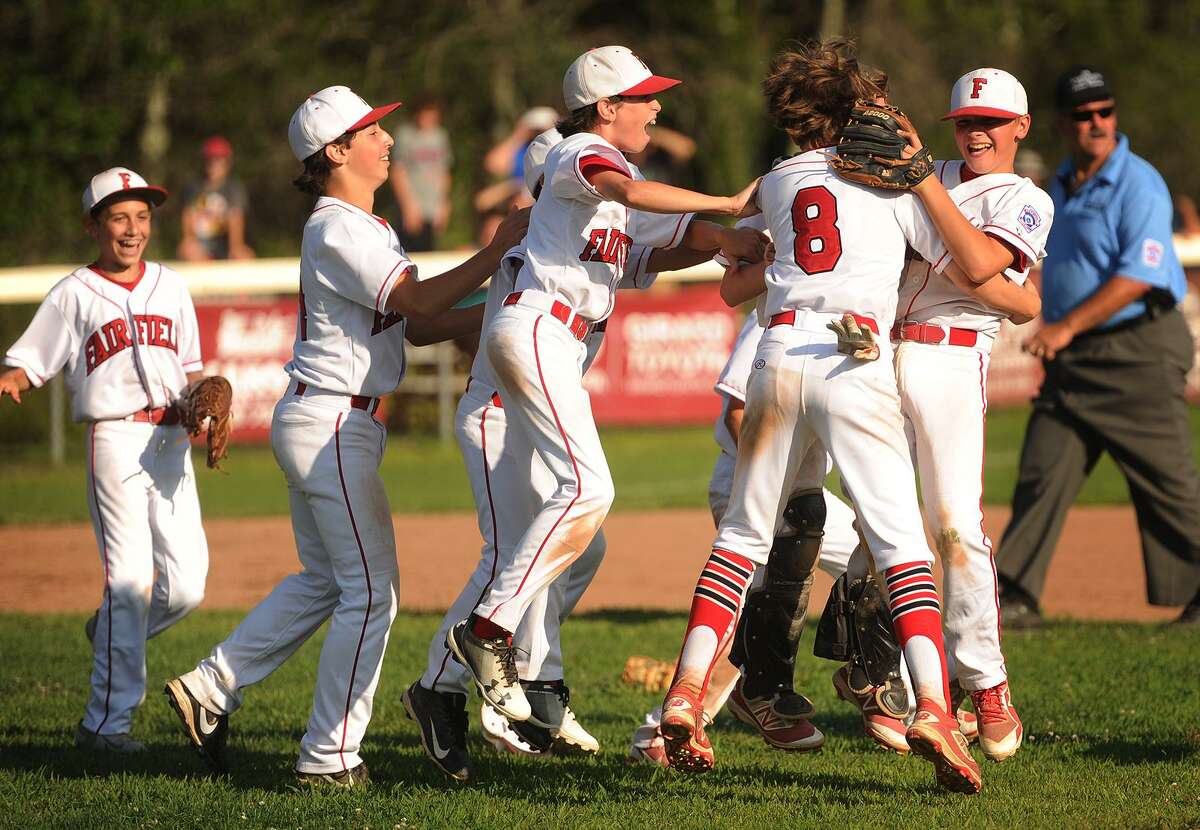 EAST LYME — When manager Jeff Gouley and coaches Scott Balkan and Mike Donahue got together and assembled the 2018 edition of the Fairfield American all-stars, expectations of just how good they could be were, at best, questionable.
The 2016 Fairfield American team had reached the New England Regional final. The 2017 team went all the way to Williamsport, Pa., and the Little League World Series, making the United States semifinals.
But 2018? This was a brand-new team. Thirteen new faces. There was potential yes, but just how good could they be? Even Gouley wasn't sure.
"Our goal wasn't the state championship this year," Gouley said. "We didn't think we had that lofty of an expectation, we had nobody coming back from last year's team, so, the pitching between Pierce (Cowles) and Will (Meyers) and Charlie (Yates), they've been beyond our expectations, it's been amazing."
Fairfield American defied the odds and won the state championship for the third straight year and punched its ticket to Bristol for the New England Regional, thanks to an 11-9 heart-stopping, nerve-wracking victory over Manchester in the state championship game Sunday afternoon at President's Field.
"They did a great job. We haven't had one of these back-and-forth heavyweight battles … it was like, (Muhammad) Ali versus (Joe) Frazier, so this was great," Gouley said. "It's great. The kids work hard all winter and spring, they play AAU (ball) and they work with the coaches. It's a great tradition. It feels like it's an assembly line at this point, but I'll take it."
It is the third straight state championship for Fairfield American and the seventh since 2005. Fairfield now moves to the New England Regional in Bristol starting on Sunday, Aug. 5, with a game against Rhode Island at Breen Field at the A. Bartlett Giamatti Complex in Bristol at 1 p.m.
"We're just going to keep doing what we've been doing … This is great," shortstop Cowles said about winning the state title. "We're just focused on the next game. We're going to rest, get healthy and come out on fire."
This was the ninth straight win for Fairfield American in postseason play as Fairfield improved its playoff record to 13-1.
"We didn't even make it out of playoffs last year, so this is kind of a crazy for us," Yates said. "We're happy to carry on the legacy."
Fairfield American scored four times in the second to take the lead as Robbie Donahue doubled, Timmy Domizio singled, Aidan Gouley reached on an error to make it 1-0 and Jude Gussen doubled in two runs for a 3-0 Fairfield lead. Meyers' single pushed the margin to 4-0.
A single from Manchester's Mason Breton — who went 3 for 4 with two singles and a monster home run — and a triple from Alex Pellitier, cut the Fairfield lead to 4-1 in the third, but American regained it four-run cushion in the bottom of the frame when Domizio hit a solo home run to make it 5-1.
In the top of the fourth, Fairfield came apart defensively, making four errors and along with two Manchester hits as four runs scored to make it a 5-5 game.
"Those things are going to happen. I told them to relax, the next ball that comes to you, catch it and throw it," Gouley said. "They're worked so hard all summer, they have one bad inning, that's OK. I'll take it. Yes, it was in the state championship, but our bats backed them up."
In the bottom of the fourth, after Cowles was intentionally walked for the second time, Yates banged an RBI single to give Fairfield a 6-5 lead.
"Obviously, it made me kind of mad because they don't want Pierce and they want me," Yates said. "So, that kind of drove me to put the ball in play and I wanted a base hit up the middle but it all worked out. I wanted to come up big, tie game, a lot on the line. I had to make it count."
"I was really happy that Charlie picked me up after that," Cowles said. "He did his job and we scored the run and then we got going."
Indeed. Four hits, two walks and an error accounted for a four-run fifth inning that gave Fairfield American a seemingly insurmountable 11-5 lead heading into the top of the sixth.
But Manchester never rolled over. Breton hammered a three-run homer and Pellitier had a solo shot off reliever Yates to make it 11-9, but Yates managed to get the last two outs and punch Fairfield's ticket to Bristol.
"We always talk Manchester magic, but we just fell a little bit short," Manchester manager Don Diehl said. "Our defense … we were back on our heels, made a lot of errors today, that's what hurt us. All the unearned runs that we gave up today, that was the difference in the game today.
"Even going into that last inning (down six) and we talk about not being rattled. They were composed and we were taking it one at-bat at a time. We kept fighting. In other tournaments, we came from behind and we thought we could do it again, so we gave it a shot."
FAIRFIELD AMERICAN 11, MANCHESTER 9
MANCHESTER 001 404—9 11 6
FAIRFIELD AMERICAN 041 15X—11 11 5
Batteries: FA – Will Meyers (W), Charlie Yates (6) and Timmy Domizio; M – Jack Stokes (L), Stew Harrison (5), Cedric Hakaim (5) and Easton Masse
Highlights: FA – Timmy Domizio hit a solo HR and scored two runs; Jude Gussen went 2 for 2 with a double and two RBI; Will Meyers went 2 for 2 with two RBI and scored a run; M – Mason Breton went 3 for 4 with a home run and four RBI; Alex Pellitier had a triple, a home run and had two RBI.