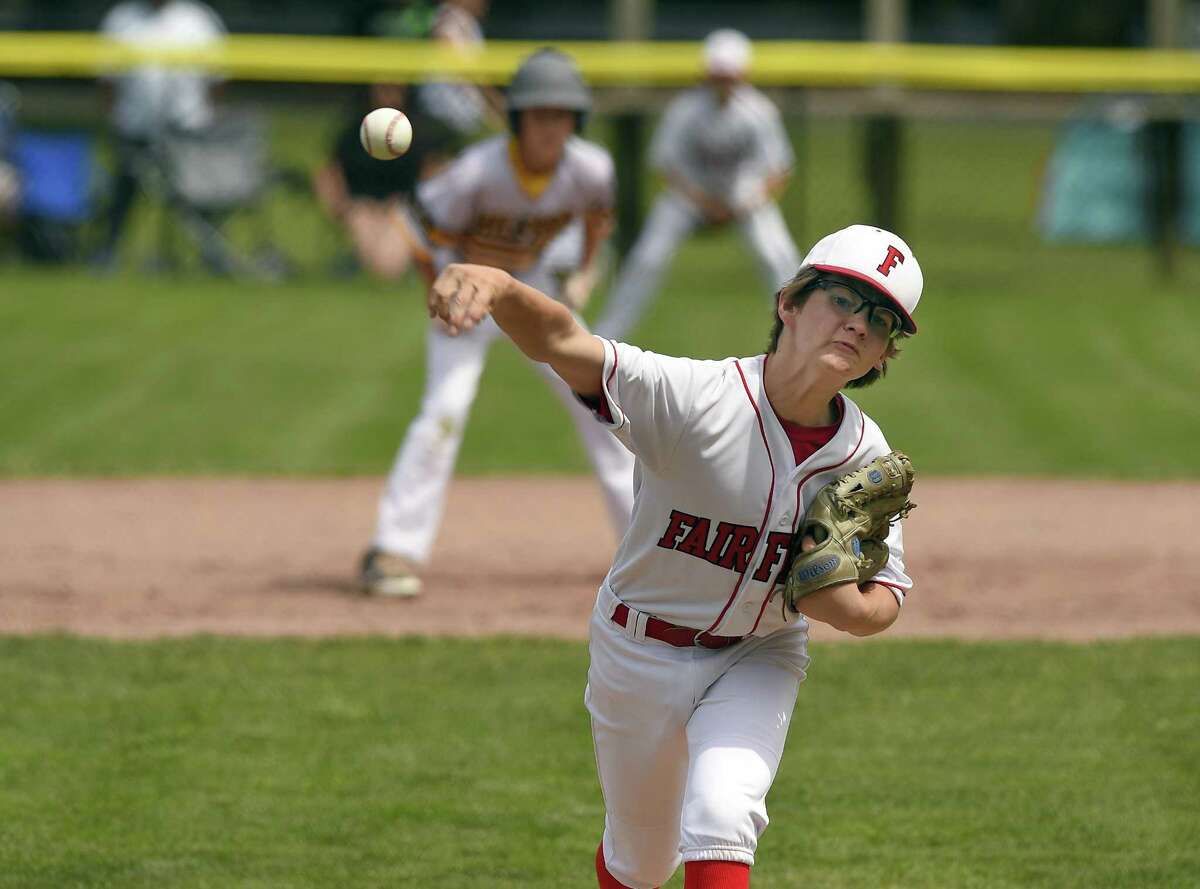 STAMFORD — Throughout the District 2 and Section 1 tournaments, the winning formula for Fairfield American has been stellar pitching, clutch hitting and solid defense.
And against Milford in the Section 1 championship, all three ingredients again worked to perfection.
Pierce Cowles pitched five-plus innings, allowing just two runs, Robbie Donahue and Liam Grady banged two-out RBI hits and the defense turned a huge double play in the fifth inning as Fairfield American defeated Milford/Lou Gehrig 5-2 Saturday at Springdale's Dortar Park to win the Section 1 championship.
"I'm speechless, it's just great," said Cowles, the winning pitcher who also hit a two-run homer. "Last year, we lost to this team in the Sea Breeze tournament (as 11-year olds), we didn't even make the district tournament, so this is sweet."
Fairfield American, now 10-1 in postseason play, advances to the State Tournament in East Lyme, starting on Wednesday with a game against the Section 2's Wallingford at 8 p.m. The Section 3 and Section 4 champs meet at 5:30 p.m.
"It was a great run. We just fell a little short of what we'd like," Milford manager Rob Hansen said. "I wish Fairfield American all the best. We were tough to the end."
In their first Sectional meeting on Thursday, Fairfield American scored eight times in the second inning and put together a 10-0 four-inning mercy rule victory. But Milford rallied back to eliminate Weston 5-4 on Friday and earn a rematch.
"They're gritty kids. They came to play today," Hansen said. "We did not play well against (Fairfield) the other day, we played very well last night and we knew we had another game in us, we gave ourselves the opportunity, they made a few plays more than we did and they had a few more hits, that's baseball."
Fairfield American used four walks and a clutch two-run single from Donahue to take a 2-0 lead in the top of the first as Milford starter Hunter Hoxie struggled with his control, throwing 41 pitches in the first inning.
Milford answered with a run in the bottom of the first when Kasen Lanese — who went 3 for 3 — singled and advanced to second on an error. A wild pitch moved him to third and he scored on a ground out to cut the lead to 2-1.
But Fairfield American used a two-out walk to Jon Morris in the second and a two-run home run from Cowles — his eighth of the postseason — to make it a 4-1 game.
"Hunter battled. We knew he would do that for us," Hansen said. "We came in with the mindset that we wanted our two lefties throwing today, they hit fastballs very well so with Hunter and Kasen (Lanese), we were looking to mix speeds as much as we could. Hunter gutted it out. He wasn't hitting his spots, but he made big pitch after big pitch when we needed it."
So did Cowles. Milford put runners at first and second with one out in the third, but Cowles got a strikeout and a 1-4-3 ground out to end the inning. In the fifth, with Milford runners again at first and second with one out, Cowles induced a 1-6-3 double play to end the threat.
"That was great. We've been working on PFPs (pitchers fielding position)," Cowles said. "Double plays from the pitcher's mound all season and plays like that win games."
In the sixth, Fairfield put together an insurance run when Donahue walked, advanced to second by tagging up on a deep fly ball to right off the bat of Aidan Gouley and he scored when Grady doubled down the left field line to make it 5-2.
"That was great. Total team effort," Fairfield American manager Jeff Gouley said. "Robbie tagging from first on that ball to right. That got him in. He doesn't score from first base. Small plays like that, I told the guys, are going to be huge as we move along."
Cowles got the first two outs in the sixth before reaching his pitch count limit (85), giving way to Charlie Yates, who struck out his only batter to end the game.
"We needed a great game from one of our aces this time," Jeff Gouley said. "We knew it was going to be a six-inning game and tight to the end.
Pierce pitched great, he hit his spots most of the time, so just kept doing what he's been doing."
After the game, Hansen talked about his team's effort.
"That was a great baseball game," he said. "I am nothing but proud of these kids … the effort they put forth. This was a great game. I loved every bit of it."
FAIRFIELD AMERICAN 5, MILFORD/LOU GEHRIG 2
FAIRFIELD AMERICAN 220 001 — 5 5 1
MILFORD/LOU GEHRIG 101 000 — 2 4 0
Batteries: FA — Pierce Cowles (W), Charlie Yates (6, S) and Timmy Domizio; M — Hunter Hoxie (L), Kasen Lanese (4) and Nolan McKenna-Hansen
Highlights: FA — Jon Morris walked twice and scored two runs; Pierce Cowles homered and had two RBI; Rob Donahue had a two-RBI single and scored a run; Liam Grady had an RBI double; M — Kasen Lanese went 3 for 3, scored a run and had an RBI; Gavin Kaminski had a single and an RBI.