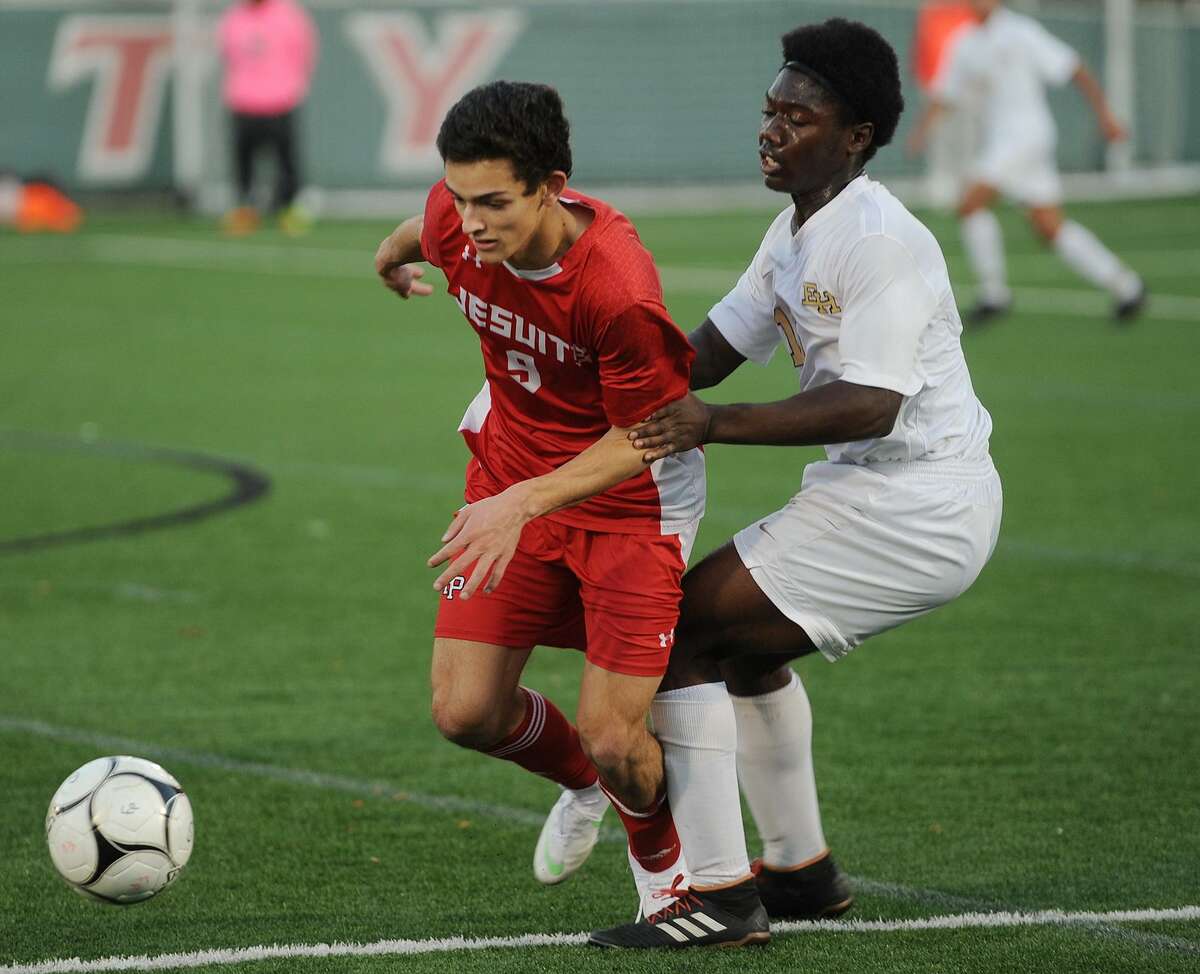 FAIRFIELD — On Thursday afternoon Fairfield Prep wanted to extend one of the best boys soccer seasons in its school history.
East Hartford had different ideas.
Two goals from Robert Sam helped the No. 19 Hornets pull off a 3-0 upset of the No. 3 Jesuits in the second round of the Class LL tournament at Rafferty Stadium. East Hartford moves on to play at No. 6 Danbury Saturday in the quarterfinals.
Two days earlier East Hartford made the trek to Fairfield and defeated Ludlowe in the first round 2-0 — both goals scored by Sam.
"They have good teams here," Sam said. "Ludlowe, Warde and Prep. We've been looking at this a while now and now that we're here, we're here to perform."
Fairfield Prep, the SCC champion, finishes its season at 18-2-1.
Another upset goes the way of a very talented @EHHornets1 squad, as the Hornets take down Fairfield Prep, 3-0! @Ehhs826High #ctbsoc pic.twitter.com/wK9KawGfcD

— CT Sports Now (@CT_Sports_Now) November 9, 2018
Afterward Jesuits coach Ryan Lyddy took a big picture approach. He highlighted out-of-state wins against Massachusetts' Boston College High and St. Anthony's of New York, along with numerous players moving on to play in college.
"Anything happens in the state tournament," he said. "Anybody who's been coaching a long time will tell you that. So you look at one game over a whole season, I'll take the whole season over this game."
In the first half neither side created many chances.
Sam gave the Hornets a 1-0 lead in the 51st minute. He used his 6-foot-3 frame to power through a pair of Jesuits defenders and deftly finished from close range with his right foot.
"(Sam) was probably the toughest opponent we faced all year marking-wise," Jesuits senior Ross Keblish said.
Down a goal Prep pressed forward, but it left space for East Hartford to capitalize on the counter attack. Sam doubled the Hornets' advantage six minutes later using his speed to find space in the Jesuits defense.
"We watched some film on them and they didn't seem particularly great, but we always know to come out and expect that any team can beat us, but obviously today they played better than we did," Keblish said. "They wanted it more. They earned it, we didn't. It was that simple, but it was a great season for us and I wish them the best of luck in the state tournament."
East Hartford (11-4-3) finished it off with 11 minutes to play — again on the counter attack. This time Wilbert Hercules streaked up the left side and centered to Emmanuel Ofori to make it 3-0.
The Jesuits best chance in the second half came through senior Axel Whamond, who got behind the Hornets defense with about 20 minutes remaining, but his shot went wide.
"I'm sort of banking on the fact teams will take us for granted," East Hartford coach Michael Vendetti said. "I'm trying to use that as the ace in the hole. Eventually it will catch up with us."
PLAYER OF THE GAME
Robert Sam, East Hartford — The 6-foot-3 senior scored twice and dominated the game with his pace and physicality at the top of the Hornets attack. Sam has 15 goals on the season and said he hopes to play in college.
QUOTEABLE
"We should have just gotten a hotel on this side of the state." — East Hartford coach Michael Vendetti, whose team defeated Fairfield Ludlowe and Fairfield Prep in the first two rounds and now plays at Danbury in the quarterfinals on Saturday.
EAST HARTFORD 3, FAIRFIELD PREP 0
EAST HARTFORD 0 3—3
FAIRFIELD PREP 0 0—0
Records: Fairfield Prep 18-2-1; East Hartford 11-4-3
Goals: EH—Robert Sam 2, Emmanuel Ofori; Assists: Wilbert Hercules; Goalies: EH—Julio Argueta (4 saves); FP—Ryan Cowles (5)