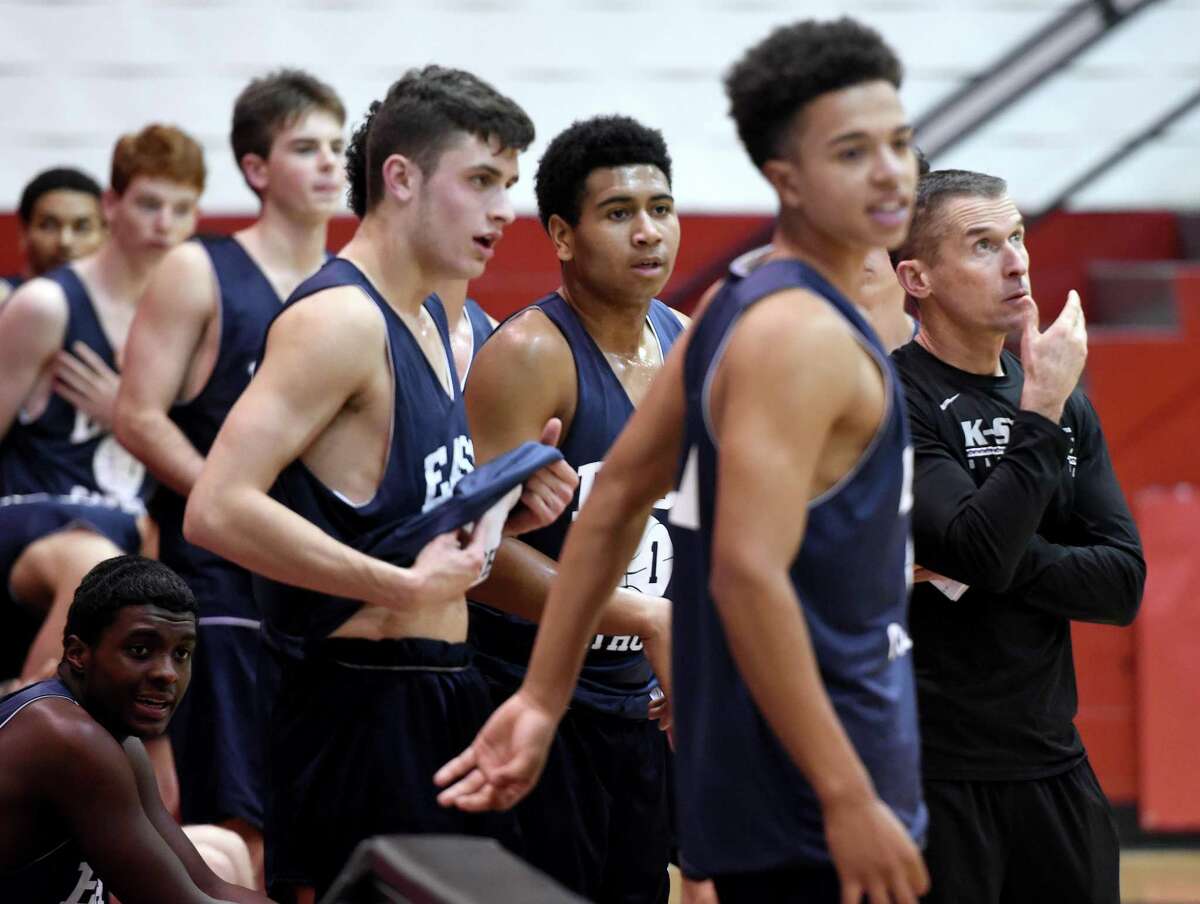 It took another 5 1/2 weeks, but the state is still going to get the premier matchup the sport of boys basketball has to offer.
No. 1 East Catholic travels to No. 2 Windsor Tuesday night for a Central Connecticut Conference showdown that begins at 6:45 p.m. The game was originally scheduled on Dec. 20, 2019.
"Both teams have been very successful. Sooner or later, you are going to face successful teams," East Catholic coach Luke Reilly said. "For us, we've been fortunate to play in some big games, but we will get ready to go like its any other Tuesday."
The two teams have been ranked in the top two spots all season long. East Catholic and Windsor have reversed since the preseason poll when Windsor started out at No. 1. The Warriors lost three games at the Battle of the Villages Tournament in Florida in December.
So neither team has lost a game against state competition. East Catholic (11-0) beat Windsor (9-3) two out of three times last year, including the Division I state championship game to finish at No. 1 in the final poll.
The Eagles have not missed a beat despite four new starters this season around Matt Knowling, who will play at Yale University next season.
"The guys behind the scenes worked hard every day waiting for their opportunity," Reilly said. "As we tell them, 'When your opportunity comes, be ready."
East Catholic has not lost a regular-season game since Dec. 22, 2016. A win Tuesday would give the Eagles 70 straight during the regular season.
Windsor's last three regular-season losses against state competition were to East Catholic. The last team other than the Eagles to defeat the Warriors was Hillhouse on Dec. 27, 2017.
But Windsor did hand East Catholic its only two losses the last two seasons: the Division I quarterfinals in 2018 and the CCC tournament final last season. Senior guards Amir Spears and Corey McKeithan lead the way for the Warriors.
Last year's regular season game at Windsor was a sellout. So plan on getting there early.
TALE OF THE TAPE
| East Catholic | Category | Windsor |
| --- | --- | --- |
| 11-0    | Record | 9-3 |
| 1 | Poll Ranking | 2 |
| CCC | Conference | CCC |
| Luke Reilly | Coach | Ken Smith |
| Matt Knowling | Key Player | Amir Spears |
| I  | CIAC Division | I  |
| Eagles | Nickname | Warriors |
| Dec. 22, 2016 | Last Reg. Season loss to CT opponent | Feb. 15, 2019 |
| 6 | State Titles | 4 |