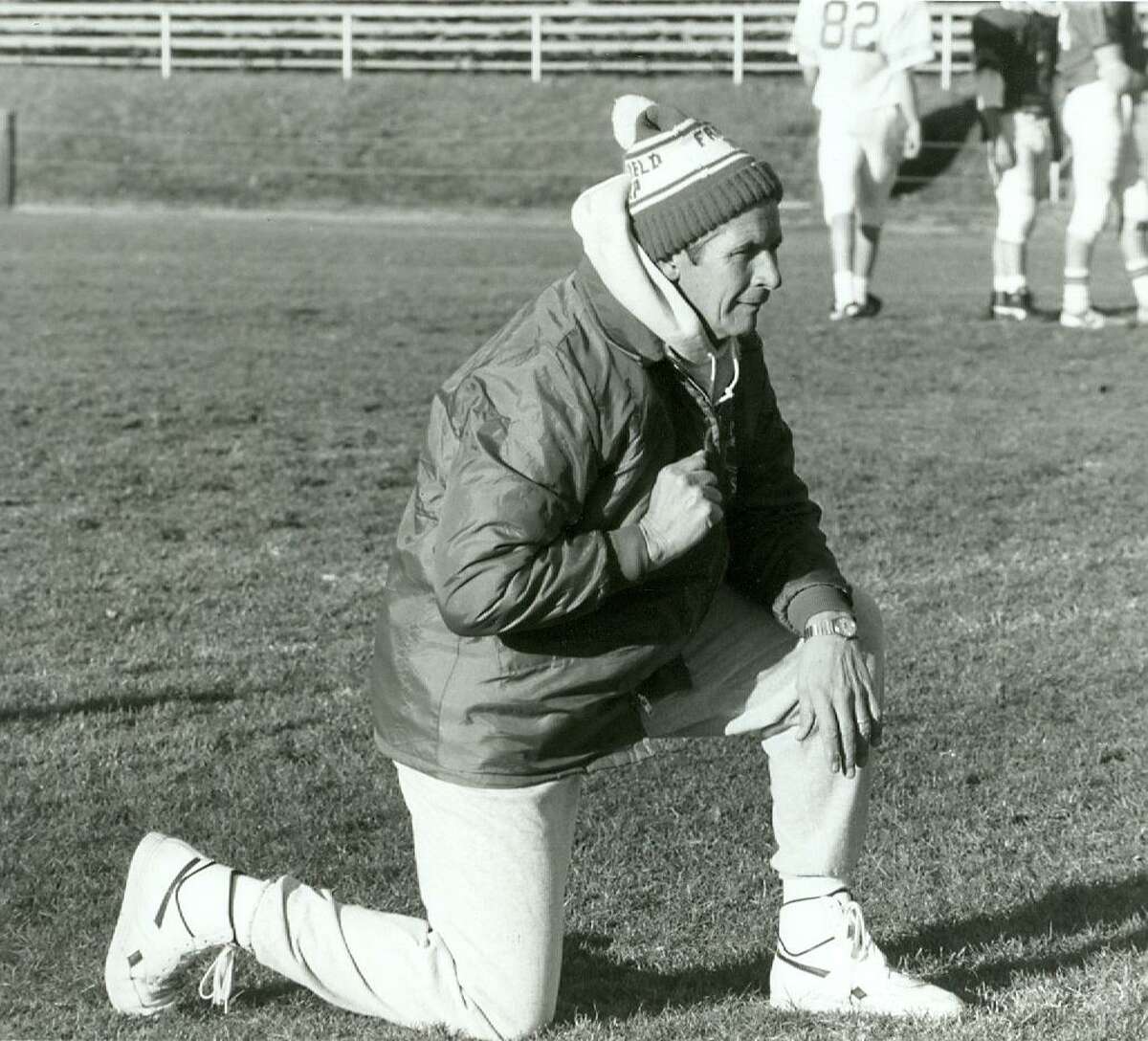 FAIRFIELD — The plaques that stand in the corner of the Fairfield Prep practice field have a brief description of the Jesuits greats that worked to make the Prep football program the elite program it is today.
Earl Lavery's plaque has just three words to describe his contributions.
Gentleman. Motivator. Winner.
Lavery — the head coach at Fairfield Prep for 27 seasons, from 1965 to 1992 — died on Monday at 86, the team announced. Overall, Lavery won 230 games, lost just 53 and tied 8. He won three CIAC championships — 1977, 1982 and 1988 — and was state runner-up in 1976.
Heavy hearts today as we learn of the passing of one of CT's all time greats. Never a finer football gentleman than Earl Lavery. https://t.co/VFIP2fmQho#cthsfb #TheDuke #HailFairfield pic.twitter.com/ASiRAq4eIZ

— Ffld Prep Football (@Prep_Football) August 27, 2018
"I had the chance to play for him and coach with him on the first state championship team (1977), I was just out of college and Earl was always three yards and a cloud of dust kind of coach," said Tom Shea, who was the head coach at Prep for five seasons from 2010-14 and is currently the junior varsity head coach and the varsity tight ends and defensive line coach.
"We were a straight T offense, but boy, he would scheme the defense … Man, he would go into tremendous detail every week. Our defense was designed to specifically stop what the opponent was going to do. The offense never changed. But the defense … He knew. Defense wins championships."
And Prep won three CIAC titles, winning the Class L crown in 1997, winning the 1982 L-I title and the 1988 Class LL championship. Prep also as the Class L runner-up in 1976.
"I played for him from 1970 to 1972 and after I got out of college I coached with him from 1977 to 1979," Shea said.
"A little known fact about Earl was he was a great singer. He had a beautiful singing voice, a tenor, but he never sang in practice, in fact, he used to have a couple of assistants that weighed at least 250, and Earl had to be around 280, and those three would get on the blocking sled and we'd have to push them through the dust and all I can remember is Earl saying, 'again … again … again.'"
At the end of practice Monday, Shea addressed the squad to tell them about Lavery, a dear member of the Prep football family.
"What I told them was, look, we have the Prep football family, players, families and coaches that go back 60 years and this is a great loss, I told them a bit about Earl and despite the 230 wins, for Earl, it wasn't about victories, it was about doing things the right way and having that selfless attitude, willing to sacrifice … you can't win unless you have that. When that's in place then you're going to go and win."
Keith Hellstern, starting his fourth season as Prep's head coach, remembered meeting Lavery at an Prep Athletic Hall of Fame meeting
"It was just great to meet him," Hellstern said. "When you talked to people who knew about Prep, they knew about Earl. He was an icon. An icon because of the way he went about his business, and it was more than just his success, it was his impact and if that isn't the lasting mark for what you think a high school coach should be, I don't know what is."
Over his 27 seasons as head coach, Lavery molded hundreds and hundreds of players' lives, making sure they stayed on the straight and narrow path.
"From my end, that's part of the reason why I got into coaching having people like that in my life," Hellstern said. "This job is an honor because of having paths blazed by some amazing men long before I got here. It's a loss we will mourn."