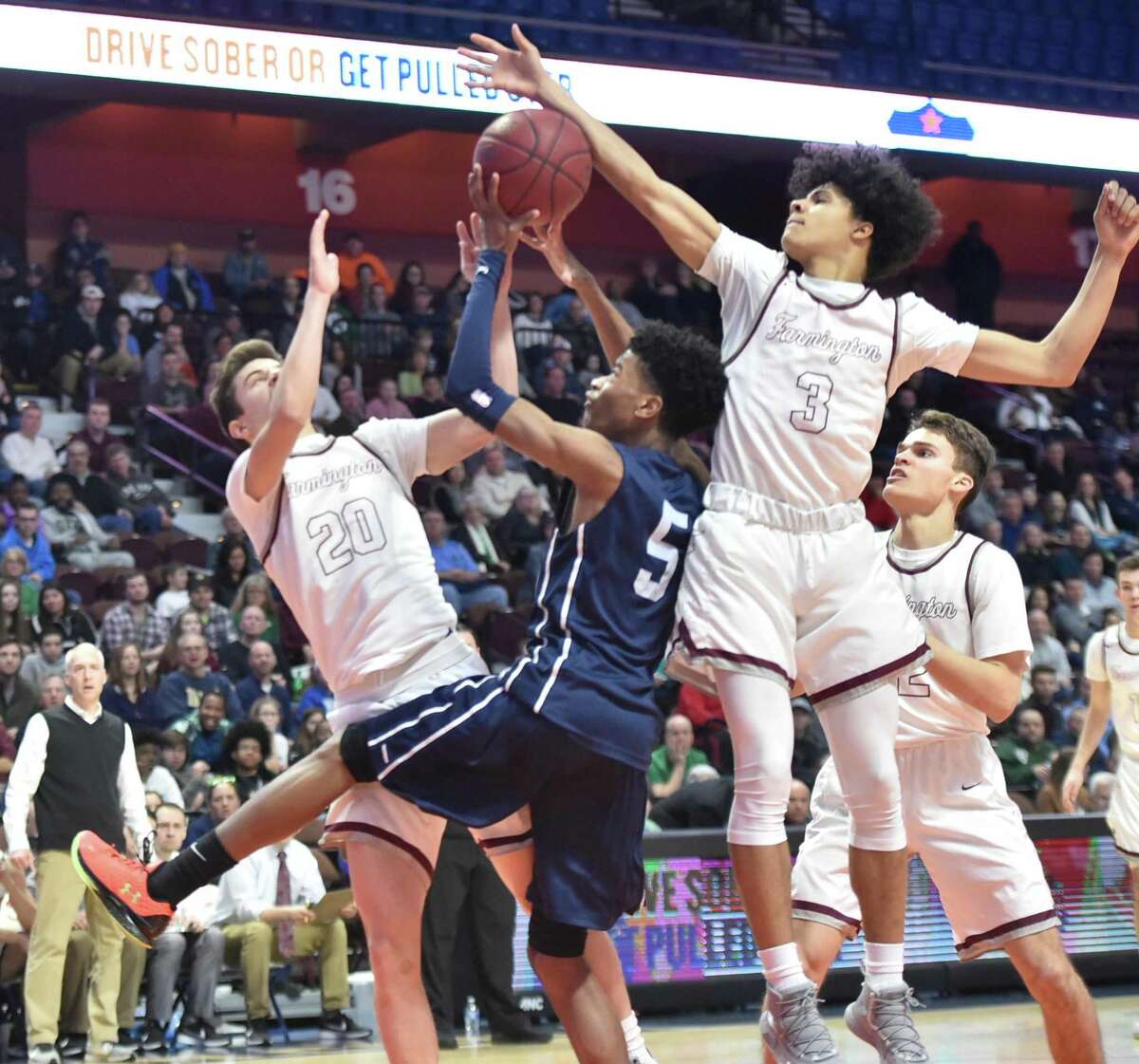 UNCASVILLE — With one quick burst to start the second half, Farmington took its first lead in the Division III championship final Sunday afternoon.
It was a lead the Indians never relinquished. Farmington's size and solid defense in the second half was the difference as the third-seeded Indians defeated No. 9 Amistad 55-45 to win the title at the Mohegan Sun Arena.
"It's really the kids. All year long, they have had great character,:" Farmington coach Duane Witter said. "The kids in the second half, they were not going to lose this game. They were not going to let it slip away."
This was the first state championship for the Indians (23-4) and their first appearance in a final since 1939.
"I am feeling like my coaching career is coming to an end. I've ben doing this for a long time," said Witter, who completed his 21st season as head coach. "Obviously, I've always dreamed about being a part of this game. Winning the game wasn't really a part of the dream. I've been dreaming about this my whole life. I'm not going to try and minimize this. It means everything to me."
Said 6-foot-7 sophomore forward Bube Momah: "We are still in awe right now. I won't process this until I go to sleep. It will hit me hard in the morning that we really did it."
Momah finished with 16 points, 17 rebounds and four blocks for Farmington.
Amistad got within one point, 42-41, in the fourth but could never draw back even.
"We were too rushed. With a 4-, 5-, 6-minute stretch, it was still a two-possession game. We rushed a little but on offense," Amistad coach Ryan Ott said.
Farmington started to assert itself as the second half began with its half-court trap. The Indians scored 10 points in the first 59 seconds of the third quarter to turn a nine-point halftime deficit into a 26-25 lead.
"In my head, call a timeout? Nope we got the ball into the guys we wanted. Then it turned into two more quick ones (baskets off turnovers), so when you look back on it, you regret it," Ott said. "I should have called a timeout one play earlier. …That's probably my No. 1 regret from a coaching standpoint."
Said Momah: "That was a huge turnaround for us. We never looked back, just kept going. That was great for us."
It ended up being a 20-2 run for the Indians to open up a 36-29 lead late in the third quarter.
Farmington came up with six steals in the third quarter overall with its half-court trap.
"It's been our best defense all year," Witter said. "Amistad is so athletic that we stayed away from it in the first half. That was my mistake."
Amistad's final hope ended on a charge call with 1:57 left. AJ Edwards, the Wolves' senior guard and leader, fouled out on a charge. He ended his stellar career with 15 points.
Amistad forced Farmington to shoot just 30 percent from the floor, including 3 of 16 from 3-point range. But Amistad was able to only knock down two out of 14 from 3-point range.
It ended a great tournament run for Amistad (18-7), the independent small school from New Haven that had never gotten past the second round in the CIAC tournament in this its 10th year as a varsity program.
Amistad defeated Berlin, Shelton and Torrington in succession to reach Sunday's championship final
"These kids are champions in the classroom," Ott said. "We wanted to be champions on the basketball court, but fell just short of that. The truth is these kids have established a legacy for Amistad basketball."
Amistad gave Farmington fits defensively in the first half, coming up with eight steals. The Indians committed 11 turnovers overall in he first half.
"They are bigger than us at every single spot on the floor, but the heart, the intensity, the determination, that's Amistad basketball right there," Ott said.
Despite being outsized, Amistad was able to contain Momah in the first half, holding him to 1 of 8 from the floor and just three points.
"Amistad in the first half did a great job of taking away Momah inside," Witter said, 'Even though they don't have the size, they have the athleticism. They were doing a great job of pushing Bube away from the rim."
Edwards picked up his second foul attempting to draw a charge with 6:45 left in the first half, but was instead whistled for his second foul. He sat out briefly before returning to the floor and scoring the last two baskets of the half for the Wolves.
SUPPORT ALL AROUND
Witter said he "received 100 text messages, 50 emails and everyone around town wished him good luck" heading into the state final. The team also received a police escort out of Farmington.
Amistad also had more than its normal crowd support as a number of people from the city of New Haven made the trip up I-95, including members and coaches from the Hillhouse girls basketball team that won the Class L state championship Saturday night.
"I heard a lot of noise, so I'm sure there was a large New Haven contingent to support us," Ott said. "The city loves to see its own even if they are loyal to different programs."
CO-PLAYERS OF THE GAME
Bube Momah and Makhi Hawkins, Farmington: Sophomore forward had 16 points, 17 rebounds and four blocks and senior guard Hawkins finished with a game-high 20 points, including 10 of 11 from the free-throw line, for the Indians.
QUOTABLE
"The entire state is talking about Amistad making it this far. I don't feel like we are an underdog. We are not a Cinderella. I feel like we have played teams like Farmington all year." — Amistad coach Ryan Ott
FARMINGTON 55, AMISTAD 45
Amistad (45)
Eli Blackwell 2-13 2-2 6, AJ Edwards 7-23 0-0 15, Jaden Ratliff 2-8 0-0 4, Cyprien Joseph 4-14 2-2 11, Justin White 0-1 0-1 0, Kyle Hartley 0-1 0-0 0, Isaiah Joyner 2-5 5-8 9. Totals 17-65 9-13 45.
Farmington (55)
Makhi Hawkins 5-15 10-11 20, Jake Dunst 1-8 0-0 3, Jacob Smith 3-5 1-4 8, Grayson Herr 2-11 1-2 6, Bube Momah 5-15 6-7 16, Tristan Grande 0-0 0-0 0, Tyler Cortland 1-2 0-0 2. Totals 17-56 18-24 55.
AMISTAD 12 13 10 10 — 45
FARMINGTON 7 9 24 14 — 54
Fouled out: AJ Edwards (Amistad). 3-point goals: 2-14 (Edwards 1-6, Joseph 1-5, Hartley 0-1, Blackwell 0-2); Farmington 3-16 (Smith 1-2, Herr 1-4, Cortland 0-1, Hawkins 0-3). Records: Amistad 18-7; Farmington 23-4.