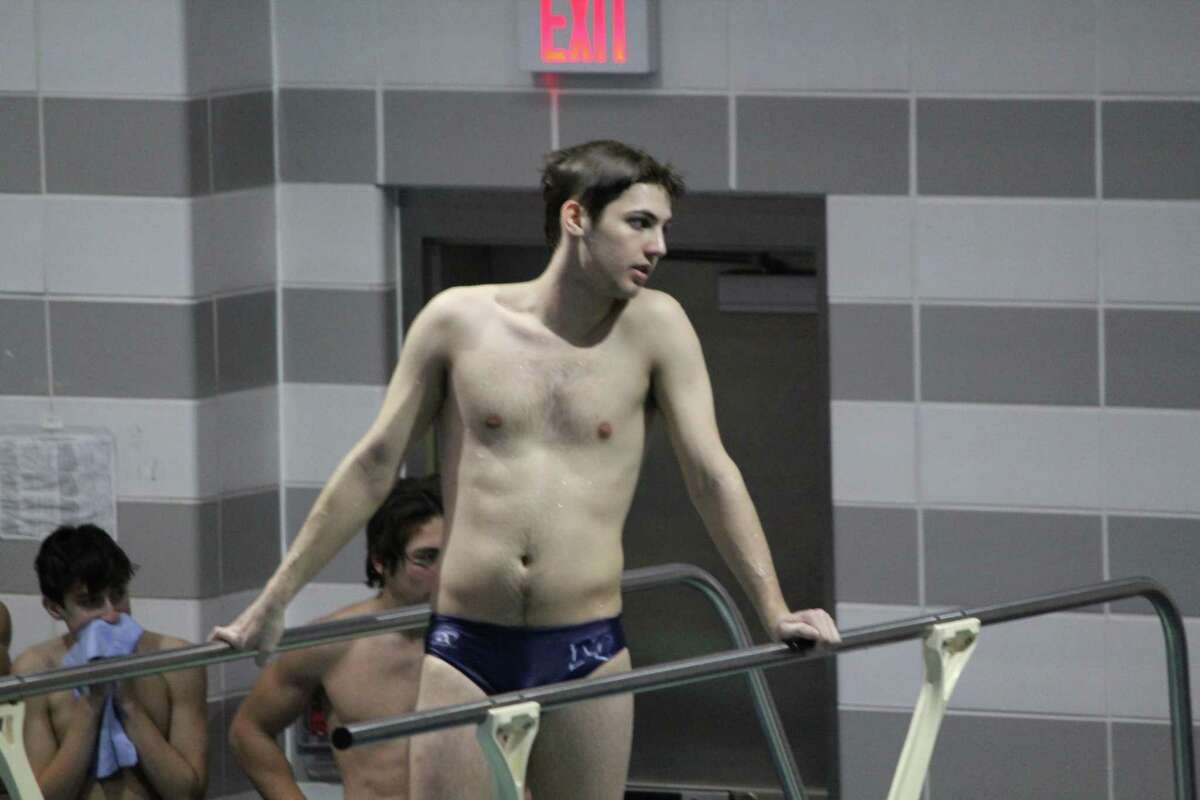 MIDDLETOWN — Tyler Wenzel pushes off the one-meter board with a fierce purpose, corkscrews through a one-and-a-half somersault and twist, and hits the water in a position that meets the approval of coaches Kim Caruso and Trevor Charles.
Wenzel might say the practice dive was "super" — an adverb he uses often to punctuate adjectives.
In the years he's competed at Middletown High, the senior has evolved from participant, to very good diver, to college prospect and, not once but twice, a school record-setter.
It is interesting to note that early in his junior season, Wenzel wasn't sure whether he had the desire to put more into it to create an opportunity for himself to compete beyond Grade 12.
"I was at a practice or a meet, I can't remember which, and I just remember enjoying it so much," he said. "I was doing every dive and I felt excited to see what I was going to do next."
It was this pivotal moment, soon followed by a heart-to-heart with his younger brother, Logan, that clinched his commitment to do more for himself.
"He said, 'You have to continue. You're going to regret it if you don't continue diving,' " Wenzel said. "And I said, 'you're right.' It's weird because my brother and I have had times when we're fighting a lot and times when we're serious and talk about wanting to see each other succeed.
"Him seeing how much fun I was having with diving, I thought, yes, you need to continue this. I wanted to see how far I could take my skills."
In the last two years, Caruso, Middletown's diving coach, said his progression has been "astronomical."
The evidence is clear. On Feb. 8 in a meet against Southington, Wenzel broke the six-dive school record held by Dan Kinney since 2014. On Feb. 27, he signed a letter of intent to compete at Division I Marist on scholarship. And on March 1, in the CCC South championship meet, Wenzel shattered the 11-dive MHS record by more than 50 points.
"Two years ago when I came here, Tyler had good basic skills, but he wanted to go up a level," said Caruso, who competed at the University of Delaware. "So, we had him do every single dive in pike position, plus we got him on the high (three-meter) board at Wesleyan. That was him saying, 'I see a future in diving, I want to push myself.' You can't be good at diving unless you really motivate yourself."
Between Caruso, Charles and Wesleyan assistant Devon O'Nalty, who has worked with him in the offseason, Wenzel has had intense instruction over the years. On Wednesday, he hopes it pays off again when he competes in the CIAC Class M championships at Hartford's Bulkeley High.
"He's come a long way. This year he's come into his own as far as his confidence," Charles said. "He can get nervous in high-stakes competitions, but he has embraced his role. A lot of guys can choke under the pressure. They start to think, 'I can't get it, I'll never get it.' But he has showed, meet after meet, consistent scores — competition or no competition. That's hard to do in diving because it's so much of a head game."
Wenzel scored 301.6 points to surpass the six-dive record established by Dan Kinney in 2014 by nearly six points, and has been around the 300 mark several times since. He got the record with strong marks on two inward dives, a front 2 1/2 and a back 1 1/2, all from the pike position, a back with 1 1/2 somersault and 1 1/2 twist, and a back 1 1/2 with somersault and half-twist.
"I'm obviously super proud of the record. I worked so hard to get there," Wenzel said. "In four years I had in my mind that I wanted to see my name on that board. But I'm most proud of how much my teammates respect me. When I see the other divers, Matt (Herrera) and David (Sands), look to me for help, it makes me feel like a role model to them."
Wenzel felt the six-dive record was his after the fourth dive. He said he had a "super nervous" warm-up before the event and was "super focused" on getting his technique just right.
"On the final dive, I might have been shaking a little," he said. "I felt in my heart and mind that it was good enough. When I saw the judges' score and looked up at the board and it turned to 301, I was so overjoyed, I might have shed a tear or two."
His mother and Caruso were not there to experience it, but his brother was.
"My brother was standing on the stairs and he was crying and we hugged, and the tears just started flowing," Wenzel said. "It was great to share the moment together." Mom got a hug at home and Caruso got a phone call afterward.
Caruso said the buildup toward the record is a result of Wenzel working hard, correcting mistakes, being coachable all of the time and mastering the detail that the sport demands.
"He's super mature, he's humble, a very fast learner and a very good listener, and that really helps. He is a hard worker and just easy to coach," she said. "He's an encouraging kid for his teammates and they look up to him. He is super motivating to them."
When the Blue Dragons met before the season to pick captains, Wenzel was one of their choices. It's uncommon for a team to pick a diver, his coaches say, because they are not in the middle of the action in practices and meets.
"That in itself speaks to his character," Caruso said. "They look up to him."
Wenzel credited Caruso for believing in him, which has helped his confidence, and setting realistic goals along the way. He has accomplished two — repeating as CCC South champ, and setting the 11-dive school record — and said he has a better chance at a state title in Class M than in Class L, where the Blue Dragons competed last year.
"I'm confident me and Kim have worked to a place where we have maximized the difficulty we can have in the dives and I can perform them to the best of my ability," Wenzel said. "Some who dive year-round were in Class L last year, so being in Class M now, I think I can do good things."
The top 12 scores from the four classes qualify for the State Open on March 12.
"There are one or two divers who will be good competition for me, and I know we'll push each other to be the best we can be," Wenzel said.
Charles competed at Marist after swimming at Middletown and helped connect his alma mater with Wenzel. The coach said it's uncommon for a college program to offer money to a diver. But then again, we're talking about Tyler Wenzel.
"He is a very mature kid and a natural leader who is super involved in a lot of other good things at school," Charles said. " 'He's incredibly bright, well spoken, manages his time well and checks off everything on the list you look at for leadership. He enjoys the sport and his focus is very level-headed. He decided, 'Let's keep diving, I will make my college experience much better if I do this.' "