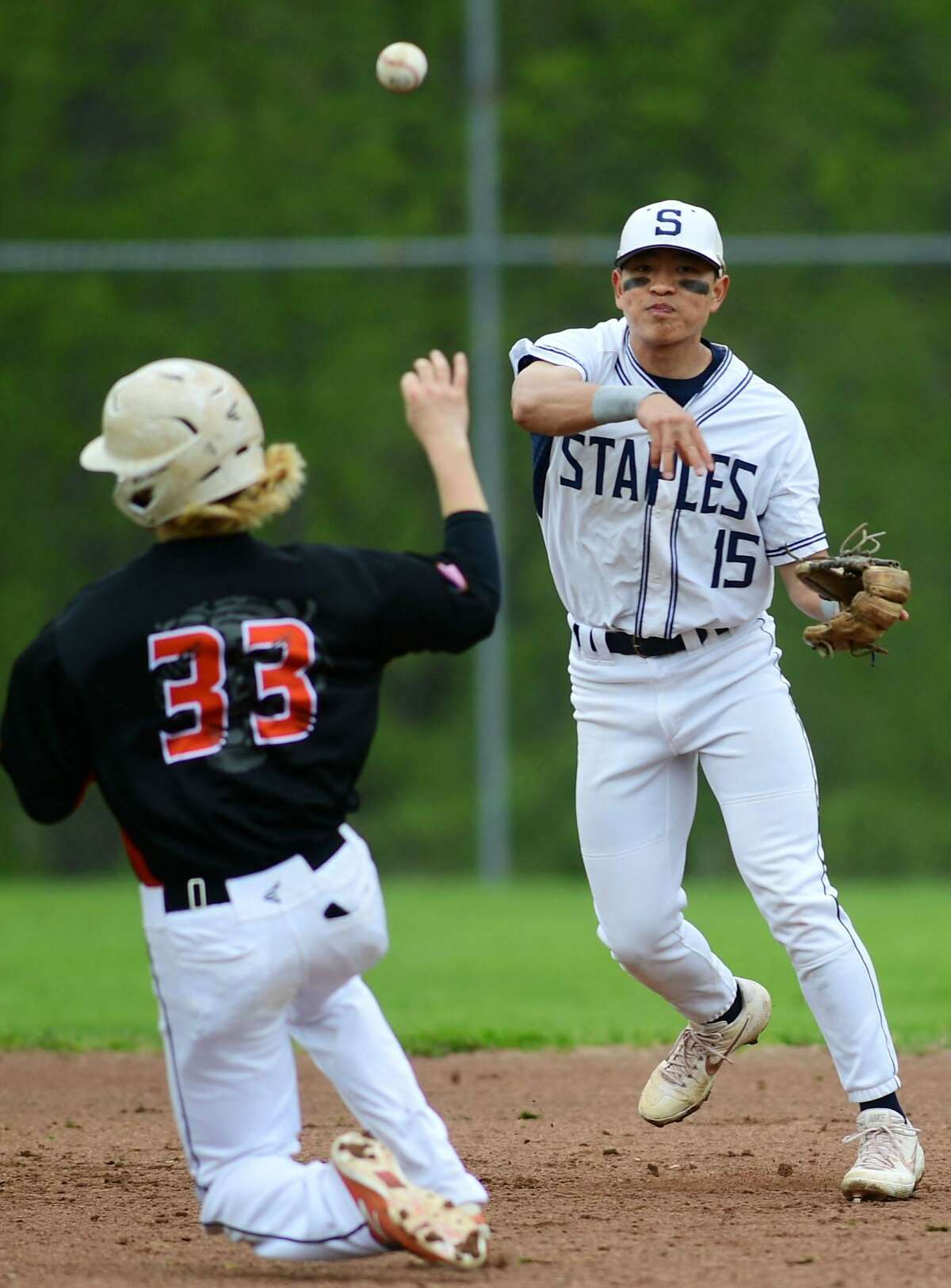 WESTPORT—In the fourth and fifth innings, Ridgefield hit a few hard lines drives for outs against Staples pitcher Alex Deutsch.
After the third out off a ball smoked, Deutsch and his pitching coach mixed it up, starting to mix in first-pitch breaking balls.
The Tigers did not have many hard-hit balls from that point forward.
Deutsch was masterful, allowing just a first-inning single in tossing a complete-game shutout as No. 2 Staples defeated No. 9 Ridgefield 2-0 Friday afternoon.
Alex Deutsch discusses his 1-hitter #ctbase pic.twitter.com/wgsdrZcSWy

— Scott Ericson (@EricsonSports) May 3, 2019
"Coach Trevor called a great game. He realized that and we switched it up," Deutsch said. "I had my fastball going today, curveball was good and the change-up was good, at times."
The runner that reached in the top of the first was wiped out in a double play and Deutsch did not allow another baserunner, pitching to the minimum 21 batters while striking out five.
Deutsch with a 1-hitter, faces minimum batters. Staples wins 2-0 #ctbase pic.twitter.com/sa9d3B8cM8

— Scott Ericson (@EricsonSports) May 3, 2019
Staples would score all of its runs in the bottom of the first.
Zack Zobel singled and Harry Azadian walked ahead of Adam Petro who delivered them both home on double to the fence in centerfield.
Staples would threaten, loading the bases I the second but would not be able to push across any more runs.
Staples' Adam Petro with a 2 RBI double gives the Wreckers a 2-0 lead through the first inning #ctbase pic.twitter.com/I1kvAVZGNP

— Pete Paguaga (@PetePaguaga) May 3, 2019
The Wreckers were held in check by Ridgefield relief pitcher Jack Costello who allowed just two hits over five innings of relief work.
He was aided by strong defense including a diving play by third baseman Matt DeLuca in the second with the bases loaded.
Deluca dove for the ball down the line, stepped on third for one out and fired across to first for the double play.
Ridgefield turns the 5-3 DP, while Staples had bases loaded to end the 2nd

Staples 2, Ridgefield 0 through 2 #ctbase pic.twitter.com/6IF1DTp36m

— Pete Paguaga (@PetePaguaga) May 3, 2019
"(Costello) was masterful against a team that swings the bat really well like that. That team is legitimately a top 5 team in the state," Ridgefield coach Paul Fabbri said. "It was pretty impressive stuff from a senior and he has probably earned a start, next week. That is Deluca's first game at third base and he did nice job there to get us out of the jam."
PLAYER OF THE GAME
Alex Deutsch, Staples. The sophomore was simply dominant on the mound, not allowing a runner to reach second base.
QUOTABLE
"That was really a big start, for us. We really needed length out of our pitching staff this week and we got that," Staples coach Jack McFarland said. "We could see they were hitting some lasers and he wasn't missing the bats, so, we go to mixing it up by throwing some off-speed pitches. He had a good change-up today and good command."
LITTLE LEAGUE DAY
Prior to the game, Staples had town Little league players get introduced with the varsity players on the field.
STAPLES 2, RIDGEFIELD 0
RIDGEFIELD 000 000 0—0 1 1
STAPLES 200 000 X—2 5 0

Records: R—10-5; S—13-2
Batteries: R—Luke Barrientos (L), Jack Costello (2) and Sean Livingstone; S—Alex Deutsch (W) and Chad Knight