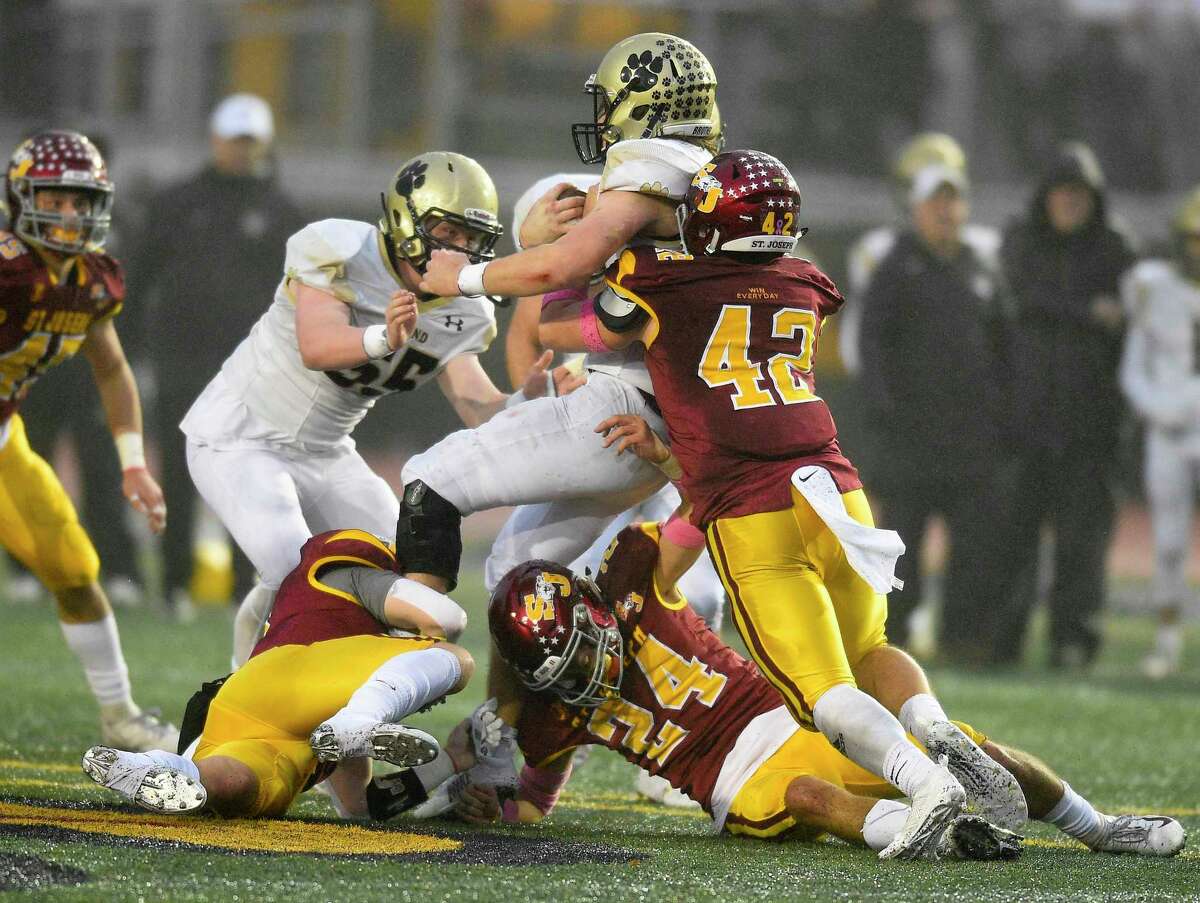 The state Department of Public Health recommended Friday that sports labeled as higher-risk for transmitting the novel coronavirus not hold full-team practices or play games this fall or winter at any level.
Those sports are 11-on-11 football, cheer, dance, wrestling and boys lacrosse.
The DPH had issued guidance for interscholastic competition but added "youth and other amateur sport activities" to that with Friday's release. It recommends that those higher-risk sports be limited to small-group conditioning and non-contact drills.
"(Higher-risk sports practices and games) should be suspended and reconsidered for the spring season unless additional safe and effective strategies can be developed and implemented, in consultation with sports medicine advisors, to significantly mitigate the spread of respiratory droplet emissions among participants," the guidance says. It suggests face coverings and other mitigation protocols for indoor small-group workouts.
The DPH only put those recommendations against practice and game-play on higher-risk sports. Indoor moderate-risk sports like basketball, volleyball, gymnastics and hockey got a DPH recommendation to go ahead "if appropriate modifications are feasible" to "significantly mitigate the spread of respiratory droplet emissions among participants," according to the guidance.
"The guidance is intended to guide local health departments, municipalities, and league organizers in assessing the risk of play, and will be re-visited later in the Fall or early Winter as the COVID-19 pandemic progresses," the DPH press release said.
All sports are recommended not to play against anyone from states on Connecticut's travel advisory list.
The Connecticut Interscholastic Athletic Conference had been in dialogue with DPH over its fall high school sports, a back-and-forth that led to the CIAC canceling its 11-on-11 fall football season earlier this month after the sport failed to win DPH recommendation.
That opened the door for private or club teams to organize full-contact football instead, if local health boards approved; youth football has been allowed under reopening guidelines since July 6. Friday's announcement likely puts more pressure on those local health boards.
It's not necessarily a game-breaker, though, said Mark Siems, one of the founders of the Connecticut High School Independent Football League.
"It's making it harder to get fields," Siems said, "but we have fields."
Arranging those fields has been one of their biggest challenges, but Siems said they've lined up at least four outdoor turf fields. Earning trust from parents and coaches has been another challenge.
But Siems and Dan Lacasky operate semi-pro football teams, the Silver City Wolves and the Connecticut Fire. Siems said that has made CHSIFL logistics like getting teams insured and arranging officials easier.
Meriden, home of the Wolves, was where 11-on-11 high school football seemed closest to being a reality this week. Meriden's two high schools, Platt and Maloney, got city approval on Thursday to play in town. The city board of education meets Tuesday to discuss it.
"Obviously we take any recommendation from DPH very, very seriously," board president Rob Kosienski said. "Ultimately, I think we'll be working with our coaches, our administrators, our central office team to find out what we can do and how we can best give our kids the best opportunity."
Kosienski said that while legal counsel recommended not sponsoring club teams, allowing the teams to use school facilities and equipment is acceptable if they play under some other independent banner.
"We're certainly not going to pay for a kid to participate in a private league," Kosienski said. "To let a kid use equipment — families traditionally can't afford (full equipment), at least Meriden families."
Kosienski said he didn't know against whom Platt and Maloney might play or in what league.
Depending on the size of teams, Siems said, the cost to play in the CHSIFL will come out to about $250-300 a player, not including equipment.
Siems said the league plans to have teams play seven games over eight weeks beginning on Oct. 24. In a typical year, the CIAC would play its championships on Dec. 12, about the time the CHSIFL plans to finish.
He wouldn't name them, but Siems said two teams have turned in rosters and six others plan to submit rosters shortly. The league expects to have 20 teams that won't necessarily all match up precisely to one school.
Eight-time state-champion coach Jack Cochran is also trying to assemble a league at Veterans Stadium in New Britain. Fairfield County teams are trying to attach a high school division to their local youth league.
GoFundMe pages have sprung up in recent weeks for teams from Amity, Fairfield, Torrington and environs, Danbury and Gilbert/Northwestern, as well as for the CHSIFL itself. Fairfield's had raised the most as of Friday afternoon, a little over $7,500 of an $80,000 goal.
In the DPH release, acting commissioner Deidre Gifford said the department encourages people to stay active during the COVID-19 pandemic.
"Unfortunately, some team sports present a higher risk of transmitting COVID-19 during practice or play, and we recommend that those be either modified or postponed," Gifford said.
"We want anyone playing organized sports in Connecticut to be aware of the risks for contracting COVID-19, so everyone can make informed decisions. Our overall goal is for people to have fun and compete, keep physically active and fit, and most importantly stay safe and healthy during this pandemic."
Even as some players and teams have worked toward playing either club or independent 11-on-11 football, high school leagues have begun making plans for modified, 7-on-7, non-tackle games this fall with strength challenges or linemen challenges. The SCC was among the latest, planning to send a proposal to its principals early next week, and the FCIAC said it'll begin play on Oct. 2. The 7-on-7 games are considered a moderate-risk activity.