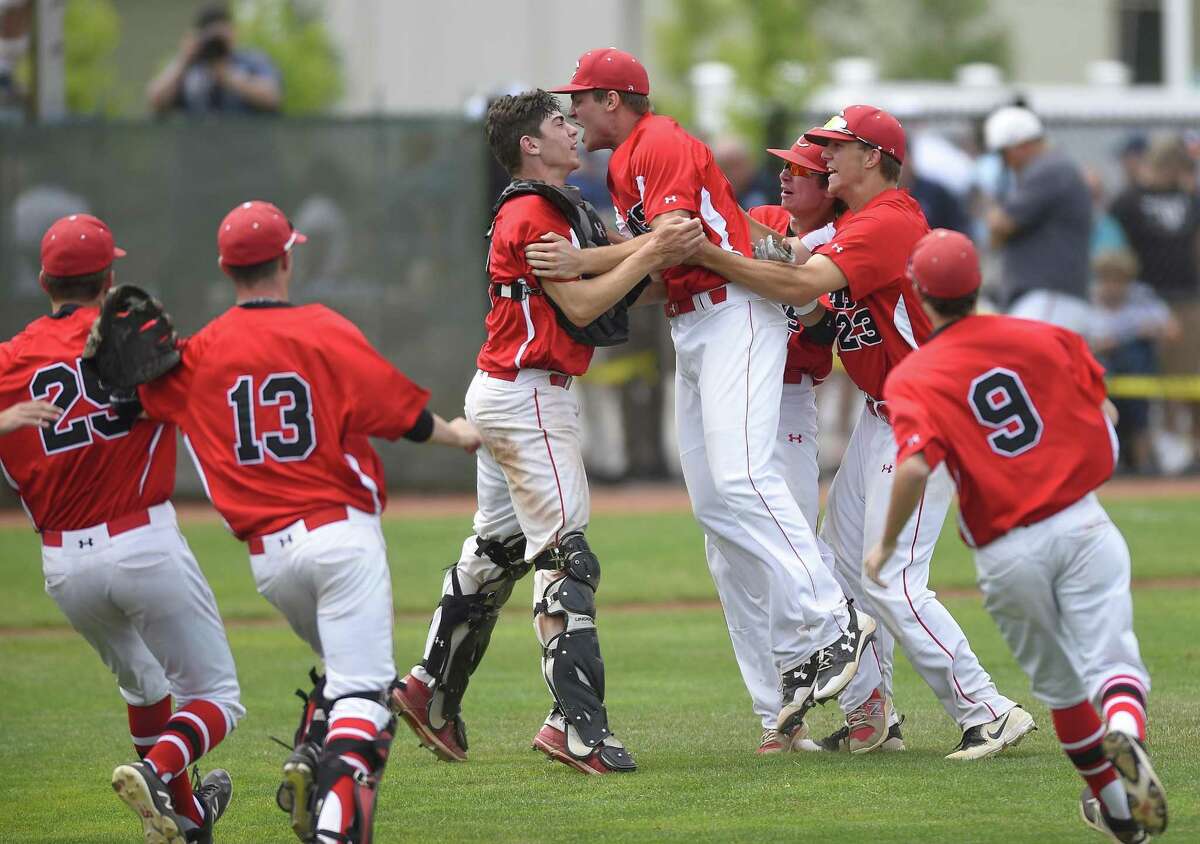 MIDDLETOWN — Cheshire's Ben DeLaubell has been dreaming about pitching at Palmer Field in a state championship game for a long time.
It turns out, the reality was better than anything he ever imagined.
DeLaubell pitched a complete-game, three-hit shutout and drove in the winning run in the top of the seventh as No. 4 Cheshire defeated No. 3 Ridgefield 1-0 in the Class LL state championship game.
It is the first state title for Cheshire since 1993.
It was the stuff of dreams for DeLaubell, only it was so much more.
CIAC SPRING CHAMPIONSHIP SCOREBOARD
"This was so much better than the dream. It's amazing, amazing," DeLaubell said. "This team is amazing. Its chemistry, its family. This was for this team, for these boys. Every day, every practice I always bring it for them. I couldn't be happier for these guys."
DeLaubell and Ridgefield starter Matt DeLuca matched zeros for six innings before Cheshire scratched out a run in the top of the seventh.
Ian Battipaglia reached on an infield single leading off the seventh, moving to second on a sacrifice bunt by Paul Villeco.
Two straight walks loaded the bases and chased DeLuca from the game with one out.
With the infield back, DeLaubell grounded out to the second baseman, but did enough to get the run home.
Cheshire coach Bill Mrwoka said DeLaubell taking what the pitcher gave him in that at bat tells you all you need to know about the West Point-bound senior.
"We talk all the time about guys having baseball IQs and sometimes you have guys who don't understand the game and you have to teach them the game. Then you have guys have a better feel for it. Ben DeLaubell is one of those guys, as is Ben Schena our shortstop," Mrowka said. "You know Ben is just going to try and get the job done. When your best player is also your hardest working guys it makes it a lot easier. This is such a great group of kids and I am so happy for them."
DeLuca struck out six, matching zeros with DeLaubell until he ran out of gas in the seventh after 106 pitches.
"I am amazed by what (DeLuca) has done as a sophomore," Ridgefield coach Paul Fabbri said. "This was a one-run game, he gave up no runs against Newtown and he came in and did what he did against Amity. As a sophomore, he was not fazed by all this stuff and going against a kid who is going to West Point. He matched him almost pitch for pitch. He was awesome."
PLAYER OF THE GAME
Ben DeLaubell, Cheshire. He not only pitched his team to the title on 80 pitches, he also drove in the winning run and also had a single in the third.
QUOTABLE
"We knew it would come down to a single play and that would determine winning and losing," Mrowka said. "You have to be able to execute bunts, cut offs and you have to play the game the right way and our defense was outstanding and with Ben on the mound I felt pretty good."
CHESHIRE 1, RIDGEFIELD 0
CHESHIRE 000 000 1—1 5 0
RIDGEFIELD 000 000 0—0 3 1
Records: C—21-4; R—20-5
Batteries: C—Ben DeLaubell (W) and Matt Costello; R—Matt DeLuca (L), Jake Artzt (7) and Ben Cohen
We recently redesigned GameTimeCT.com and would appreciate your feedback to continue improving the site. This survey should only take 5 minutes and you could win a $50 Amazon gift card!
Thank you, from the GTCT Team
Survey Link: https://www.surveymonkey.com/r/NYDRF5H