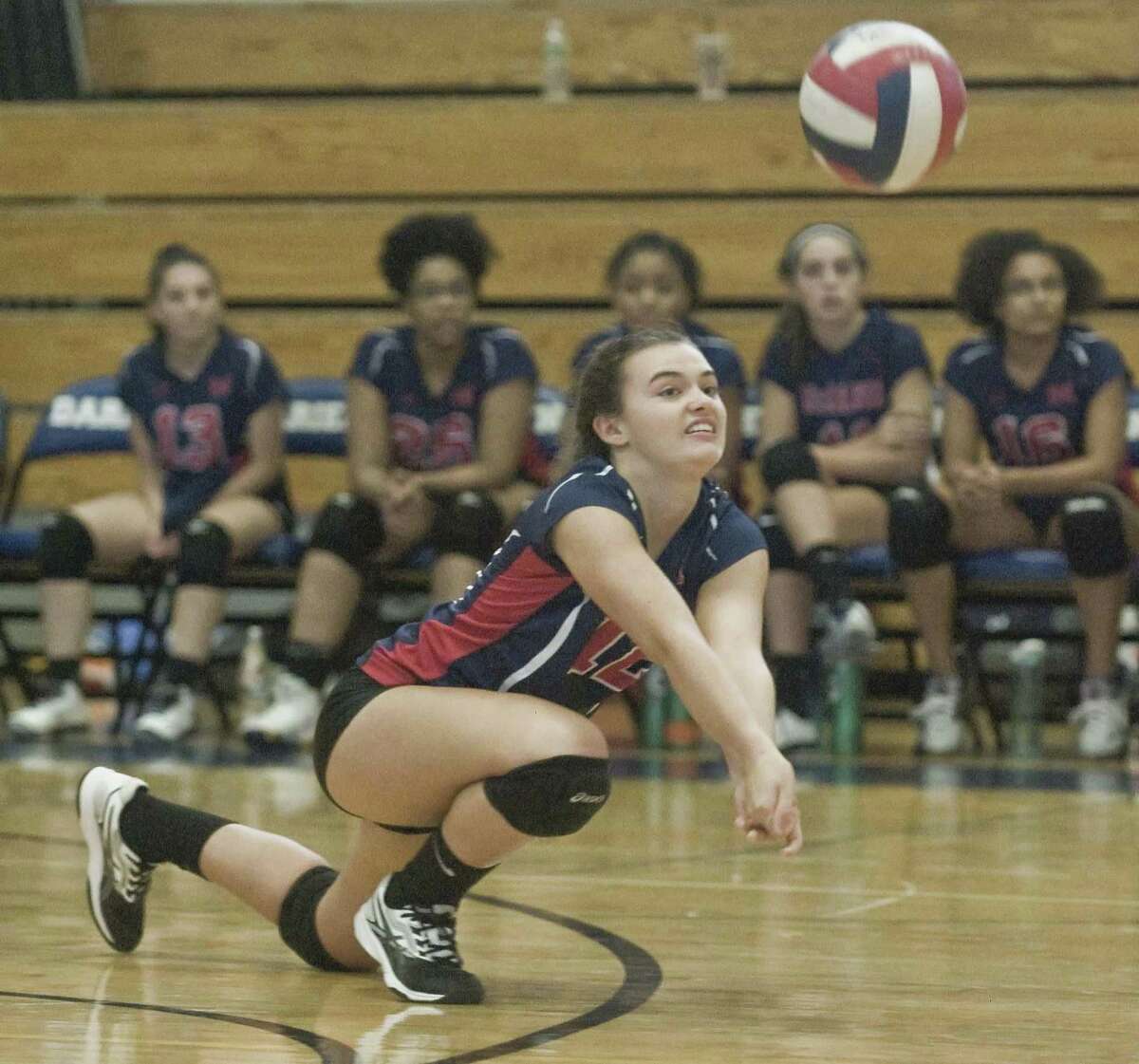 DARIEN—Good serving made it a good afternoon at the office for the Darien High School girls volleyball team as the Blue Wave rolled to a 25-12, 25-7, 25-13 home triumph over McMahon High Wednesday.
For Darien (4-3, 3-2 FCIAC), it was its second straight win following tough five-set losses to Trumbull and Greenwich.
"Those five-set matches made us focus on working harder to finish games better," said Darien High senior tri-captain Lindsay Bennett. "Consistency and accuracy on our serving. We saw today how those factors will help us tremendously the rest of the season."
LOOKING GOOD, ACE
McMahon had trouble from multiple directions dealing with Darien's service prowess.
Rosali Pirone (five aces), Sophia Talwalkar (four aces), Bennett (three aces) and Lindsey Fay (three aces) all had McMahon's back row on its heels.
In Game 1, with Pirone serving, Darien closed it out with a 10-0 surge and a 25-12 victory.
In Game 2, Darien jumped out to an 11-1 lead with Fay serving. The Blue Wave added a 9-1 run with Cristina Escajadillo (10 assists) and Bennett serving well for 22-5 before winning 25-7.
In Game 3, Talwalkar served Darien to an 8-0 edge. Rachael Perrett came off the bench to serve three straight points for 15-4 that became the 25-13 finish.
"Our serving and passing were key factors," Bennett said. "Our hitting (Hassana Arbubakrr five kills, two blocks) is improving. We really saw the hard work we've put in during practices pay off during games today. Our chemistry was so good that we flowed as a unit. We were calm out there. All the pieces fit."
MCMAHON HOPES TO REGROUP
For McMahon (2-5, 0-4 FCIAC), it was its fourth loss in its last five contests.
The Senators have a young roster with just two senior starters (quad-captains Michelle Perea and Claire Ripperger). McMahon also lacks basketball player-type height this season.
"Darien showed us to play. We just showed up today," said McMahon's veteran coach Peter Georgiou. "Darien was good. We were awful. We are short in overall numbers. And we have four sophomores and a freshman on varsity. It's been a learning curve for us. We had good matches very early in the year. There was just something missing today."
rdepreta@stamfordadvocate.com
DARIEN 3, MCMAHON 0
MCMAHON 12 7 13—0
DARIEN 25 25 25—3
Records: McMahon 2-5, 0-4 FCIAC; Darien 4-3, 3-2 FCIAC. Highlights: D—Lindsay Bennett 7 kills, 3 aces, 7 digs. Hassana Arbubakrr 5 kills, 2 blocks. Cristina Escajadillo 10 assists. Rosali Pirone 5 aces, 7 digs. Lindsey Fay 3 aces, 4 kills. Sophia Talwalkar 4 aces, 6 digs.