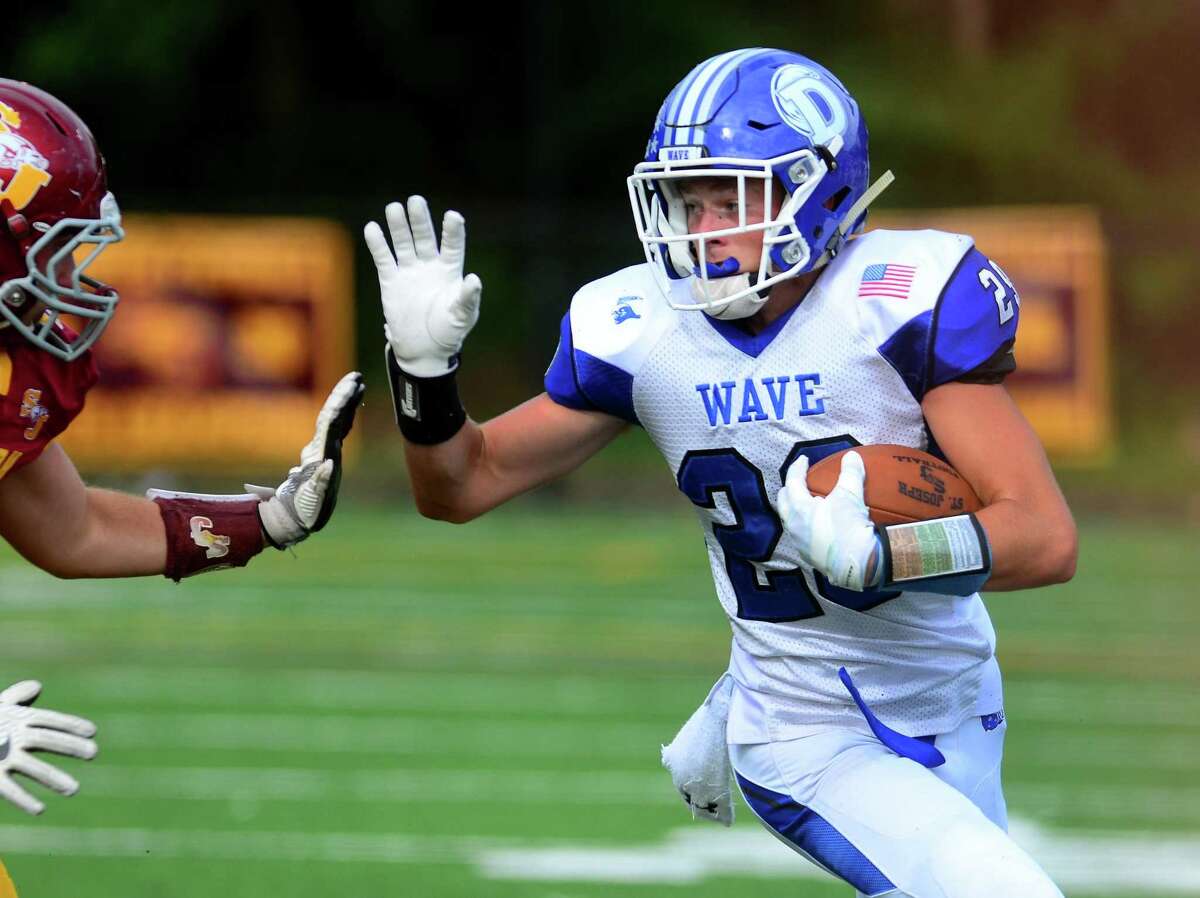 TRUMBULL — Cooper Hancock had to wait, just wait for Darien's vaunted defense to either make a stop or finally relent.
The drive that St. Joseph used to open Saturday's heavyweight showdown against Hancock's Blue Wave was an exercise in persistence. The Hogs marched 15 plays and 70 yards, scoring on a 28-yard pass from David Summers to running back Jaden Shirden. Altogether, the drive chewed 5 minutes and 16 seconds off the clock.
And somehow, someway, the Blue Wave did not get rattled.
The response to St. Joseph's strong start was nothing short of eye-opening to head coach Rob Trifone. The Blue Wave shut down and shut out the top-ranked team in the state the rest of the way, surging to a 22-7 victory at Dalling Field.
"Don't ask me how we did it because we don't know," Trifone quipped afterward.
Darien held the Maryland-bound Summers in check, and outscored St. Joseph 15-0 in the second half. In doing so, the three-time defending Class LL champion Blue Wave — who entered the week ranked third in the GameTimeCT poll — made their latest case for No. 1.
"We definitely came into this game thinking we've got to beat them right now because they're number one," said Hancock, who ran for one touchdown and threw for another. "That's where we want to be. After that game, I think we showed people that we should be."
Despite their sterling résumé, one that includes a commanding victory over preseason No. 1 New Canaan, the Hogs (2-1) were no match for Darien. The Blue Wave (3-0) scored touchdowns on their first two drives to open the second half, turning what was a 7-7 game at halftime on its side.
"We couldn't move the ball. They did a really good job," St. Joseph coach Joe Della Vecchia said. "I thought we had some things open that we just didn't connect. That's because they're good."
Running back Andrew Lucas finessed his way into the end zone on an 11-yard run to put the Blue Wave up 13-7 early in the third quarter. That lead grew to 19-7 when Hancock connected with TJ Cornacchia for a 16-yard touchdown.
With all-state tight end Phil Pasmeg sidelined with a broken clavicle, St. Joseph's offense didn't have an answer. The Blue Wave sacked Summers (one touchdown, one interception) three times and pressured him many more, looking every bit the standout defense they were billed to be.
Pressed into desperation mode down 22-7, St. Joseph chose to go for a fourth-and-6 at its own 35. However, Summers' pass fell incomplete, all but sealing the Hogs' fate with 8:01 remaining in the game.
"The second half, they just dominated the game," Della Vecchia said.
Senior all-state linebacker Connor Fay raved about how well-prepared Darien's defense was for Summers, Shirden and the rest of St. Joseph's offense. The practices leading up to Saturday, he said, were the best he's experienced in his time with the program.
"I've been on the team for three years," Fay said, "and this was the best week of practice we've ever had. We knew how good a team they were. We knew if we didn't have a good week of practice and didn't prepare well … then they were going to take it to us."
PLAYER OF THE GAME
Darien defense: The Blue Wave defense was relentless, sacking quarterback David Summers three times and forcing him into several hurried throws. Running back Jaden Shirden was met repeatedly by a wall of tacklers. Playing without all-state tight end Phil Pasmeg, St. Joseph's offense didn't do much of anything. In fact, the Hogs were shut out after the game's first drive. Cornerback Jackson Peters had an interception for the Blue Wave.
QUOTABLE
"Quite honestly, coming into today I thought St. Joe's was the number one team in the state. I thought they deserved to be ahead of us. On any given day … we play them again next week, who knows. They're that good a football team." — Darien coach Rob Trifone
LOOKING FOR ANSWERS
The Hogs played without not only Pasmeg, who had 856 yards receiving and 13 touchdowns as a junior, but also slot receiver Brady Hutchison. Injuries, coach Joe Della Vecchia believes, have kept the Hogs' offense from hitting its stride early this season. They're averaging 26.3 points through three games.
"What it is is what it is," Della Vecchia said. "The next guy's got to make plays and step up. Our kids are giving the effort. We've been out of sync most of the year on offense. … Obviously it showed today."
Darien 22, St. Joseph 7
DARIEN 0 7 12 3 — 22
ST. JOSEPH 7 0 0 0 — 7
SJ — Jaden Shirden 28 pass David Summers (Luke Kirby kick)
D — Cooper Hancock 2 run (Will Kirby kick)
D — Andrew Lucas 1 run (Kick failed)
D — TJ Cornacchia 15 pass Hancock (Pass failed)
D — Kirby 22 field goal
Records: Darien 3-0; St. Joseph 2-1