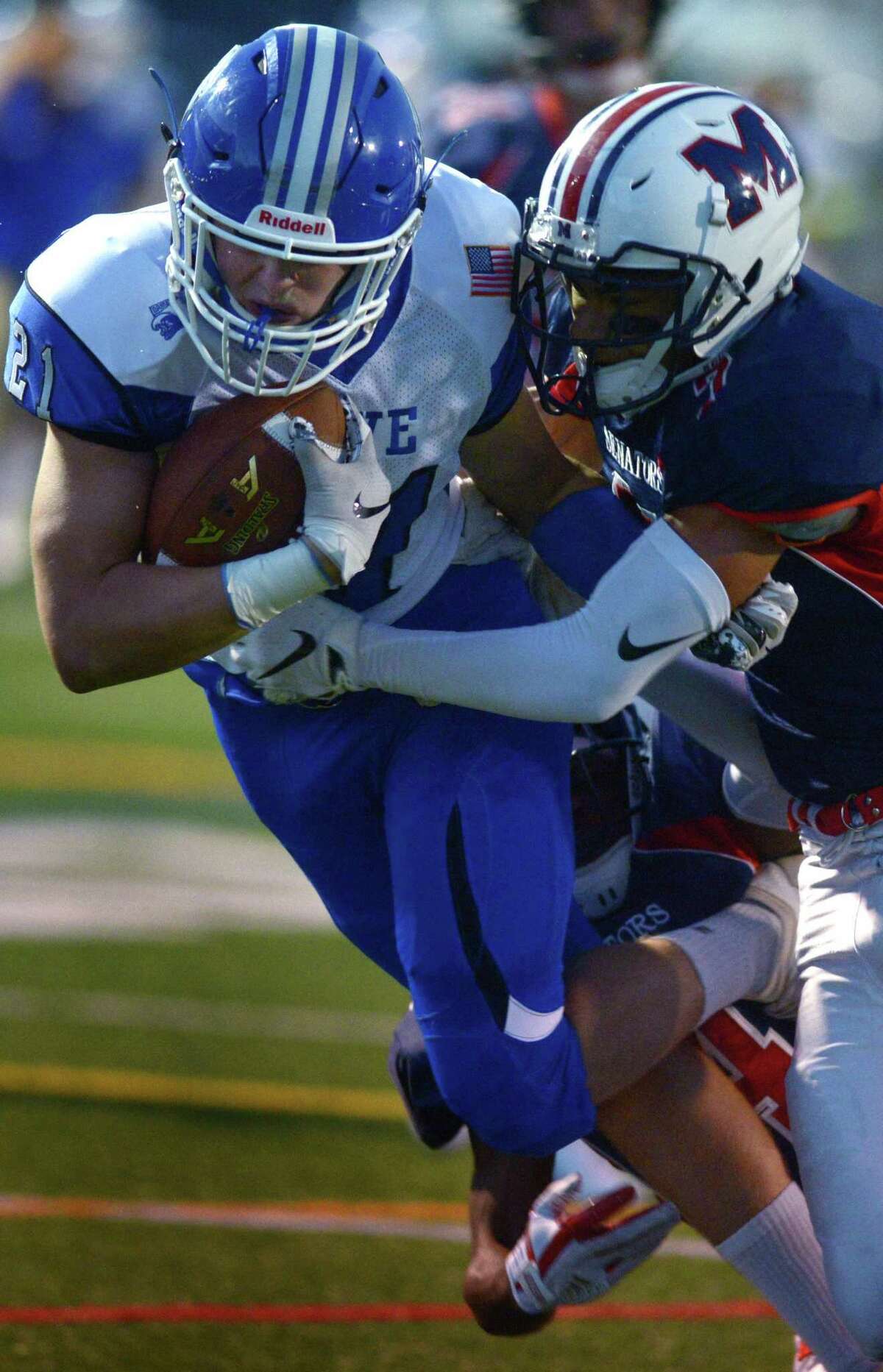 NORWALK – Three-time defending state champ Darien had no trouble disposing of McMahon Friday night, cruising to a 35-0 victory behind three touchdown passes from senior quarterback Cooper Hancock.
Darien didn't punt until late in the fourth quarter and limited McMahon to just 71 yards of offense and four first downs, but the Blue Wave still saw room for improvement as a matchup with state No. 1 St. Joseph lurks next week.
"I thought we played OK," said Hancock, who completed 15 of 23 passes for 165 yards before Peter Graham relieved him in the third quarter. "We definitely missed some times we should have scored that we're going to have to capitalize on against St. Joseph. But all in all we put up 35 points, so you can't ever complain about that."
"We left a few drives on the field," Darien coach Rob Trifone added. "… Next week we go against the No. 1 team in the state of Connecticut. You leave drives on the field like that, it's a long bus ride home."
Darien scored touchdowns on five of its eight possessions before kneeling out the clock, but the manner in which they failed to score was what left them wanting more.
The Blue Wave's smothering defense set up the offense with tremendous field position throughout the game, which made non-scoring drives feel worse. Their first-half possessions began at their own 47 (Andrew Lucas 30-yard touchdown pass from Hancock), the McMahon 17 (Will Kirby touchdown run), the McMahon 48 (turnover on downs in the red zone), the McMahon 26 (Tyler Herget touchdown from Hancock) and their own 47 (missed field goal).
Darien scored on long drives to put the game away in the third quarter, with Hancock and Herget connecting for another score to cap a 69-yard drive and Kirby finishing an 80-yard drive, but it went three-and-out after starting in plus-territory on its lone serious possession of the fourth quarter.
For McMahon, the offensive performance was a least a small step up from its season-opening loss to Wilton, in which its Wing-T offense gained only two first downs (including one via penalty) and didn't advance beyond the opposing 48-yard line.
"We had positive things on offense – definitely better than last week," McMahon coach Jeffrey Queiroga said. "The problem is you can't have two good plays and one bad play, because then it's fourth-and-7. There was a couple times where it was third-and-short I was telling our guys, 'hey, we're going to go for it on fourth down,' and then we catch a loss.
"It's tough to say you're happy or things are improving when you still haven't scored," Queiroga added, "(but) I'm smart enough to realize this is the first year of us running our offense. And then you run into Darien, which is arguably the greatest defensive team in the state – if not, they're top three. I think the fact that we came out and (improved from last week) … if we're looking for something, it's a bright spot."
Game ball
Hancock. He directed the offense to four scoring drives before leaving the game, and it would've been 5 of 6 if the 38-yard field goal was good.
Unsung hero
McMahon running back Jermayne Daniel. He posed the only threat on offense, gaining 49 yards on seven carries while picking up most of the Senators' first downs.
Quotable
"McMahon is a very talented team," Trifone said. "I've watched two tapes on them: their scrimmage against Westhill, they shut them out, and they shut out Wilton beside the field goal. So, certainly not a defense you're just going to slice through like a hot knife through better. So hats off to them. I think they did a great job and kept their heads up. I spent 26 years at this school and I love it. It's always hard for me to come back because I have great memories here. I certainly want to wish them luck."
Up next
Darien, ranked third in the latest GameTimeCT poll, visits No. 1 St. Joseph at 1:30 p.m. Saturday, Sept. 22 for a high-powered showdown. McMahon travels to Staples at 7 p.m. next Friday.
Darien 35, McMahon 0
Darien 14 7 14 0 – 35
McMahon 0 0 0 0 – 0
First quarter
D – Andrew Lucas 30 pass from Cooper Hancock (Will Kirby kick)
D – Kirby 1 run (Kirby kick)
Second quarter
D – Tyler Herget 5 pass from Hancock (Kirby kick)
Third quarter
D – Herget 7 pass from Hancock (Kirby kick)
D – Kirby 2 run (Kirby kick)