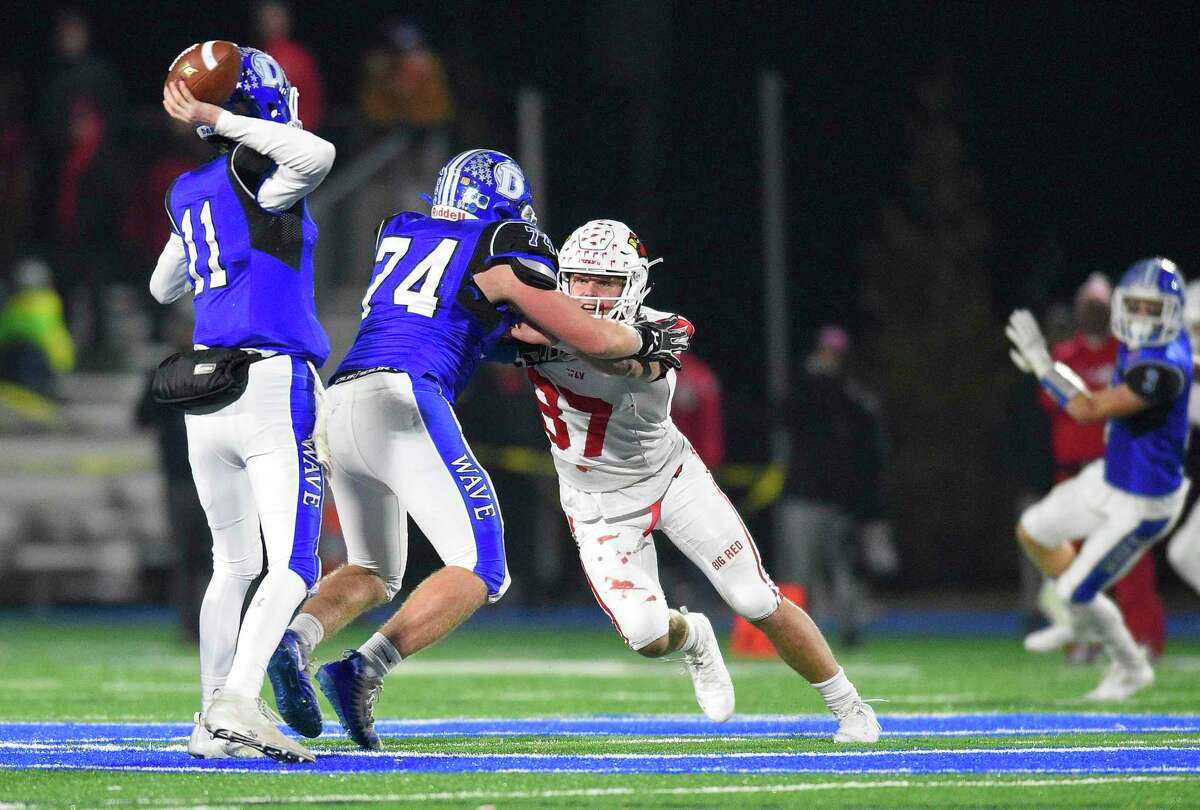 DARIEN — Like the regular-season meeting between Greenwich and Darien, Wednesday night's Class LL Football Tournament quarterfinal showdown wasn't decided until the fateful final minutes of action.
And like last time, the Blue Wave held on for a hard-fought win.
This time, the stakes were much higher though and senior linebacker Sam Wilson helped the Blue Wave keep their season going.
In a hard-hitting, defensive, throwback-type battle, third-seeded Darien defeated sixth-seeded Greenwich, 26-16, in the Class LL quarterfinals. Darien (10-1) advanced to Monday's Class LL semifinals, where it will visit second-seeded Southington.
Greenwich's season ended at 9-2, with both losses coming to the Blue Wave.
"It's unbelievable, these types of games are what you play for," Darien senior quarterback Peter Graham said. "It's December football and everything pretty much comes down-to-the-wire. It's unfortunate we had to play Greenwich in the quarterfinals, but it is what it is. We got the win and now we're moving on to play Southington.
With Darien leading 12-9, Wilson's 20-yard interception return for a touchdown with 2:59 keyed the Blue Wave's victory. He then scored on a 79-yard run with 1:57 to go, sealing the home team's triumph. Wilson was indeed, the closer for the Blue Wave, who were eliminated in the Class LL quarterfinals in 2018.
"Sam is an all-around, do anything player," Darien coach Rob Trifone said. "He plays special teams, offense, defense – he's a blue collar guy. He punches in and does his work."
Down 12-9, Greenwich faced a 3rd-and-10 situation from its own 14-yard line with just over three minutes remaining in the fourth quarter. Cardinals quarterback James Rinello dropped back to pass and was intercepted at the 20-yard line by Wilson, who dashed down the left sideline to the end zone, putting Darien ahead by two scores.
"The coaching staff sent me to the flat before the play, I saw the quarterback get hit and the ball came to me," Wilson said. "From there, there was all open field."
Greenwich quickly made it a one-scoring game, driving down the field behind receptions from junior wide receivers Kobe Comizio and AJ Barber. Barber hauled in a 20-yard touchdown pass from Rinello, bringing the Cardinals to within 19-16 with 2:23 left in the final quarter. The Cardinals needed a defensive stop to get the ball back, but it didn't happen. On a third down play, Greenwich crowded the line of scrimmage anticipating a run, Wilson broke through the left side and sprinted down the left sideline for a 71-yard score. Junior Hayden Hall kicked the extra point and Darien had a 26-16 lead with just under two minutes remaining and the celebration soon began.
"That running play for a touchdown goes to the O-line," Wilson said. "Anyone could have scored on that play. I benefited from great blocking and a great play call."
Said Graham: "We intalled a play like that this week and he just burst through the hole and was off to the races."
Darien took a 12-9 lead into halftime, courtesy of its defense. Senior defensive end Will Bothwell intercepted a pass from Rinello and returned it 25 yards for a touchdown, giving the Blue Wave a 12-6 advantage with just over two minutes left in the second quarter. Senior linebacker John Henry Slonieski contributed to the interception, putting a big hit on Rinello as he was delivering the pass.
"Today, our team fought hard and it's tough we didn't get the win," Rinello said. "Our defense played great. They got us turnovers and gave us great field position. But on offense, we weren't able to move the ball enough and put up enough points to win, so that's on me."
Running its two-minute offense, Greenwich quickly moved the ball down the field, following Bothwell's interception for a score. A 17-yard reception by Comizio, followed by a 10-yard run by Hunter Clark set Greenwich up at the Darien 2-yard line. The drive stalled there however, and the Cardinals settled for a 19-yard field goal from Ben Howarth, making it 12-9.
"The defense did a great job in the red zone," Trifone said. "They bent a little bit, but they didn't break. What happened on Thanksgiving day (a 20-0 loss to New Canaan) could have happened to anyone, we did not play well. The biggest test of a man is how you respond to adversity and I could tell our team was ready to go. I could see the look in their eye during pregame."
Driving 59 yards, Greenwich tied the score at 6-6 with 4:32 remaining in the second quarter. Rinello completed a pass to Comizio in the flat and he broke a tackle on his way to a 17-yard touchdown.
The Blue Wave drove 81 yards for a touchdown on its second possession of the game. Graham's 11-yard scoring strike to senior wide receiver Sean Gifford capped the drive with 5:31 to go in the second quarter. Receptions of more than 20 yards by seniors Will Kirby and Michael Minicus kept the first down chains moving on the drive.
Darien's first drive of the game was halted on its 40-yard line on an interception by Jack Cook. Jack O'Gorman also had an interception in the first half for the Cards, who received several receptions from AJ Barber in the opening half. The Cardinals' first half touchdown was set up by a blocked punt.
Greenwich went on a 8:46 drive to start the second half, but the drive stalled at the Blue Wave 10 and a 25-yard field goal was missed. Rinello spread the ball to Barber and Comizio, while senior Jack Warren pounded his way for significant yards during the time-consuming drive.
"Defensively, we played great," said GHS coach Anthony Morello, who completed his first season at the helm. "On offense, we made too many mistakes, especially on critical downs. We were just not getting a critical yard, or two when we needed it on a lot of third-and-short situations."
PLAYERS OF THE GAME
Wilson's two late-game touchdowns sealed the deal for the Blue Wave. Bothwell gave Darien a spark with his interception return for a score.
QUOTABLE
"I couldn't be more proud of these guys, everybody played their best game of the season," said Greenwich senior defensive lineman Eddy Iuteri, who registered a pair of sacks. "I think it's good for these guys who are returning next season. They are going to take this and they're going to grind all offseason and they're going to win the state championship next year."
Said Bothwell: "We knew Greenwich was going to give us everything they had and we had to give them everything we had on every single play. We knew after the Turkey Bowl we had to bounce back. We're one big step closer, but we still have a lot of work ahead of us. Since our loss to Newtown at states last year, we've had a fire within us that hasn't gone away."
REMEMBERING THE SENIORS
The defeat marked the final game for a sizeable senior class for Greenwich, including five captains.
"This is a tough loss, I feel terrible for the seniors," Morello said. "They left a legacy at Greenwich and we will forever remember them. I hope I taught them as much as they taught me. Hopefully, it's a learning experience for the kids. I'm so proud of this team."
FAMILIAR POSTSEASON FOES
Wednesday's matchup marked the third time in four seasons the Blue Wave and Cardinals tangled in the postseason. Darien also beat Greenwich in the Class LL quarterfinals in 2016, the finals in 2017, before going 2-0 against the Cards this season.
"Two very good teams slugging it out, it was a great game," Trifone said. "We made too many mistakes, but we survived and advanced."
DARIEN 26, GREENWICH 16
GREENWICH 0 9 0 7 – 16
DARIEN 6 6 0 14 – 26
D – Sean Gifford 11 pass from Peter Graham (kick failed)
G – Kobe Comizio 17 pass from James Rinello (kick failed)
D – Will Bothwell 30 interception return (kick failed)
G – Ben Howarth 19 field goal
D – Sam Wilson 20 interception return (Hayden Hall kick)
G – AJ Barber 20 pass from Rinello (Howarth kick)
D – Sam Wilson 71 run (Hall kick).