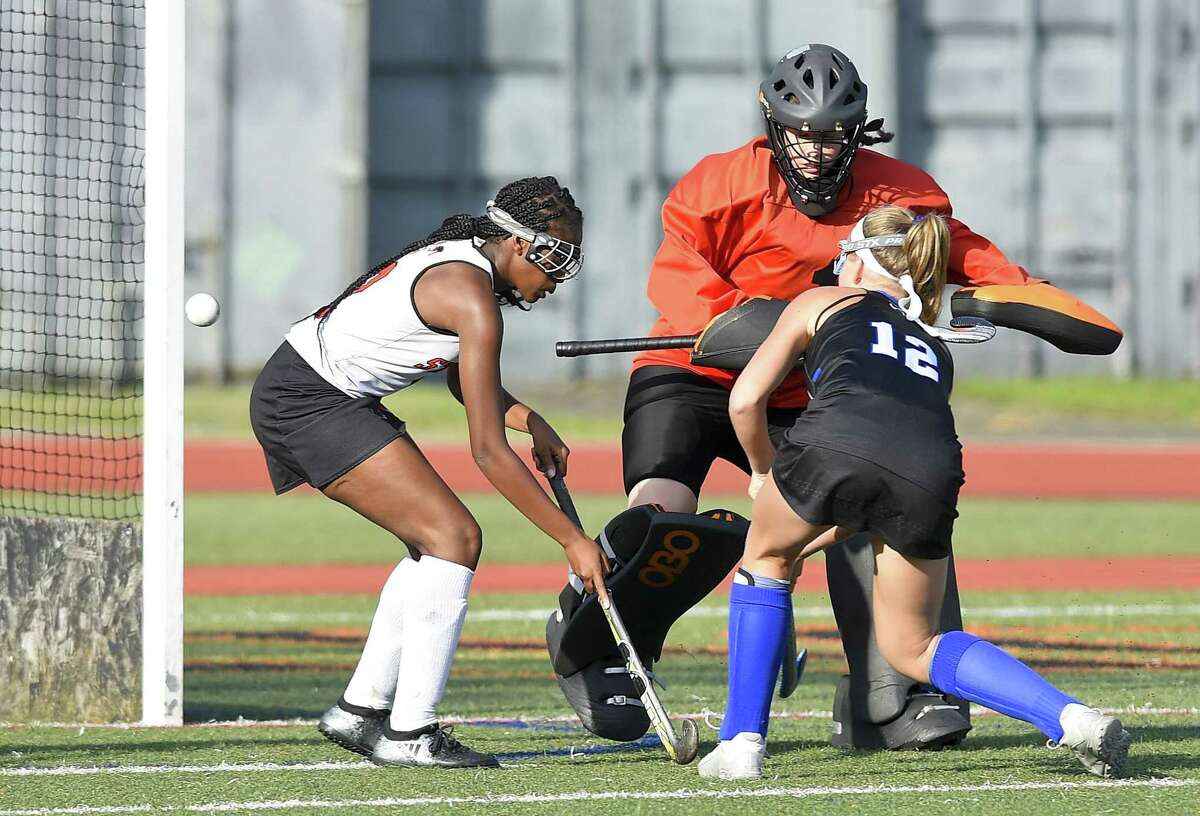 STAMFORD—Tradition and history are great. But contrary to popular belief, the Darien High School field hockey program and National Hall of Fame coach Mo Minicus doesn't just roll out balls and lay down sticks on the artificial turf and collect titles and trophies.
The 2018 Blue Wave squad is a work in progress in these early days of the 2018 season. Darien took another step forward Thursday as it downed Stamford High, 11-1 at Boyle Stadium.
"We are rebuilding this year," Minicus said. "We graduated eight starters from 2017. Nine of our current 11 starters are new. The process for us is one day at a time. It's baby steps but I believe in our potential. And I see the progress with each game."
DARIEN WORKING TOWARD PRIMETIME
Thursday's triumph left Darien at 4-2 overall and 4-1 in the FCIAC.
In the four victories over McMahon, Warde, St. Joseph and Stamford, the Blue Wave outscored them, 31-1.
However, the losses to FCIAC West Division leader Staples (2-1) and perennial power Garden City (NY) (3-1 despite Darien's 15-3 edge in penalty corners), show the Blue Wave have areas to clean up before the postseason.
Since Darien wants to play field hockey at a fast, aggressive pace, it needs the players to react instinctively and have a complete understanding of the big picture on the field.
That takes time to develop. There are no short cuts in that process.
"I'm very proud of the effort I see. Trusting the people around you is a cornerstone of what we do," Minicus said. "But right now there are moments when the pass back is the best pass."
MORE WEAPONS THE BETTER
Darien jumped out Thursday to a 5-0 edge in the opening 20 minutes of action.
Senior captain Shea van den Broek scored four of those five goals from short range. She has nine goals in the last two contests.
"I love playing left forward," van den Broek said. "My teammates are doing most of the heavy lifting. They are giving me great passes. My job is to finish."
Senior Katie Elders (two goals), sophomore Bridget Maloney (two goals) and senior Lily Kulesz (two assists) pressured the Stamford defense.
"It's great when lots of girls are scoring," van den Broek said. "We can see the difference in everyone's level and everyone's confidence is growing."
STAMFORD'S FUTURE BRIGHTENS
The defense for Stamford (0-5, 0-3 FCIAC) simply wore down over the 60 minutes as Darien used its superior depth.
Senior goalie Kristen D'Ariano registered 16 saves as Darien finished with eight penalty corners.
Junior Devon Yaghmaie had the lone Black Knights' goal off a marvelous pass from Tamia James.
"Our girls hustled right to the final buzzer. Darien's team is always a machine," Stamford coach Randi Fodiman said. "We have some inexperience but the girls also have perseverance."
Ironically, Darien coach Minicus and King School field hockey coach Emily Prince are in a position to help Stamford High field hockey going forward. Minicus and Prince are in charge of the field hockey program at Chelsea Piers in Stamford.
DARIEN 11, STAMFORD 1
DARIEN 5 6—11
STAMFORD 0 1—1
Records: Darien 4-2, 4-1 FCIAC; Stamford 0-5, 0-3 FCIAC. Scoring: D—Shea van den Broek 4 goals; Katie Elders 2g, 1 assist; Lily Kulesz 2a; Teddy Maloney 2g, 1a; Sarah Bogdan 1g; Molly Hellman 1g, 1a; Olivia Stein 1g, 1a; Daphne Cutler 1a. S—Devon Yaghmaie 1g; Tamia James 1a. Goalies: D—Grace Aronsohn (1 save), Catherine Vogt (1 save). S—Kristen D'Ariano (16 saves).