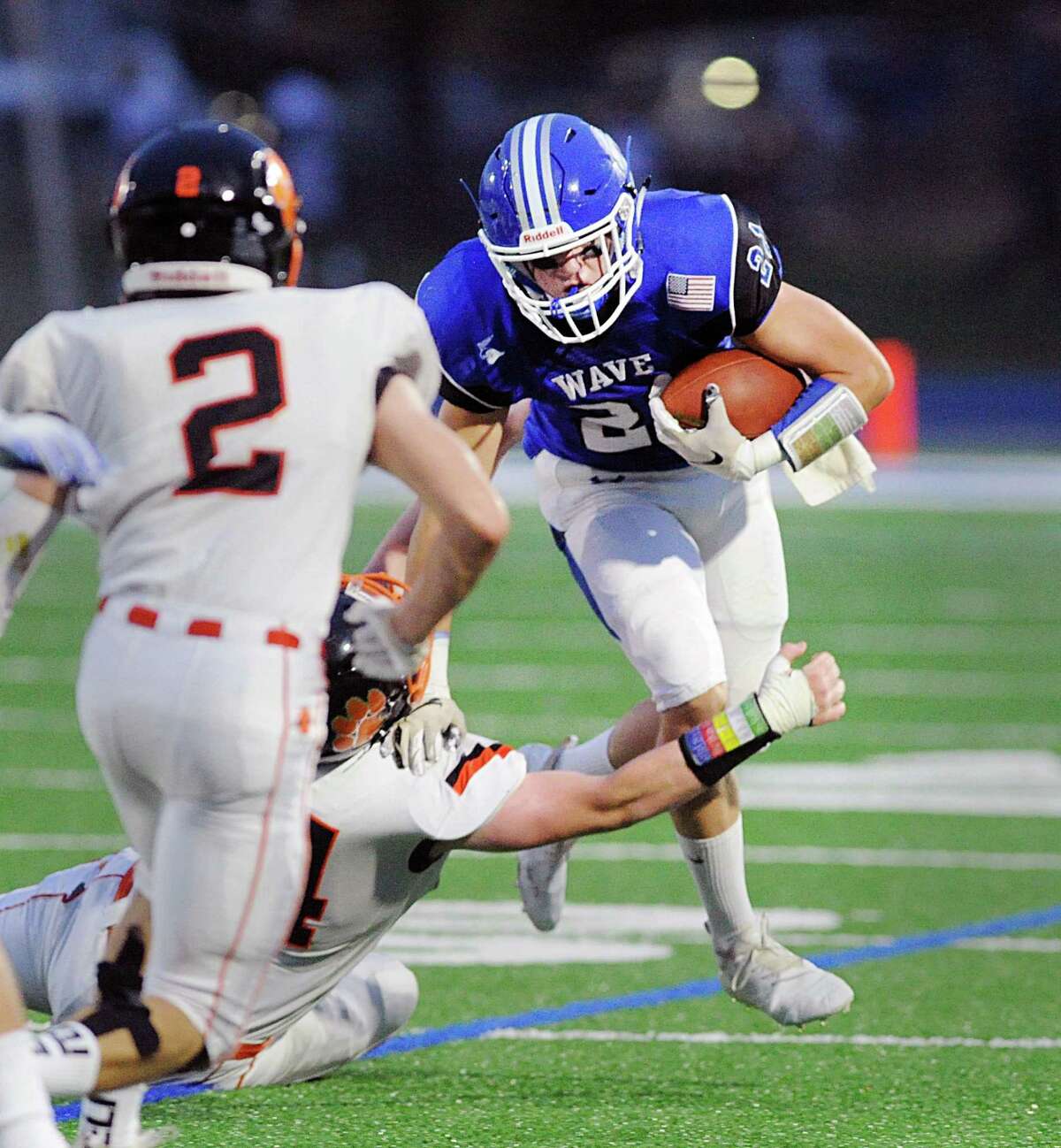 DARIEN — After an offseason-long quarterback battle in Darien, the Cooper Hancock era began with a bang for the Blue Wave Friday night.
The senior was solid in his first start, throwing for a pair of scores as the GametimeCT No. 4 Wave knocked off Ridgefield 30-6 in both teams' season opener in Darien.
"It was a lot of fun," Hancock laughed after the win, and why wouldn't it be?
The quarterback's life was made much easier Friday night by the play of senior-laden receiving corps.
Hancock and the Wave offense drove right down the field on the opening possession of the game before ultimately stalling at the Ridgefield five and settling for a Will Kirby field goal.
After a too-many men penalty on the Tigers during the Darien punt extended the Blue Wave drive late in the first quarter, Hancock found TJ Cornacchia on a jump ball from 15 out for his first touchdown pass of the year.
In a matchup that everyone was waiting to see, reigning Class LL champions @DHSBWfootball picked up right after last season with a tremendous victory over a talented @fciac foe! @DarienBlueWave @DarienAF @FCIACCommish #cthsfb pic.twitter.com/lfTTHlsN8t

— CT Sports Now (@CT_Sports_Now) September 8, 2018
Ridgefield scored midway through the second to make the score 10-6 in favor of the Wave, but Darien responded on its ensuing possession when Hancock once again threw a ball high and outside that his receiver—this time Will Rolapp—came down with.
The second half started the same way the first half ended for Darien.
After starting at the Ridgefield 41, Hancock hit Peter Bredahl with a 26-yard pass to the Tiger one and Rolapp took it in from there, making it 24-6 Wave.
After another defensive stand Darien started its second offense possession of the third quarter again in Ridgefield territory.
"We were on the field too much and we had bad field position all night," Tiger coach Kevin Callahan said of his defense. "A lot of that came off special teams blunders and things like that."
The Wave stuck to the same script, this time with Hancock connecting with Tyler Herget on a third-and-15 to get down the Tiger two-yard line where Kirby finished the job.
"I think we have the best receivers in the state and we're deep too," Hancock said of the senior quartet. "The young guys would be starting on any other team. We're so deep and these seniors really stepped up for me."
PLAYER OF THE GAME
Hancock, Darien. The senior signal-caller wasn't flashy, but did more than enough for Darien in his first start, throwing two touchdowns and setting up two more with passes to the one-yard line.
"I think he did a great job," Darien coach Rob Trifone said. "His job is to manage the team, move the ball and score when you can, but at least move the sticks and that's what he did."
RIGHT PLACE, RIGHT TIME
Ridgefield's lone score came when an Owen Matthews pass missed its intended target and found the waiting arms of a well-placed Jackson Mitchell at the goal line.
LESSONS LEARNED
"It's a tough outing to go out against this team," Callahan said. "There's three kids that were on a varsity field last year, so to be honest with you there was a lot of bright spots. It's a work in progress and when you have to come out against Darien in your first game, it's not going to be pretty, but hopefully we can get better from here and we'll see what we can do at the end of the year."
Darien 30, Ridgefield 6
RIDGEFIELD 0 6 0 0—0
DARIEN 3 14 7 6—30
D—Will Kirby 28 field goal
D—TJ Cornacchia 10 pass Cooper Hancock (Kirby kick)
R—Jackson Mitchell 16 pass Owen Matthews (PAT failed)
D—Will Rolapp 15 pass Hancock (Kirby kick)
D—Rolapp 1 run (Kirby kick)
D—Kirby 1 run (PAT failed)
Records: Ridgefield 0-1, 0-1 FCIAC; Darien 1-0, 1-0.