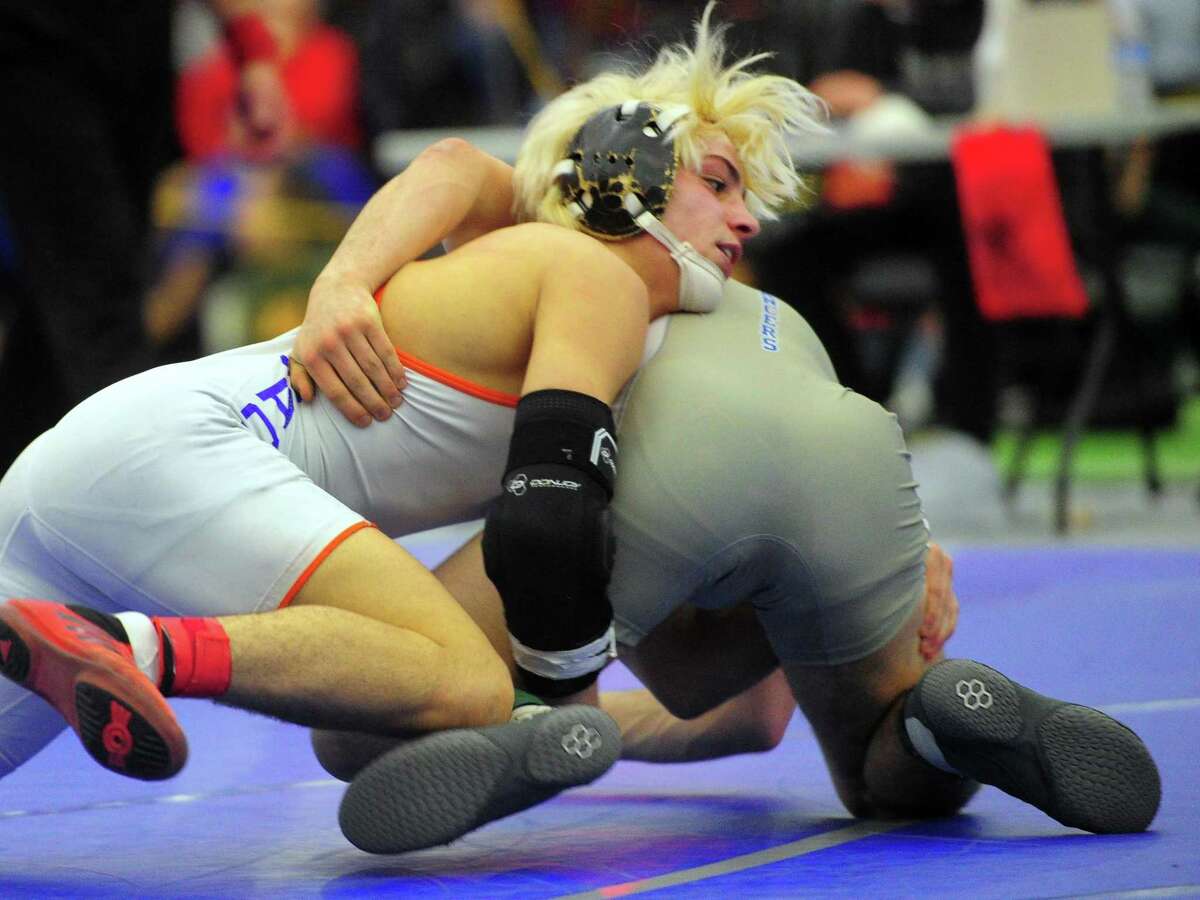 NEW HAVEN — Danbury captured the State Open title for the fourth consecutive season at the Floyd Little Athletic Center in New Haven on Saturday.
Leading the way was 138-pound senior Ryan Jack, who won his fourth consecutive Open title with a 13-5 victory over Thomas Nichols from Bristol Eastern.
"This is my favorite time that we've won at the Open," said Jack, named the Most Outstanding Wrestler. "Our team really connected."
Ryan Jack talks about 4th Open title @GameTimeCT #ctwrestling pic.twitter.com/qAFQl6N1gs

— Bill Bloxsom (@blox354) February 29, 2020
"Not many people have done what RJ has done," Danbury coach Ricky Shook said. "You have to be good, you have to be healthy. Four-timers will always be remembered."
The Hatters posted 193 points to better Warde (146), Xavier (127), Simsbury (99) and Barlow (88.5).
The top finishers in each weight class will compete at the 56th annual New England Wrestling Championships scheduled for March 7 and 8, at Methuen High School in Methuen, Mass.
Shook said: "I'm happy any season to get out of here with one champion. As long as we do it as a team I'm fine with that. We've had better teams, but this one has the best workers and is the funnest of my teams."
Danbury's Ryan Jacks wins 4th Open title @GameTimeCT #ctwrestling pic.twitter.com/0F6qHrpI2u

— Bill Bloxsom (@blox354) February 29, 2020
The Hatters, with three runners-up, two third-place finishers along with a fourth and a fifth, will take a school record eight wrestlers to New Englands.
"To score there (New Englands) you have to bring numbers," Shook said. "The Massachusetts teams go through harder paths to get there."
Warde qualified seven for New Englands.
"We did awesome," coach Jason Shaughnessy said. "Our goal is to beat kids we lost. We are bring seven to New Englans and placed eight. We won some tough matches these last two days."
"Jay does a great team with his team," Shook said. "In the past, 90 to 95% of the time, 146 points would win this. We've been battling them for three weeks (FCIACS, Class LL Open)."
Jaylin Houston from New Haven won his second straight heavyweight title with a 5-1 victory over Shelton's Matt Weiner.
"I was used to taking third and fourths at tournaments," Houston said. "People even think that state champs are something, and they are, but this is the place that everything matters. Everyone I wrestled was very good, and each of them taught me something."
Four prior State Open champions had a chance to add titles — Xavier's Michael Rapuano at 113, Jack at 138, New Canaan's Tyler Sung at 152 and Barlow's Carson LiCastri at 195 — and each one triumphed.
Falcons Take Two
Xavier's Michael Rapuano and James Lunt (145) along with Barlow's Carson LiCastri and Josh Brault brought glory to their schools.
Rapuano, the 106-pound champ a year ago, defeated Kailan O'Dell from Danbury, 7-0 to improve to 46-4.
Lunt won his first Open crown with a 14-4 major decision over Warde's top-seeded Will Ebert.
"This is satisfying," Lunt said. "I've been working hard for four years and I've come short here a couple of years in a row. So, it felt good to get it done."
LiCastri, the 182-pound champ as a junior, added the 195-pound title with a 17-2 technical fall victory against New London junior Jadian Mackenzie.
Last Second Comeback
Southington senior Billy Carr was chasing points against Amity's Simon Flaherty for most of their 182-pound final. With five seconds left he took a 4-3 lead and held off an escape try in the final five seconds to win.
"I had to scrap for every point because he is a great wrestler," Carr said. "Every point was so hard. Maybe next week (at New Englands) he gets me, but this feels great."
Unbeaten Seniors Meet
Tommy Mazur from Westhill is unbeaten Open champ at 170 @GameTimeCT #ctwresting pic.twitter.com/moQ68XDygW

— Bill Bloxsom (@blox354) February 29, 2020
Tommy Mazur from Westhill defeated Ryan Powers, 14-4, in the 170-pound final. Mazur improved to 35-0 with the win. Powers, from Lyman Memorial/Windham Tech, is now 44-1.
"One of us had to take a loss," Mazur said. "I've been wrestling for 12 year, in season and off season. It had to pay off somehow, and this is how it paid off.
"Being the only guy (from Stamford) in the finals, I feel kind of a weight on my shoulders. It stressed me out before the match. But now, I'm able to give back to them, how they have been practicing with me. They created this team. Me being able to move forward, it was our entire team's win."
Perfect Seasons
Sung, Barlow's Josh Brault (106), and Avon's Christopher Gens (220) will take unbeaten records to New Englands.
"It is so surreal," said Brault (37-0). "I've wanted to win in this building (at Opens) for what seems like forever. To get it now and to close out my Connecticut season undefeated is a testament to my teammates and coaches."
Sung Breaks Even
Tyler Sung from New Canaan wins his second straight Open title @GameTimeCT #ctwrestling pic.twitter.com/SYA1kEiGKk

— Bill Bloxsom (@blox354) February 29, 2020
Sung's 6-0 victory against Warde's Cole Shaughnessy gave the Ram senior his second straight Open title. He finished as Open runner-up his first two years.
"I had to keep my mindset," said Sung. "There has been a lot of adversity. I lost my Mom and missed most of the year. Coming back, I kept thinking of my mom passing away so I cleaned up my technique and worked on things I needed to do to win."
Shabazz Delivers
Middletown senior Kalil Shabazz decisioned Danbury's Tyler Johnson, 12-6, to win the 126-pound title.
"I'm thankful for the moment," said Shabazz, whose bout opened the finals. "This is my first time at the Open and I proved myself. I feel I'm best at takedowns."
Currier Lives Out Dream
Drew Currier lost to unbeaten freshman phenom Joe Iamunno from North Haven earlier this season, then defeated him 5-0 to win the 120-pound title.
"I've been thinking of this moment ever since that loss," Currier said. "He is so good on top, I worked a lot in practice from the bottom and went in knowing I had to keep my space."
CIAC STATE OPEN
TEAM RESULTS
1. Danbury 193, 2. Fairfield Warde 146, 3. Xavier 127, 4. Simsbury 99, 5. Barlow 88.5, 6. Bristol Eastern 69.5, 7. Southington 61, 8. New Milford 60, 9. Killingly 55, 10, Suffield/Windsor Locks 53.5; 11. Foran 53, 11. Haddam-Killingworth 53, 11. Trumbull 53, 14. Glastonbury 49.5, 15. New Haven 47, 16. Gilbert 46, 17. Ledyard 45.5, 18. Bristol Central 40, 19. Middletown 39.5, 20. Branford 39, 21. Avon 35.5, 22. Wethersfield 35, 23. Lyman Memorial/Windhan Tech 33, 24. Amity 31, 24. Fairfield Prep 31, 24. Newtown 31, 27. Shelton 30, 27. Westhill 30, 29. New London 29, 30. Brookfield 28, 31. Hall 27, 31. Staples 27, 33. New Canaan 26, 34. Greenwich 24, 35. New Fairfield 24, 36. New Britain, 23.5, 36. North Haven 23.5, 36. Windham 23.5, 39. East Lyme/Norwich Tech 21, 39. Stafford
INDIVIDUALS
106 LBS—1st Josh Brault (Joel Barlow) DEC Michael Longo (Trumbull), 6-3; 3rd Evan Lindner (New Milford) MD Will Hamilton (Bristol Central), 10-0; 5th Kaden Ware (Killingly) MD Cameron Hines (Haddam-Killingworth), 13-4;
113 LBS—1st Michael Rapuano (Xavier) DEC Kailan O'Dell (Danbury), 7-0; 3rd Bryce Arnold (Wethersfield) F Lucas Coleman (Fairfield Warde), 4:35; 5th Connor Doran (Ledyard) MD Nicholas Urso (Conard), 12-2
120 LBS—1st Drew Currier (Hall) DEC Joe Iamunno (North Haven), 5-0; 3rd Dylan Levesque (East Hampton) DEC Carlos Dewinter (Greenwich), 8-4; 5th Martial Sutton (Glastonbury) DEC Mason Lishness (Bristol Eastern), 1-0
126 LBS—1st Kalil Shabazz (Middletown) DEC Tyler Johnson (Danbury), 12-6; 3rd David Charron (Killingly) DEC Zachary Johns (Suffield/Windsor Locks), 3-0; 5th Parker Sutton (Glastonbury) DEC Michael Carpenter (Pomperaug), 5-0
132 LBS—1st Thomas Finn (Simsbury) DEC Devin Matthews (Gilbert), 3-0; 3rd Jack Ryan (Trumbull) F Peter Coniglio (New Milford), 1:33; 5th Nathan Cuoco (Fairfield Warde) DEC Braeden O'Brien (Bacon Academy), 3-2
138 LBS—1st Ryan Jack (Danbury) MD Thomas Nichols (Bristol Eastern), 13-5; 3rd Tristan Julian (Stafford) MD John Mairano (Simsbury), 12-3; 5th Khalil Bourjelli (New Milford) DEC Devin Anderson (New Fairfield), 5-2
145 LBS—1st James Lunt (Xavier) MD Will Ebert (Fairfield Warde), 14-4; 3rd Saul Pera (Simsbury) DEC Ben Richardson (Killingly), 3-1 SV; 5th Logan Kovacs (Danbury) DEC Dylan Washburn (Suffield/Windsor Locks), 3-0
152 LBS—1st Tyler Sung (New Canaan) DEC Cole Shaughnessy (Fairfield Warde), 6-0; 3rd Kyle Matthews (Gilbert) DEC Alex Klein-Wassink (Joel Barlow), 10-3; 5th Breon Phifer (Weston) MD Alexander Marshall (Bristol Eastern), 12-4
160 LBS—1st George Tsiranides (Fairfield Prep) DEC Zahir Mclean-Felix (Brookfield), 4-3; 3rd Brayden Grim (Ledyard) DEC Luke Tischio (Xavier), 9-3; 5th Yarian Grant (New Haven Wrestling) F Xavier Powell (Watertown), 2:05;
170 LBS—1st Tommy Mazur (Westhill) MD Ryan Powers (Lyman Memorial/Windham Tech), 14-4; 3rd Jaylen Hawkins (Danbury) MD Frankie McNeary (Joel Barlow), 9-0; 5th Hunter Rasmussen (Fairfield Warde) DEC Colman Doucette (New Fairfield), 5-4
182 LBS—1st Billy Carr (Southington) DEC Simon Flaherty (Amity), 4-3; 3rd Tyrell Jones (Danbury) DEC John Summers (Fairfield Warde), 2-1; 5th Isaiah Medina (New Britain) DEC Aidan Lozada (Newington), 4-1
195 LBS—1st Carson Licastri (Joel Barlow) TF Jadian Mackenzie (New London), 17-2 4:38; 3rd Jamikael Lytle (Northwestern) MD Cody McHenry (Branford), 10-1; 5th Griffin Gallati (Fairfield Warde) F Marcelius Ruiz (Xavier), 4:07;
220 LBS—1st Christopher Gens (Avon) DEC D.J. Donovan (Danbury), 3-0; 3rd Jacob Vecchio (Southington) F Roark Ryan (East Lyme/Norwich Tech), 3:37; 5th Kirill Fioletov (Glastonbury) DEC Alec Nardone (Fairfield Warde), 9-5;
285 LBS—1st Jaylin Houston (New Haven Wrestling) DEC Matt Weiner (Shelton), 5-1; 3rd Thomas Perry (Haddam-Killingworth) DEC Jordan Agosto (Danbury), 3-1; 5th Pat Rescanski (Foran) F Jacob Rizy (Staples), 2:43.