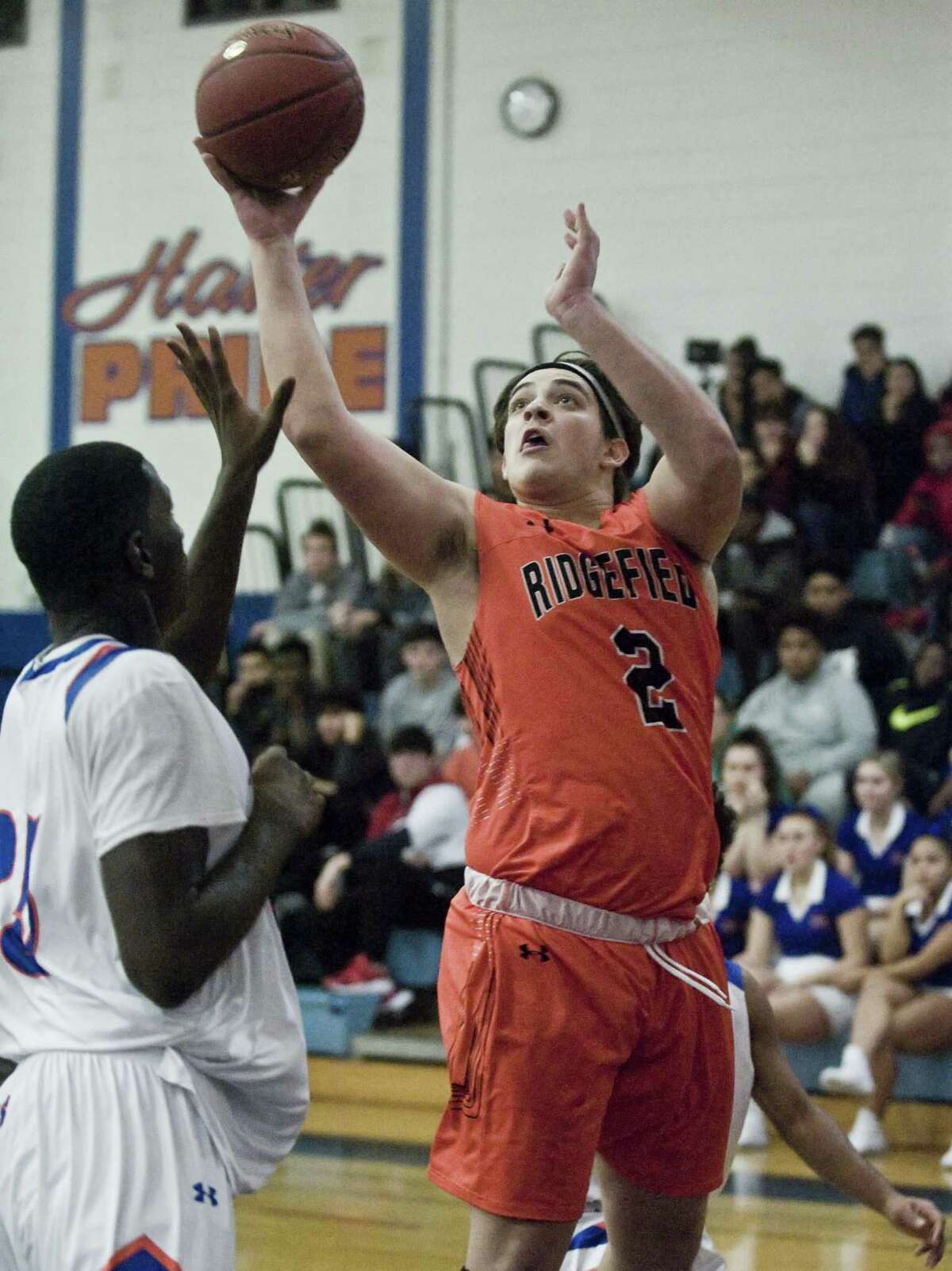 DANBURY— The Danbury boys basketball team doesn't need to look too far into its past to see what a dominating defense can do.
The Hatters are trying to return to the identity that delivered a rare FCIAC title last season, and it's been a work in progress in 2018-19. But Monday they turned up the heat for three quarters against one of its top rivals in what was likely a playoff preview.
Danbury got balanced scoring from its starting lineup, a stifling defensive effort built a comfortable lead and senior point guard Javon Hernandez made several key steals late to preserve a 62-55 win over Ridgefield.
Danbury beats Ridgefield 62-55 #ctbb pic.twitter.com/jahXHadGty

— Ryan Lacey (@RyanLacey11) January 8, 2019
"We're starting to become a good defensive team," said Danbury coach Casey Bock after his team's fourth straight win. "Other guys are stepping up and our leaders are starting to lead. … It's been a learning process; last year we had all the pieces together and this year we're putting the pieces together as the year goes on."
The Hatters (5-2) led 40-25 late in the third quarter before the game sped up and Ridgefield staged a rally. The Tigers pulled to within a single possession twice — the first coming on a 3-pointer from Cameron Andry with 1:45 left to make it 53-51.
The Hatters didn't turn the ball over down the stretch, though, and sank enough free throws to cancel out any more Ridgefield buckets.
Frantic finish, Hatters lead 55-51 with 1:16 left #ctbb pic.twitter.com/XmX9GhKTNp

— Ryan Lacey (@RyanLacey11) January 8, 2019
"Sometimes it gets crazy and it can get a little confusing," said Hatters senior Denali Burton of the tense finish. "You just have to listen to your coach and your teammates to stay together."
James St. Pierre had 21 points for Ridgefield, which was missing a key player in Luke McGarrity. St. Pierre made a free throw to pull to within 55-52 with 1:16 left. The Tigers have lost three straight, though all to strong Division I teams in Bassick, Trumbull and Danbury.
"We just didn't play well enough to win tonight. (Danbury) played better than us tonight," said Tigers coach Andrew McClellan. "We're missing a starter and you can't play a B game and beat Danbury in their place."
Danbury's lead is down to 46-39, Tigers with all the momentum 5:53 left #ctbb pic.twitter.com/D97YRTz8pn

— Ryan Lacey (@RyanLacey11) January 8, 2019
Hernandez scored 18 points while Burton added 16 for the Hatters. Keyon Moore (10) and Jah Joyner (11) were also in double figures.
"Our confidence is a lot higher after this win because this was a top team to beat (in the FCIAC)," Burton said. "If we cut out the mistakes we could have beat them by more."
NOT SO FREE
Both teams struggled from the foul line as the Tigers went 14-for-23 and the Hatters went 19-for-38.
PLAYER OF THE GAME
Burton says hello to end the third, Danbury leads 43-31. Tigers missed a lot of makeable shots there and should probably be closer #ctbb pic.twitter.com/rSJIYkSDiV

— Ryan Lacey (@RyanLacey11) January 8, 2019
Denali Burton, Danbury: His length led to a pair of blocks on Ridgefield 3-point attempts that appeared wide open when the shot was lifting in the air.
QUOTABLE
"It's a new team so we've had to figure a couple of things out," Burton said. "But defense is one thing that can remain consistent and win us games."
"The story of our losses right now are missed free throws and missed offensive opportunities," McClellan said.
Hernandez hits a 3, Hatters lead up to 35-24 in the third #ctbb pic.twitter.com/l22MXzvtoV

— Ryan Lacey (@RyanLacey11) January 8, 2019
DANBURY 62, RIDGEFIELD 55
RIDGEFIELD (4-3): James St. Pierre 7 7-9 21 Chris Knachel 4 1-4 9 Cameron Andry 3 1-2 9 Derek Szpawkoski 1 4-6 6 Matt DeLuca 2 1-2 5 Ryan Garson 1 0-0 2 John Britto 1 0-0 3. Totals: 18 14-23 55.
DANBURY (5-2): Denali Burton 5 5-12 16 Javon Hernandez 6 6-10 18 Jah Joyner 5 1-2 11 Keyon Moore 2 6-10 10 Taylor Heady 0 0-2 0 Jaden Cook 1 1-2 3 Raimir Riveria 1 0-0 2. 20 19-38 62.
RIDGEFIELD11 11 9 24 — 55
DANBURY11 17 15 19 — 62
3-pointers: R—Andry 2, Britto; D—Hernandez 2, Burton.