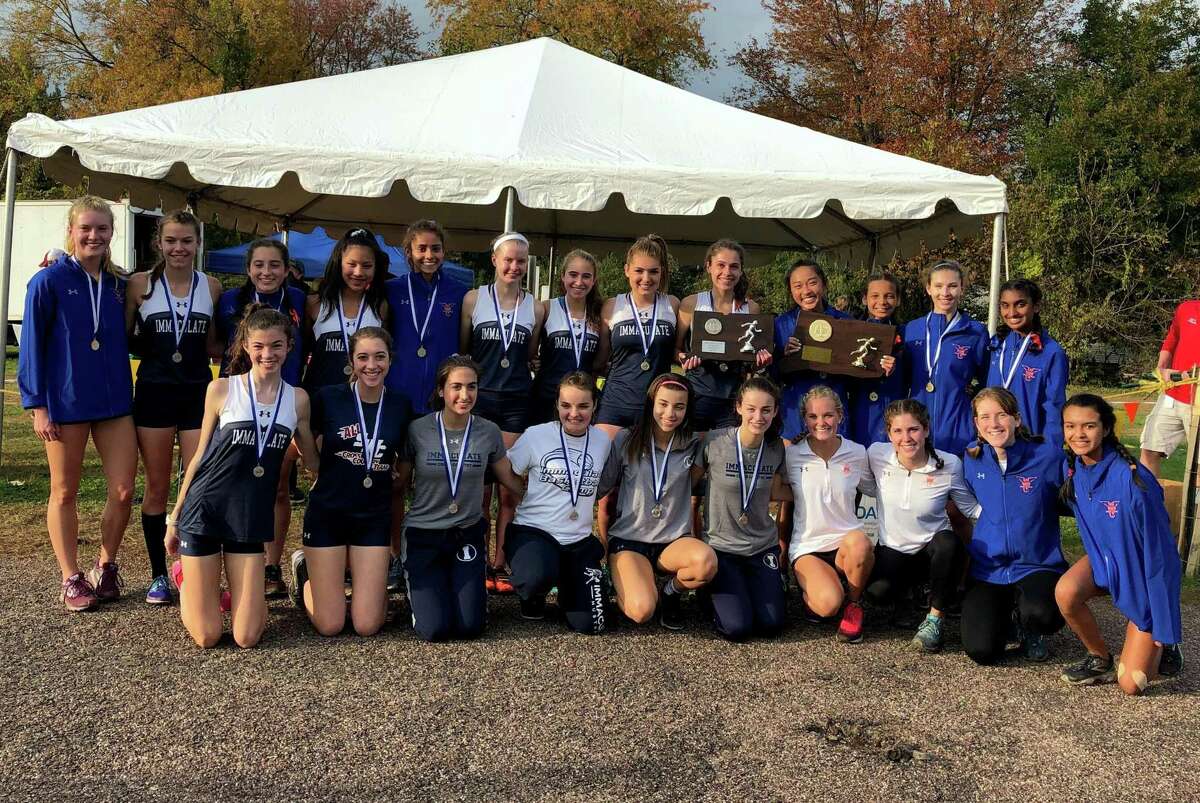 MANCHESTER — The Danbury and Immaculate girls cross country teams waited anxiously in their own huddles for results to be tabulated after the State Open was run Thursday at Wickham Park.
The schools — which are separated by just three miles — knew it would come down to the slimmest of margins to determine who was the best team in the best city in the state. And it was.
Just one point.
The Hatters claimed their first State Open title with 115 points, one ahead of Immaculate (116), which was also after its first title. The Class LL champions edged the Class SS champions for the top prize as several spots were contested at the finish line.
"We weren't really expecting it to come down to one point, but we knew it was going to be a tough race with Immaculate," said Hatters senior Cassandra Sturdevant. "But it's exciting that it came down to one point. We knew we had a real good shot after the past couple of weeks; we've been working hard every day in practice, so it was in the back of our minds that we had a shot of winning."
A seventh-place finish from Lauren Moore (19:21) helped propel the Hatters to the title. Alex Chakar (29th, 20:19), Daniella Grullon Pena (31st, 20:22), Sturdevant (42nd, 20:37) and Meilee Kry (20:54) ran close enough together to finish high up the order.
Wiser wins State Open in 17:58, SWC sweep #ctxc pic.twitter.com/3CA2yeVuYl

— Ryan Lacey (@RyanLacey11) November 1, 2018
The first State Open capped off an outstanding season for Danbury, which won its first FCIAC title and first Class LL title in 26 years.
"We're fortunate enough to compete in a competitive arena," said Hatters coach Marsha Turek. "The FCIAC is pretty tough … we've had a lot of experience racing in difficult races."
Angela Saidman finished 15th for Immaculate, while Taylor Mascetta (22nd, 20:02) and Ailene Doherty (26th, 20:10) were close behind.
"They haven't let down once all season," Immaculate coach Brian Hayes said. "We came in here ranked second and are going home second, almost first. They stepped up and had a great race. They've been doing it all year long no matter how bad the pressure was."
Claire Daniels edges Mari Noble for second #ctxc pic.twitter.com/BJtIV0MAn2

— Ryan Lacey (@RyanLacey11) November 1, 2018
The biggest school in the state and one of the smallest came within fractions of one another. Immaculate's (1:41:27) team time was six seconds ahead of the Hatters (1:41:33), as every position proved vital.
The schools shared a team photo after the race.
"That was sweet," Turek said. "We see each other all the time and practice in the same location. A lot of the girls are friends outside of running and they support one another. It's nice to share the podium with them."
Hatter's and Mustangs, #1 and #2 in the State XC Open! pic.twitter.com/rgUhSm2oIz

— Danbury HS Athletics (@ChipSalvestrini) November 1, 2018
Pomperaug sophomore Kate Wiser won the race by over a minute, crossing the line in just under 18 minutes (17:59). Her time was 43 seconds quicker than her second-place finish in the event last year, and she will head to next week's New England championships in position to challenge.
"I was actually hoping to go a bit faster," Wiser said. "I think it was hotter this week. … It feels great, I've wanted to win something like this since middle school. It's a great feeling.
Wiser with a yuge lead already #ctxc pic.twitter.com/NFjrZ9VaNz

— Ryan Lacey (@RyanLacey11) November 1, 2018
New Milford freshman Claire Daniels (18:58) just edged Mari Noble (18:59) for the runner-up spot, the only two other runners to break 19 minutes. Just two seniors placed in the top 11 as underclassmen ruled the day.
Ridgefield was the lone school to place two runners in the top 10, with Gabriella Viggiano (eighth in 19:23) and Tess Pisanelli (ninth in 19:24). The Tigers placed third as a team (160 points) while Trumbull took fourth (166) and Glastonbury was fifth (178).
In fact, 17 of the top 18 finishers came from different schools.
FALCONS FLY, NAHOM SHINES
New Milford's Eli Nahom wins State Open #ctxc pic.twitter.com/ozubCeEAVH

— Ryan Lacey (@RyanLacey11) November 1, 2018
Xavier defended its State Open title in the boys race by placing its top four finishers in the 14. Robbie Cozean took third in 16:11, Peter Schulten finished fifth in 16:16, Dillon Selfors was ninth in 16:27 while Will Curran finished 14th in 16:35.
"We came through and our top four did phenomenal, that was the punch," said Schulten. "It was hot; it was a shock because it's been cold lately. You felt a little dry mouth and extra sweating."
The Falcons were ranked No. 1 in the state from the start of the year, and also appeared in national rankings. The pressure of being the top squad was there, but didn't deter the Falcons from delivering another title.
"The most challenging part was knowing we were the favorite," Xavier coach Chris Stonier said. "There's the coaches polls, these supposed calculation predictions and they put you as the favorite by far. That adds a lot of pressure because the athletes (see that). They were very mature with how they handled that information; we have a couple of great leaders who know how to temper those emotions."
New Milford senior Eli Nahom won his first State Open title, crossing the line in 15:54. He finished fourth a year ago and once again made his move up the green monster despite planning to do so later in the race.
Still a pack up the hill #ctxc pic.twitter.com/94K3NtEanA

— Ryan Lacey (@RyanLacey11) November 1, 2018
"I wasn't planning on making my move on the hill because they know that's my thing, I've done it a couple of times already," Nahom said. "I was planning on going later in the race but I saw they started to fall back when I picked up the pace."
Nahom emerged from the woods with a comfortable cushion, and he had one final look over his shoulder as he closed in on the finish. He finished 10 seconds ahead of Conard freshman Gavin Sherry (16:04).
"I was obviously really nervous," Nahom said. "This race meant a lot to me and I wanted to do really well. Knowing it was Gavin; I know how hard he can finish at the end so I didn't calm down until the finish."
Hall's Trey Cormier finished fourth in 16:15 to help the Warriors earn second place as a team by just one point over Tolland (122). Staples (123) was a point behind the Eagles in fourth place.
Eddie Nicholas of Nonnewaug took sixth in 16:20, passing Prep's Azaan Dawson (16:20) at the finish. Hall's Miller Anderson finished eighth in 16:24.
The New England championships are set for Saturday in Manchester, N.H. The top 25 finishers from each race qualified for the race, as well as the top six teams.
CROSS COUNTRY STATE OPEN
Boys scores
1. Xavier 75; 2. Hall 121; 3. Tolland 122; 4. Staples 123; 5. Suffield 179; 6. Danbury 207; 7. Ridgefield 227; 8. Conard 232; 9. Fairfield Warde 246; 10. Shelton 248; 11. Wilbur Cross 250; 12. East Lyme 266; 13. Bristol Central 274; 14. Amity 295; 15. Glastonbury 359; 16. Bolton 419; 17. East Catholic 439; 18. Immaculate 473; 19. Terryville 494; 20. E.O. Smith 528.
Individual results: 1. Eli Nahom (New Milford) 15:54; 2. Gavin Sherry (Conard) 16:04; 3. Robbie Cozean (Xavier) 16:11; 4. Trey Cormier (Hall) 16:15; 5. Peter Schulten (Xavier) 16:16; 6. Eddie Nicholas (Nonnewaug) 16:20; 7. Azaan Dawson (Fairfield Prep) 16:20; 8. Miller Anderson (Hall) 16:24; 9. Dillon Selfors (Xavier) 16:27; 10. Travis Martin (Wilbur Cross) 16:27; 11. Andrew Malling (New Canaan) 16:30; 12. Robert Dillon (Shelton) 16:33; 13. Shane Henderson (Old Saybrook) 16:35; 14. Will Curran (Xavier) 16:35; 15. Brendan Mellitt (Cheshire) 16:36; 16. Samuel Whittaker (East Lyme) 16:36; 17. Mayo Smith (Staples) 16:37; 18. Jackson Cayward (Tolland) 16:38; 19. Connor Visnic (Amity) 16:38; 20. Dylan Pomer (Warde) 16:38; 21. Alec Sauter (Tolland) 16:39; 22. Morgan Fierro (Staples) 16:42; 23. Nicholas Taubenheim (Staples) 16:42; 24. Matt Jennings (Haddam-Killingworth) 16:43; 25. Christopher Abbey (East Lyme) 16:43.
Girls scores
1. Danbury 115; 2. Immaculate 116; 3. Ridgefield 160; 4. Trumbull 165; 5. Glastonbury 178; 6. Greenwich 183; 7. Pomperaug 186; 8. New Milford 199; 9. Guilford 211; 10. Hall 263; 11. New Fairfield 265; 12. Tolland 268; 13. E.O. Smith 315; 14. Haddam-Killingworth 316; 15. Newtown 395; 16. Avon 396; 17. Ellington 403; 18. Weston 470; 19. Derby 476; 20. Shepaug 512.
Individual results: 1. Kate Wiser (Pomperaug) 17:59; 2. Claire Daniels (New Milford) 18:58; 3. Mari Noble (Greenwich) 18:59; 4. Kathryn Rodrigues (Wolcott) 19:10; 5. Jenna Zydanowicz (Hall) 19:17; 6. Elizabeth Stockman (Rocky Hill) 19:21; 7. Lauren Moore (Danbury) 19:21; 8. Gabriella Viggiano (Ridgefield) 19:23; 9. Tess Pisanelli (Ridgefield) 19:24; 10. Alessandra Zaffina (Trumbull) 19:24; 11. Kate Hedlund (Manchester) 19:32; 12. Meredith Bloss (Guilford) 19:34; 13. Kylie Raymond (Somers) 19:38; 14. Hazel Hudson (New Fairfield) 19:42; 15. Angela Saidman (Immaculate) 19:43; 16. Emily Sienna (Hale Ray) 19:48; 17. Mie Axelsson (Weston) 19:52; 18. Dagny Edwards (Simsbury) 19:53; 19. Madison Villa (Pomperaug) 19:55; 20. Emma Anziano (Haddam-Killingworth) 19:59; 21. Kathleen Delaney (New Milford 20:02; 22. Taylor Mascetta (Immaculate) 20:02; 23. Mairead Clas (Darien) 20:02; 24. Zoe Harris (Greenwich) 20:02; 25. Angela Braga (Glastonbury) 20:03.