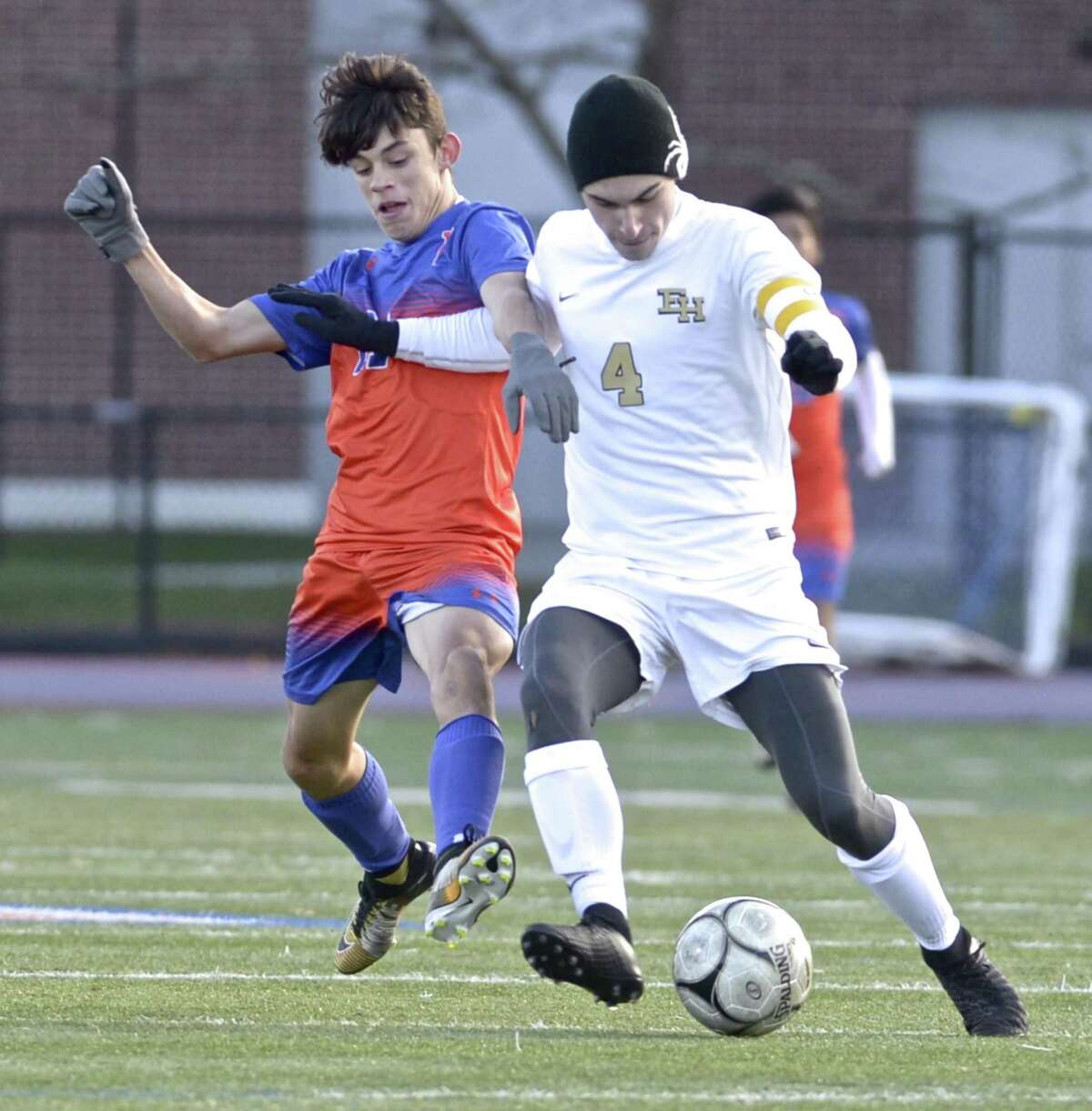 DANBURY — East Hartford goalie Julio Argueta probably wanted to crawl into a cave after a miscue led to a goal in his team's Class LL quarterfinal against Danbury Saturday, a huge moment that threatened to decide the contest.
His teammates provided a reprieve, and he did the rest at the end of a tense matchup between two evenly matched teams.
Argueta's key stop late in a penalty shootout helped send the No. 19 Hornets to the Class LL semifinals with a 2-1 (5-4 on penalties) win over the Hatters. East Hartford will face fellow CCC squad Hall in the next round Wednesday.
"Thank God he's so hard-headed," East Hartford coach Michael Vendetti said. "He is. It took him a minute to regroup but he did, and these guys have been bouncing back. In the beginning of the season it was hard for us to come from behind like that."
No one missed after four rounds before Argueta went low to deny a Danbury penalty taker, then Dante Talamini scored on the final attempt to start the celebrations.
"We kept it up and we did our job," Argueta said. "We didn't give up and that helped. I saw his eyes and I knew that he wanted to kick the ball to the left side, so I just dove right there and made it. I don't have words for (the feeling)."
The Hatters appeared set for the semis after Thiago DosReis capitalized on the moment and finished into the empty net early in the second half. Danbury then had several chances in quick succession to make it 2-0 before the Hornets seized control.
Emmanuel Ofori played a ball across the box that Wilbert Hercules poked home from close range with just 6:40 left in regulation. East Hartford steadily gained control through the two 10-minute overtime periods but neither team created many opportunities throughout the 100 minutes.
"As soon as Danbury scored we turned it on," Vendetti said. "Our focus after they got the goal was exactly what we've been training for and what we're looking for. I wish it didn't come to that but I'm not quite sure my heart is going to make it the rest of the season."
Both teams largely kept the ball on the ground as a fierce wind didn't have an influence on either goal. The Hatters (14-3-5) finished their season having lost just once in regulation, with a FCIAC runner-up and Class LL quarterfinal exit to show for it.
RUN GOES ON
The Hornets upended Fairfield Ludlowe and Fairfield Prep in the first two rounds to reach the quarterfinals. East Hartford has never appeared in a state final.
QUOTABLE
"My hat goes off to Danbury," Vendetti said. "They're a strong, fast team and it's a shame that this is how it has to end for any team."
rlacey@bcnnew.com, @ryanlacey11
EAST HARTFORD 2, DANBURY 1 (5-4 PK)
DANBURY 0 1 0 0 — 1
EAST HARTFORD 0 1 0 0 — 1
Goals: EH—Wilbert Hercules; D—Thiago DosReis. Assists: EH—Emmanuel Ofori. Goalies: EH—Julio Argueta (6 saves); D—Matt Silva (3 saves) Records: East Hartford 12-4-3, Danbury 12-2-5.