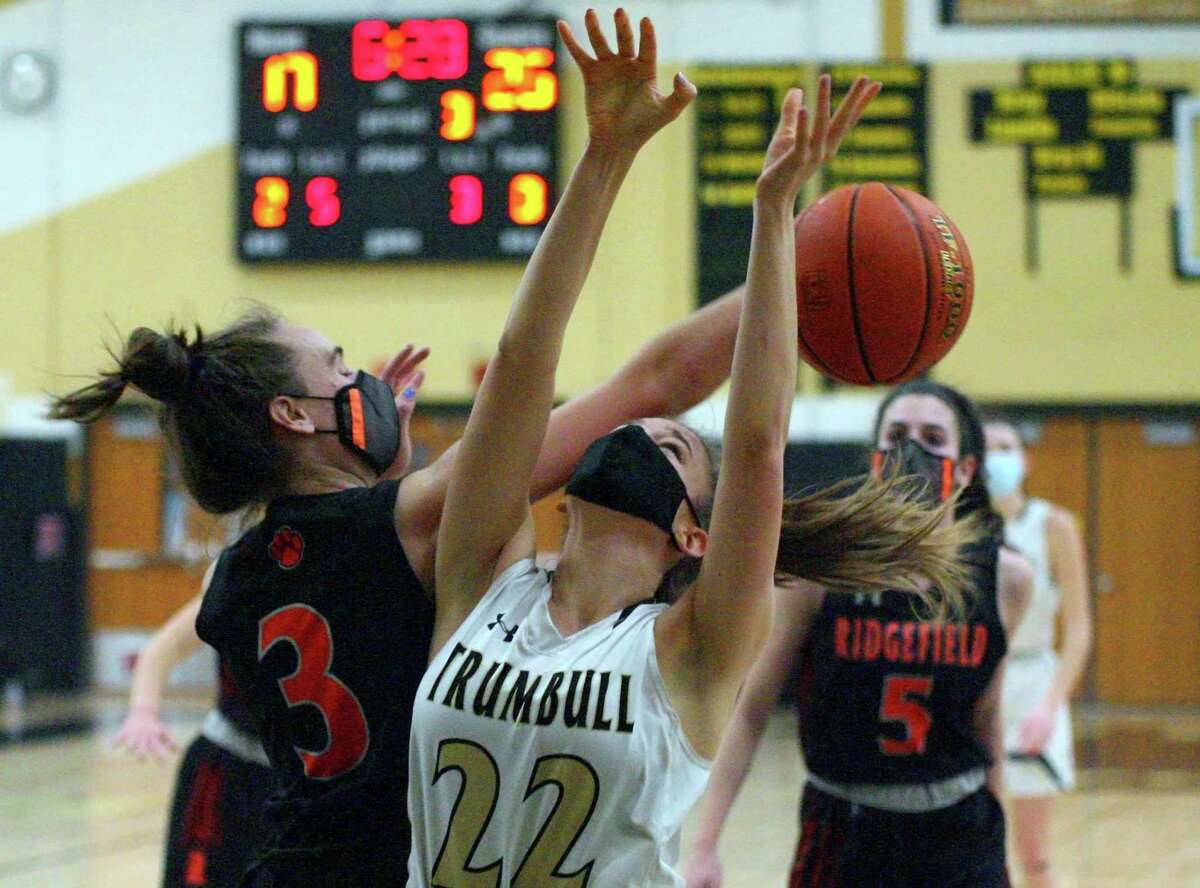 NFA triple threat
In the ECC championship game against Waterford, Sarah Ericson had 20 points and 11 rebounds, being named player of the game. Anajah Ingram added 19 points, 6 rebounds and 3 blocks and Jenissa Varela put in 12 points and 7 assists.
Kelly Chittenden and Cali Stietzel, Ridgefield
Chittenden had 52 points in four playoff games, including 21 points in the semifinal win over St. Joseph. Stietzel scored 51 points, including hitting eight 3-pointers en route to being named MVP of the FCIAC tournament.
Rosa Rizzatelli and Carina Ciampi, Sacred Heart Academy
Rizzatelli had 18 points, earning SCC D-II finals MVP while Ciampi added 12 points in the championship against West Haven.
Diamond White, Hamden
The senior guard had 24 points, hitting 14-of-18 from the free throw line in the Green Dragons SCC championship win over Wilbur Cross.
Lilly Ferguson, Newington
Ferguson finished the CCC tournament averaging 20.3 points, 10 rebounds and 4 steals including a game-high 25 points against Bristol Eastern and 17-points and 10 rebounds in the championship game win over Windsor.
Emma Kahn, Thomaston
The senior scored 22 points in the Berkshire League championship game against Nonnewaug.
Jaida Vasquez, Plainville
The senior had a double-double with 24 points and 11 rebounds in Plainville's CCC tournament win over Enfield.
Kenzie Sirowich, Seymour
In the NVL opening round, Sirowich had 23 points, 13 rebounds and 5 assists and in the semifinals put up 19 points, 11 rebounds, 5 assists and 3 steals.
Kaysie Dupuis, Parish Hill
In two CRAL tournament games, Dupuis had 38 points, 31 rebounds, 19 assists and 8 steals. She notched a triple double in the final against Capital Prep with 16 points, 15 rebounds and 10 assists to end an unbeaten career in the CRAL.
Tristan Oberg, Windsor Locks
Oberg had 16 rebounds and seven points in a win over Ellington in an NCCC quarterfinals and added 19 points and 12 rebounds in a 38-23 win over Granby in the semifinals.
Jaylice Rosario, Wilbur Cross
The sophomore forward had 20 points in a SCC finals loss to Hamden.
Mary McElroy, Simsbury
The senior had 13 points, 10 rebounds, 7 assists and took 3 charges in a 51-26 win over Middletown in the SCC tournament.
Megan Reilly, Pomperaug
The junior had 13 points 18 rebounds, 5 assists and 4 blocks in semifinal win over Kolbe and 8 points and 10 rebounds in a finals loss against Notre Dame.
Ava Mills, Suffield
Mills helped Suffield to The NCCC title with 16 points 6 rebounds 5 steals against Somers; 14 points 4 steals and 5 assists over Canton and 16 points 4 steals and 4 rebounds in the final against Windsor Locks.
Ciara Collins, Bristol Eastern
Collins scored her 1,000th point as part of a 15-point performance in a 55-35 loss to Newington in the CCC quarterfinals. She then had 30 points in the consolation-round against Middletown.