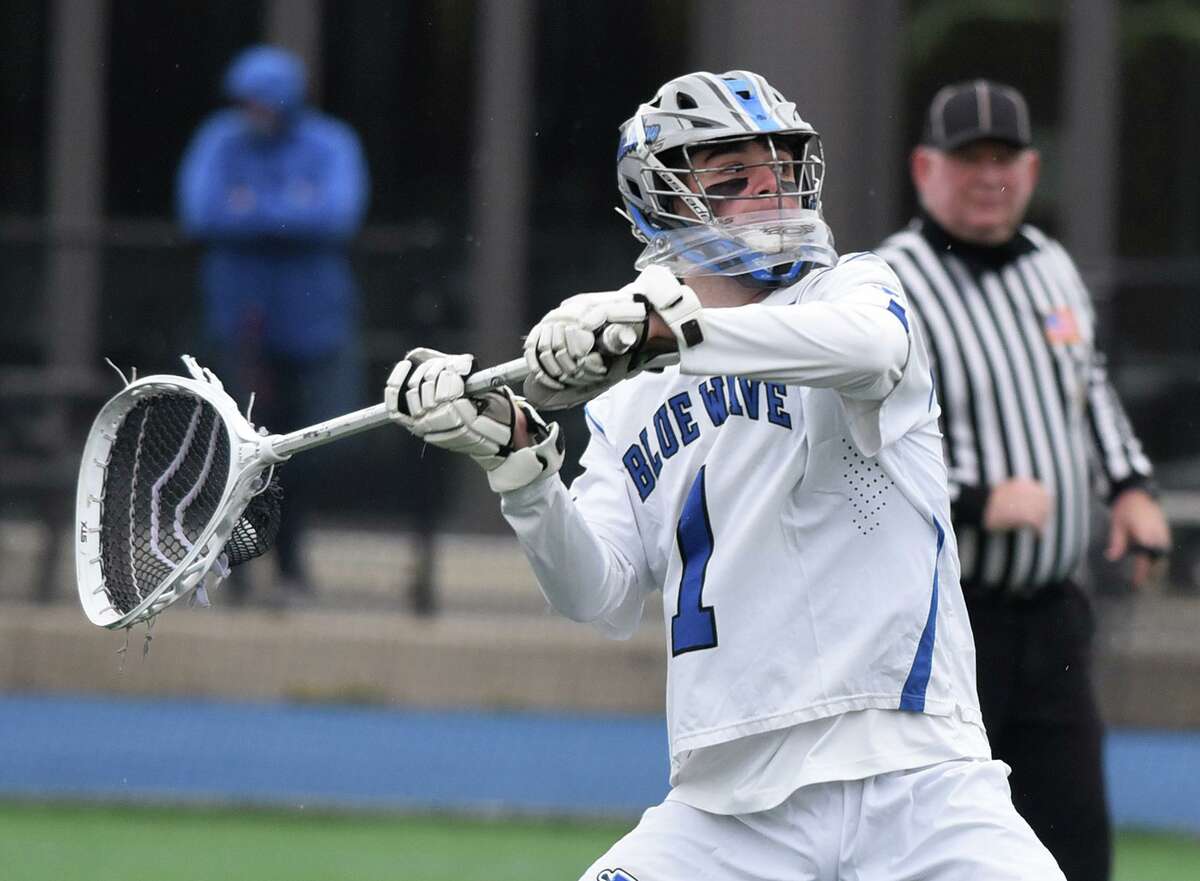 Jack Adams, Old Saybrook
Scored seven goals and added an assist in a 13-8 win over Cromwell.
Teddy Bednar, Fairfield Prep
Went 21-5 on faceoffs to help the Jesuits past Greenwich 14-9.
Simon Collette, Foran
Stopped 14 of 15 shots on target in a 6-1 win over North Branford.
Ryan Collins, Hand
A goal and six assists in a 21-3 win over Notre Dame-West Haven.
Nick Cox, Old Lyme
Eight goals an a 17-10 win over Old Saybrook.
Andy Demopoulos, Darien
Made five of his 15 saves in the second quarter to help Darien open up a 15-6 win over New Canaan.
Tyler Graham, Bacon Academy
Had three goals and two assists in an 11-8 win over Waterford.
Luke Henricksen, Law
Scored four goals in a 12-7 win over Hamden.
Colin Liscomb, Woodstock Academy
Credited with 22 saves in an 8-7 win over NFA.
Woodstock Academy keeper Colin Liscomb, who had 22 saves. Talks about the Centaurs 8-7 boys lacrosse win over NFA pic.twitter.com/VhKCHh9hCX

— Woodstock Academy Athletics (@WAAthletics) April 27, 2021
Bryce Metalios, Greenwich
Scored five goals and added two assists in a 17-3 win over Westhill.
Colby O'Connor, Amity
Had a goal and an assist in a 15-0 win over Hamden.
Pat O'Hanlon, Xavier
Four goals and an assist in a 14-7 win over Shelton.
Jared Sedlock, Shelton
In on all seven goals, scoring three and assisting on the rest, in a 7-6 win over Guilford.
Matt Shepard, Ridgefield
Three key second-half saves helped the Tigers beat Wilton 11-7.
Jacob Strouch, Weston
Scored three goals in a 7-6 SWC-showdown win over Newtown.
Ryan Thompson, Staples
Three goals in the fourth quarter opened up the Wreckers' 12-9 win over Cheshire.
David Tsimboukis, Canton
Picked up six ground balls to help Canton move four games over .500 for the first time in program history, the Collinsville Press reported, with a 14-3 win over Ellington.
Matt Valakos, East Lyme
Seven goals in a 19-7 win over Fitch.