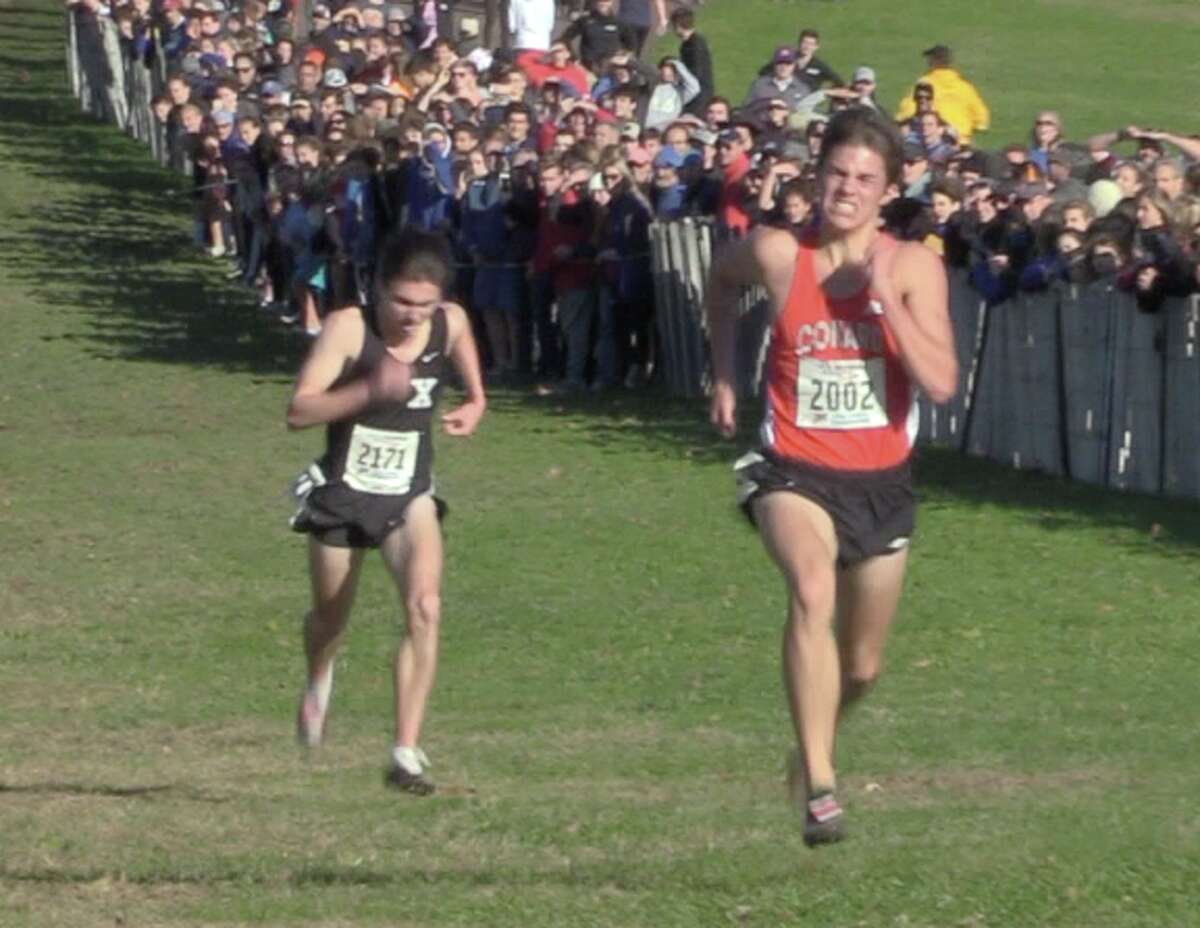 MANCHESTER—The green monster is his home, and with it came another title.
Conard sophomore Gavin Sherry has owned the stretch that has defined Wickham Park, and a surge up it Friday provided just enough cushion to win the State Open championship.
Sherry outlasted Robbie Cozean of Xavier in a highly-anticipated battle at the front of the pack. Sherry won with a time of 15:38 while Cozean finished in 15:44.
"I'm really excited and happy to be doing this ," Sherry said. "I know it's rare for a sophomore to be doing this and winning these races. I'm so thankful and blessed, it's amazing."
Cozean had one move left in him on the final hill, briefly passing Sherry to take the lead. Sherry — who made his move up the monster earlier in the race to build a cushion — had more than enough left to surge past his rival in the final hundred meters to take the title.
"I think there's always that extra gear, it's hard to find but when he passed me it clicked mentally to get to that gear and I got to the finish as fast as I could," Sherry said. "I didn't know what I was going to have; I knew he was (gaining) on me and I was hurting."
The race was a learning experience for the Falcons senior, who won the Class L race last week. Both runners ran in the 15:20s a week ago, but rain from the previous two days slowed the course for most.
"He gapped me on the green monster and there's that gap I was trying to close in the last 100 meters and fell short," Cozean said. "Gavin controlled the entire race, I never controlled the race like I should of. From the gun he was making surges and I was chasing him."
The pair will have a chance to race again next week on the same course in the New England championships.
"My biggest takeaway is that I wasn't as physically or mentally prepared as I should have been," Cozean said. "I was a little distracted going in and I'm definitely going to work on that going into next weekend.
Tolland cruised to the team title in another stellar performance. Alec Sauter finished third in 16:11, Jackson Cayward was seventh in 16:28 and Killian McNamee (29th) and Nathan Polangeli (30th) provided the depth required to win the crown. It's the first team State Open title for Tolland since 2010.
Wolcott's Nicholas Bendsten finished foruth in the race with a time of 16:14, while Staples' Morgan Fierro finished fifth in 16:24. Jacob Smith (Glastonbury, 16:26), Jack Olender (Ellington, 16:30) and Owen Wollenberg (Simsbury, 16:34) all finished in the top 10.
Sherry's effort led Conard to a second-place finish in the team score as twin brother Callum finished ninth. The Chieftains were 16 points behind Tolland while Ridgefield (181), Danbury (206) and Staples (209) rounded out the top five.
Manchester's Aidan Puffer — who likely would have finished in the top three — missed the race due to injury.
CIAC BOYS CROSS COUNTRY CHAMPIONSHIPS
Team Results
1. Tolland 71, 2. Conard 87, 3. Ridgefield 181, 4. Danbury 206, 5. Staples 209, 6. Xavier 220, 7. Southington 241, 8. Haddam-Killingworth 258, 9. Glastonbury 277, 10. Hall 295, 11. East Lyme
303, 12. Simsbury 316, 13. Bristol Central 354, 14. Trumbull 368, 15. East Hampton 382, 16. Avon 385, 17. Newtown 390, 18. Norwich Free Academy 394, 19. Amity 419, 20. Bolton 443, 21. Cromwell 498, 22. Terryville 522, 23. Manchester 534, 24. Newington 551.
Top Individuals
1. Gavin Sherry, Conard 15:38; 2. Robbie Cozean, Xavier 15:44; 3. Alec Sauter, Tolland 16:11; 4. Nicholas Bendtsen, Wolcott 16:14; 5. Morgan Fierro, Staples 16:24; 6. Jacob Smith, Glastonbury 16:26; 7. Jackson Cayward, Tolland 16:28; 8. Jack Olender, Ellington 16:30; 9. Callum Sherry, Conard 16:33; 10. Owen Wollenberg, Simsbury 16:34; 11. Chris Deforest, Terryville 16:34; 12. Charles Namiot, Ridgefield 16:35; 13. Gregory Vogt, Fairfield Warde 16:36; 14. Jack Watson, Danbury 16:36; 15. Nate Deangelo, Bristol Central 16:36; 16. Jackson Grady, Hall 16:36; 17. Brendan Mellitt, Cheshire 16:36; 18. Patrick Gibbons, New Fairfield 16:37; 19. Trey Generali, Pomperaug 16:38; 20. Dan White, Enfield 16:39