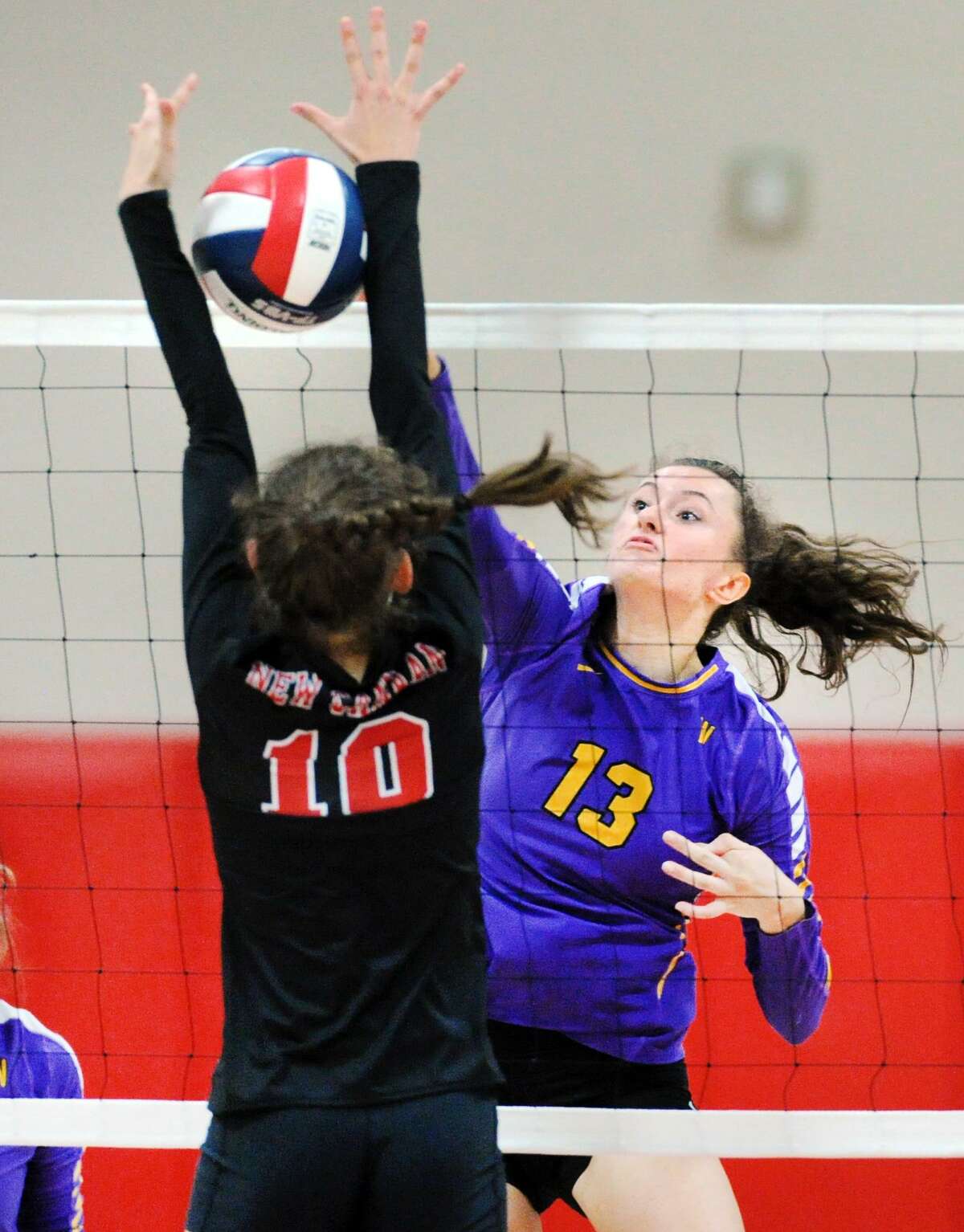 NEW CANAAN — Each game of Westhill's 3-0 sweep over New Canaan followed a pretty similar blueprint.
Early runs by both teams, then tie somewhere near the midpoint before the Vikings ran away down the stretch to claim the point.
That composure and relentless effort is why Westhill left the New Canaan gym undefeated on the season at 5-0 overall and 2-0 in the FCIAC.
"It's really just the connection between our team," senior captain Nina Bakuradze said of the fast start. "We're all great players individually, but it doesn't matter if there's no chemistry. I would say we're having such a good season overall because of our bond and I'm so excited for everything to come."
After falling 25-10 in the first game, New Canaan started the second up 2-0, but Westhill followed with five unanswered points before the Rams tied it back up at six apiece.
The Vikings responded to score seven unanswered and 11 of the next 12 en route to a 25-9 win of the second game.
The third started the same, with New Canaan earning the first two points, but Westhill rallied to tie at 2-2. From there the teams went back and forth, eventually seeing the Vikings take a 9-8 lead.
New Canaan (1-4, 1-2) stayed within six points for most of the remainder, but Westhill's ability to score from all over the floor proved to be the difference as it finished the set and the match with a 25-15 win.
"We like to make it a variety," Westhill coach Marianna Capomolla said of her team's offensive versatility. "We like to have different options and not just one option. We move the ball around a lot and it works."
The younger New Canaan squad showed its promise in spurts, but it couldn't overcome its own unforced errors paired with a Viking squad that made very few.
"They're such a good team offensively and defensively," Rams coach Kevin Marino said. "We were having a hard time keeping up with them and all their power. We came out with a little more energy early and they just went on big, long service runs and really wore us down with their defense too. They're outstanding and deserve all the credit for that."
PLAYER OF THE MATCH
Bakuradze, Westhill. The senior libero was instrumental both defensively (five digs) and at the service line (11 points) in the Vikings' win.
"My girls know that we have to push, push, push," Bakuradze said. "No point is given to us, we have to work for everything we have. I can easily say we all trust each other on the court, somebody is going to put that ball over. We didn't even really look at the score, we just keep pushing until it's over."
QUOTABLE
"We're just trying to execute a lot better," Marino said. "We haven't been executing offensively. We keep the ball up, we keep it off the floor pretty well, but then we get an opportunity to swing, we make an error or don't necessarily send the most aggressive swing over. So, we're really working on that and working on our defense as well. We have a young group; they're trying to gain experience and it's getting better and better every game, so I'm happy about it."
aparelli@bcnnew.com @reportedbytheAP
WESTHILL 3, NEW CANAAN 0
WESTHILL 25 25 25—3
NEW CANAAN 10 9 15—0
Records: Westhill 5-0, 2-0 FCIAC; New Canaan 1-4, 1-2. Highlights: W—Nina Bakuradze had 11 service points and five digs. Betsy Sachs tallied 12 kills and seven service points. Vana Servos added 15 assists and nine service points. NC—Emily Johnson had 10 digs and four aces. Josie Matyszewski had five kills and one ace.