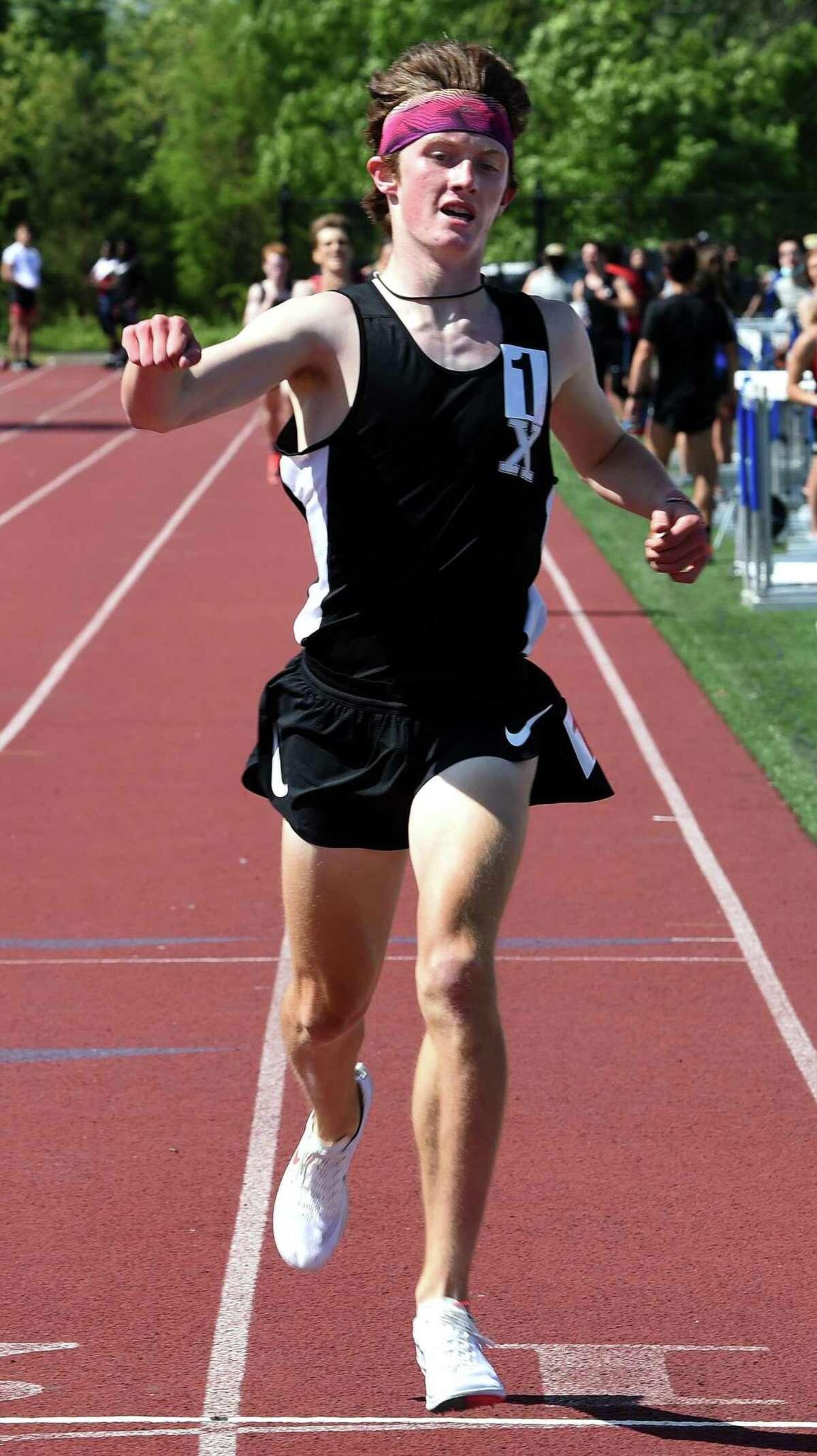 While people attempt to stay indoors under the cool blanket of air-conditioned homes and schools are announcing half days and early release times to combat this week's extreme heat wave, the state's top track and field athletes are bracing the thick humidity and heat in preparation for the biggest meet of the season: Thursday's State Open.
Practice runs have been moved to early morning and early evenings. Pre-race hydration started as early as Sunday, with some kids drinking about a gallon of water a day, and some even scheduling pre-meet ice baths for Tuesday.
With State Open titles on the line, athletes are doing everything they can in advance to avoid dehydration, limit fatigue and stay ready for Thursday's meet at Willow Brook Park in New Britain.
"Basically, everybody is going to be feeling the same heat, the same humidity. So, I can't really use that as an excuse for if I run poorly or anything like that. I just need to fight through it," said Eamon Burke, a senior from Xavier listed as the No. 2 seed in Thursday's boys' 3,200-meter run. "The two miles, it's really just going to be a race to the finish line, I mean that's how all races are, but thinking about that water at the finish line and how I gotta get there as fast as possible."
On Tuesday morning, the CIAC moved the state open start time to Thursday at 9:30 a.m. after moving it from its original start time of Wednesday at 3:30 p.m. to avoid athletes competing during the heat of the day on one of the hottest days of the week. Thursday's forecast predicts a high of 85 degrees with partly cloudly skies, while Wednesday's forecast showed a high of 90 degrees with scattered thunderstorms.
Athletes have been doing pre-meet hydration preparation since as early as Sunday despite the start time change.
Burke drinks two, 32-ounce water bottles a day. Hillhouse coach Gary Moore recommends his athletes drink four to five water bottles each day on top of doing ice baths the day before the meet to help with relaxing and prepping muscles.
"The problem is making sure the kids follow through doing it and not just starting that the day of the meet. That's stuff that starts prior to the meet," Moore said. "It's staying off your feet, staying out of the sun because what kids don't understand, sitting out in that sun starts to drain you and you don't even realize it and you can start to feel sluggish and tired."
While at the meet on Thursday and during the hours leading up to their events, athletes will do everything they can to stay in the shade and stay cool while warming up and waiting for their start time.
Charles Namiot, a senior from Ridgefield competing in the 3,200, said he likes to bring ice packs and dump water on his head before racing to keep his body temperature low and avoid any heat exhaustion. Wolcott senior and the No. 1 seed in the 1,600, Nicholas Bendtsen, said he's planning on bringing a sports towel to keep wet to place over his head between events and possibly take mini breaks inside his car to use its AC for cool air.
Once on the track and competing, the athletes know they'll have to remain focused on their time and strategy to avoid allowing the heat and its fatigue to become a distraction.
"You just start to feel really tired and then you kinda feel yourself overheat a little bit. It's kinda like a struggle to keep the pace you're at," Bendtsen said. "It's definitely tough, but everybody deals with this insane condition so it's kinda just who can deal with it the best."
Add in the humidity and these long distance races become even more tactile. Burke said the humidity immediately makes breathing harder for him, so, he counts a rhythm in his head that combines his breathing with his steps to make sure he's getting enough oxygen in and out. This also keeps him focused on something other than the weather or the symptoms it causes like dry mouth, fatigue and headaches.
"It's kinda awful," he said. "It makes it so much harder to breathe and just really thick and unpleasant. But again, everybody is going to be dealing with the same weather temperatures, so everybody is going to be in the same boat as me. … I try to keep a rhythm going because once you lose the rhythm and start breathing heavy, everything else kinda falls apart from there."
Despite knowing in advance the meet's conditions won't be the best for setting personal records or even breaking state records, to these athletes the chance to win a state title is worth all the extra preparation.
"I just think about how hard I train for these races. I mean, all the miles I put in, all the workouts that I trained to prepare for these moments. Just all about staying focused, sticking to the plan and giving it everything I have," Bendtsen said. "I feel like to win that race [the mile], the time will definitely come with it. I'm not focusing on times, but probably place because time usually comes with the place when there are a lot of great athletes running."
maggie.vanoni@hearstmediact.com