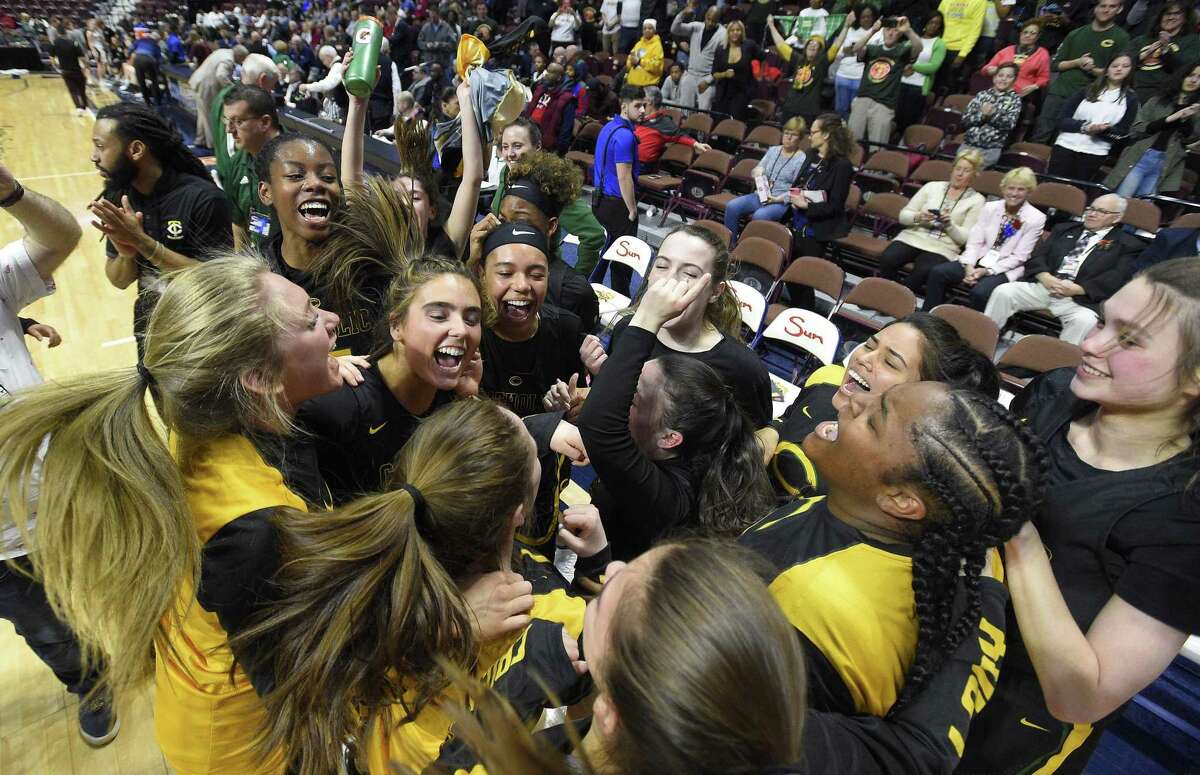 UNCASVILLE—Greatness came in a flash and handed the Trinity Catholic girls basketball team the ultimate prize.
Within a span of just several minutes in her team's Class S final against Canton, Iyanna Lops showed just why she's continuing her career at the highest possible level.
Lops stamped her authority on both sides of the court, scoring 26 points with nine rebounds and six blocks to lead Trinity to its first class S championship since 2006 with a 52-45 win over top-seeded Canton Saturday afternoon at Mohegan Sun.
It was a first state crown for the school's girls team under Walsh, who led the Crusaders' boys team to seven titles before a brief retirement.
"We made some big plays and hit some big shots," Walsh said. "I thought our defense especially was good. (Canton) is a good team and we knew we had a hard job. They went out and did it. I'm glad I came back and helped them out."
The University of California-Bakersfield-bound Lops scored 17 points — including back-to-back three-pointers to start — in a six-minute span during the second quarter, flipping the final on its head for good. The No. 7 Crusaders got 12 points and six assists from Caitlyn Scott.
"I knew that our tempo was low so I knew as a leader I just had to get the energy high and stay vocal," Lops said. "It felt amazing, once I hit the first two in the corner I was like OK, I'm going to keep shooting."
One team had been there plenty before, the other had not. That played out early as Canton — which was playing in its fourth state final in five years — sunk four three-pointers to snatch an eight-point lead. Lops completely took over in the second, though, scoring her 17 points as part of a 23-4 run for the Crusaders.
"She's very good," Canton coach Brian Medeiros said. "I thought our size would give her more problems than it did, but we had no answers in the second. The first, third and fourth quarters weren't bad, it was just that second-quarter eruption that she got what she wanted."
That double-digit lead remained for most of the game before a brief revival from the Warriors. Pressure on defense led to a 6-0 spurt that pulled them to within 44-37 with six minutes still to play, but Canton went ice cold from the field after that. The lead was again trimmed to 50-43 but nothing found the bottom of the basket for Canton, which forced eight turnovers in the final quarter but couldn't capitalize.
"That was the frustrating part because we got what we wanted the last six minutes," Medeiros said. "We said we had to pick up the tempo here; if we could force some turnovers and get those extra possessions. We get them, we're trying to get to the basket and for one reason or another we miss or turn it over. We did all the hard work we didn't get to pay it off."
Junior Abby Charron led Canton with 15 points while Paige Brown added 10. Canton was beaten just once prior to Saturday, a 52-47 decision against ND-Fairfield in early January.
RUN TO THE SUN
Both teams blitzed their way to the final; each won four games by more than double digits. Trinity ousted Canton for the second straight year after winning in the opening round in 2018. The Crusaders (22-5) were defeated in the FCIAC final, while Canton (26-2) won the NCCC crown.
CHARITY STRIPE
The Crusaders went a sparkling 14-for-17 from the foul line to seal the win while the Warriors were 10-17.
PLAYER OF THE GAME
Iyanna Lops, Trinity Catholic: The standout delivered her school a championship in her final act.
QUOTABLE
"I don't even know what's going through my head," said Trinity junior Caitlyn Scott. "Happy, sad a lot of work I've put into this and it's just really amazing to be here."
"All the early-morning, late-night workouts finally paid off," Lops said. "I just thank my coaches for believing in me and not giving up on me."
TRINITY CATHOLIC 52, CANTON 45
TRINITY CATHOLIC (19-4)
Emma Garner 0 2-2 2 Kyah Nowlin 2 3-4 8 Caitlyn Scott 34 4-4 12 Iyanna Lops 9 5-6 26 Kiera Fenske 2 0-0 4 Sarah Jablonsky 0 0-0 0. Totals: 17 14-17 52.
CANTON
Abby Charrono 5 3-6 15 Allisono Celmer 0 0-0 0 Grace Treacy 2 0-0 6 Lauren Eschenbrenner 1 2-2 4 Sarah Bowman 1 0-0 2 Lauren Puglielli 0 0-0 0 Morgan Walzak 0 0-0 0 Paige Brown 3 3-5 10 Alexandra DelSanto 0 0-0 0 Gabrielle Schinkel 3 2-2 8. Totals: 15 10-17 45.
TRINITY CATHOLIC 10 23 11 8 — 52
CANTON 18 4 11 12 — 45
3-pointers: TC—Nowlin, Lops 3; C—Charron 2, Treacy 2, Brown.