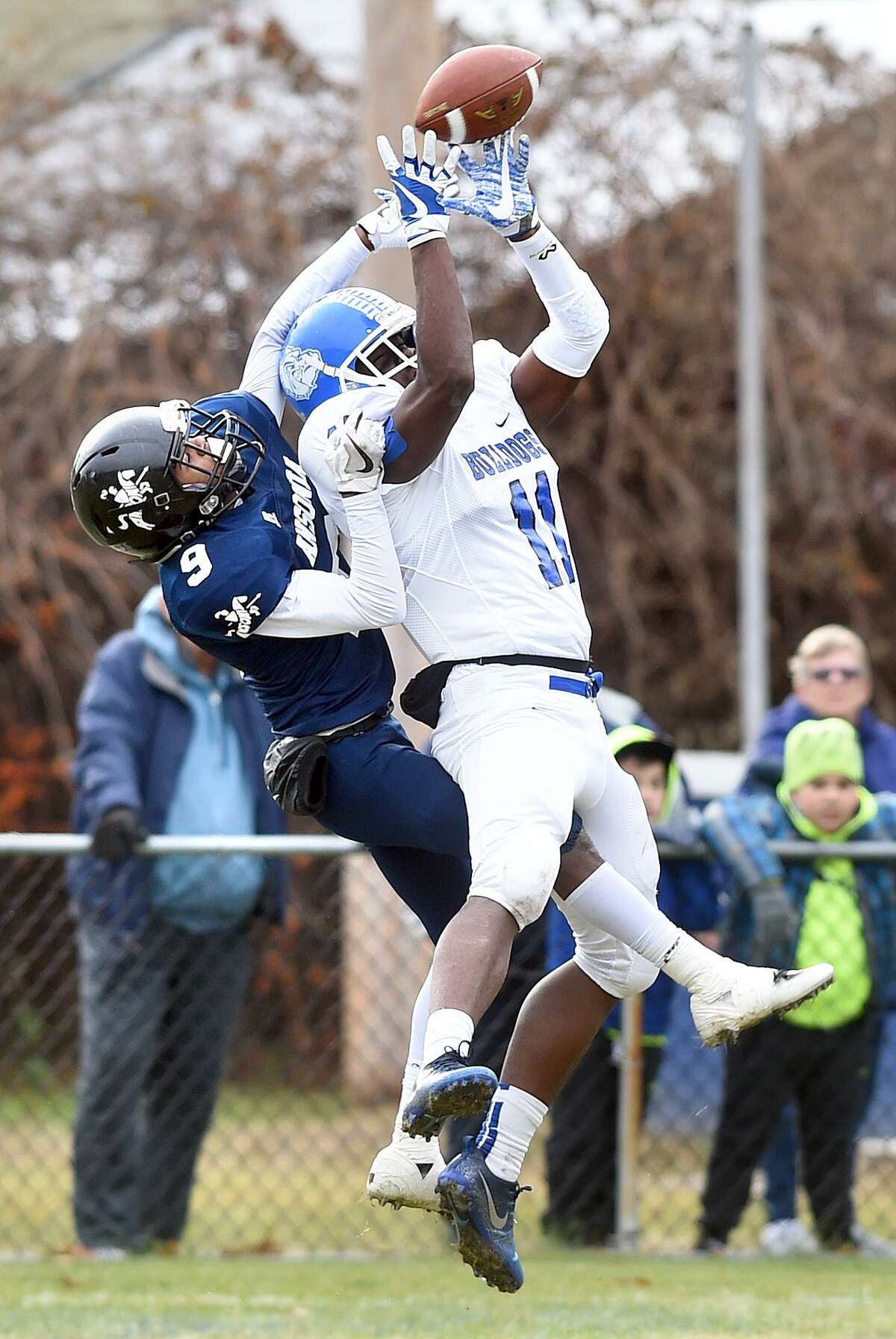 ANSONIA — It took almost a quarter for the Ansonia football team to make the necessary adjustments, but once the Chargers did, the end result looked similar to the first 11 games they played this season.
The top-seeded Chargers scored 44 unanswered points in the first half and blitzed No. 5 Stafford/East Windsor/Somers 52-19 at Jarvis Stadium.
"I think they have some good, hard-nosed kids who played tough," Ansonia coach Tom Brockett said about the co-op program. "We had a couple of fumbled snaps, a couple of penalties but hey, they played good, give credit to them."
That result helped sets up the matchup in Saturday's final everyone has been pointing toward since the season began: No. 1 Ansonia (12-0) vs. No. 2 St. Joseph (11-1) at a time and site to be determined by the CIAC Monday morning. The Cadets beat No. 3 Rocky Hill 49-20.
"Obviously, they are a good team. We have to work hard in practice and execute," Ansonia tailback Markell Dobbs said. "I have confidence in my team. I know we can win that game.
This will be Ansonia's eight straight appearance in a final and 31st overall. The defending champion Chargers already hold the state record with 20 titles.
Said Brockett: "St Joe's is an awesome team. They are a great program with great players, the best quarterback in the state (David Summers), we will have our hands full. We are looking forward to that challenge. We welcome it."
Dobbs, bound for Central Connecticut State University next fall, rushed for 147 yards and three touchdowns on 13 carries. His last carry came early in the second quarter.
But it was his jarring hit on Julian Revis in the first quarter that stood out. After Revis scored the only first-half touchdown for the co-op on a 22-yard scoring pass from quarterback Colton Engel (8-of-24 passing, 120 yards, three interceptions through three quarters), the Bulldogs (10-2), who lost to Ansonia 48-0 in last season's S quarterfinals, actually stopped the Chargers on consecutive fourth-down plays.
"We're tiny little Stafford," coach Brian Mazzone said. "We came out and tried to play with them and we did for a quarter and a half. We did. I couldn't be more proud. I'm ecstatic. They are that good."
Dobbs fumbled a snap on Ansonia's second fourth-down opportunity, allowing the Bulldogs to take over at midfield. Two plays later, Revis took a screen pass and made his way toward the end zone.
Then Dobbs came from the other side of the field to not only track down Revis, but also knock the ball loose. Tavieus Winder recovered at the Bulldog 4-yard line.
"We are taught to run to the pylon in case we can get a goal-line stop," Dobbs said. "I'm fast. I had just enough speed."
Said Mazzone: "We get a lead (if Revis scored). My head would have exploded. It was phenomenal. In the Pequot, we don't see a lot of D-I kids. That kid came across the field and laid out (Revis), what a play. Who else makes that? Not a lot of kids we see makes a play like that."
Dobbs carried on the next four plays, then Darwin Amaya on the next two, including the 35-yard touchdown to put the Chargers up 16-6 with 1:56 left in the first quarter.
"It was a great hustle play," Brockett said about Dobbs' forced fumble. "If you want to win championships it takes a great effort every play."
Brent Washington and John Picheco intercepted Engel on consecutive possessions to set up touchdown runs of 18 and 54 yards by Dobbs to turn what was a close game into a rout.
Justin Lopez, Ansonia's starting quarterback, missed the game due to an injury in practice. Brockett said he should be able to play against St. Joseph.
"He should be all right. We kept him out today. He should be good," Brockett said.
The Chargers didn't attempt a pass and didn't punt Sunday.
Shaykeem Harmon added two touchdowns for Ansonia, including a 37-yard interception return.
Ansonia 52, Stafford/Somers/East Windsor 19
STAFFORD 6 0 0 13 — 19
ANSONIA 16 36 9 9 — 52
A–Markell Dobbs 11 run (Dobbs run)
SSEW–Julien Rivas 22 pass from Colton Engel (kick failed)
A–Darwin Amaya 35 run (Dobbs run)
A–Dobbs 18 run (Dobbs run)
A–Dobbs 54 run (run failed)
A–John Picheco 36 run (Shaykeem Harmon run)
A–Harmon 47 run (Harmon run)
A–Harmon 37 interception return (run failed)
SSEW–Engel 20 run (Luke Phillips kick)
SSEW–Rivas 10 pass from Engel (kick failed)
Records: Stafford 10-2; Ansonia 12-0.
Video via WTNH-8, Sportzedge.com