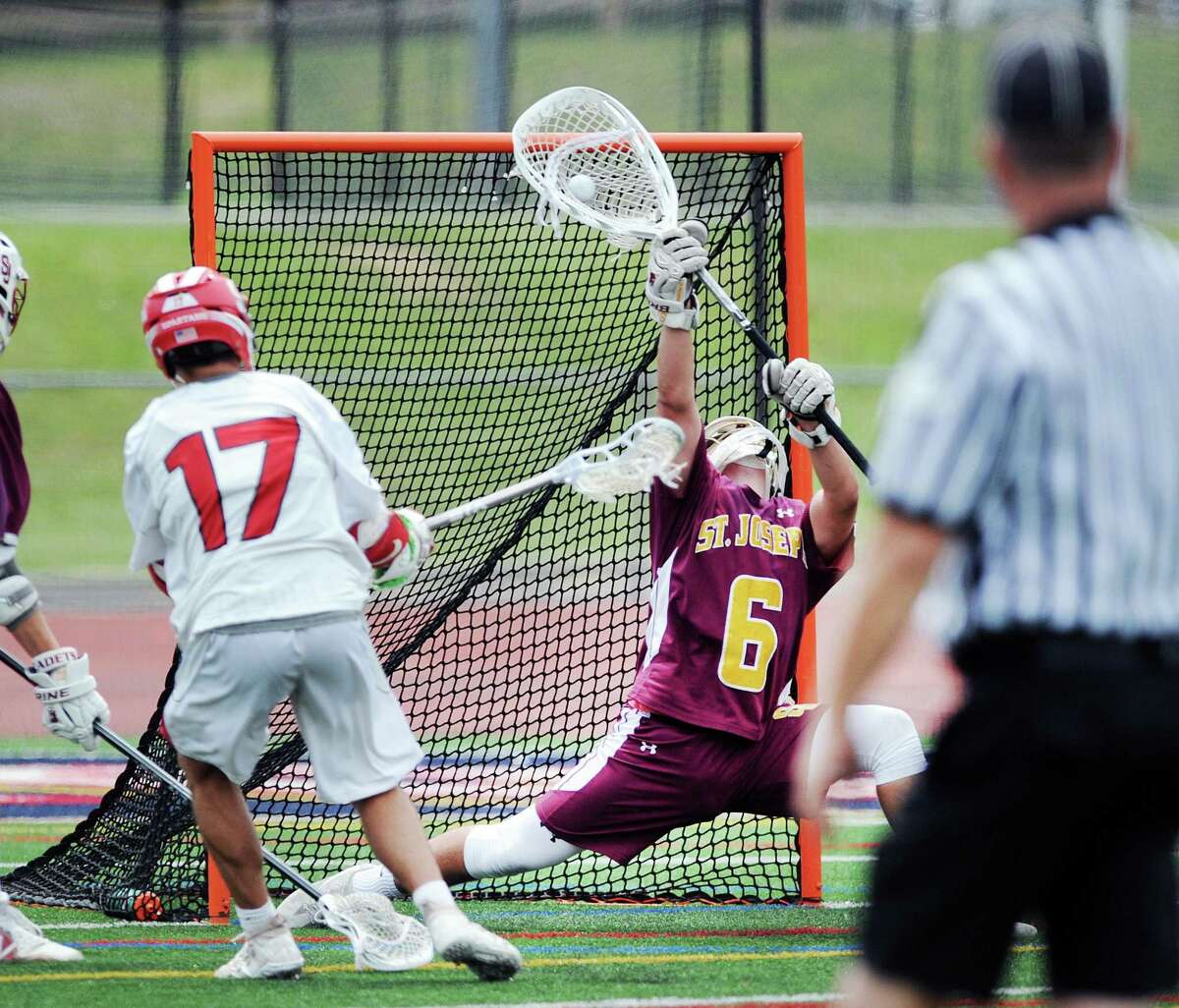 NORWALK — When the outcome was in doubt, that's when St. Joseph's top boys lacrosse players were at their finest, earning the Cadets their fifth CIAC Class S title in a decade, beating two-time defending champion Somers 11-6 Saturday.
When the Cadets led 1-0 at Jack Casagrande Field, Kyle Burbank stopped three shots in about 10 seconds, a flurry and a rebound.
When the second-seeded Spartans cut St. Joseph's lead to 5-4 in the third quarter, Jared Mallozzi scored back-to-back goals, his third and fourth.
This group of Cadets took that and won their first championship since 2015, and their first under coach Brendan Talbot.
"It's his first state championship. In his first year, we lost to them," junior co-captain Phil Pasmeg said. "We did it for him. The seniors helped us out, and like I said before, we've got great seniors."
Seniors Mallozzi and Matt Labash scored seven goals between them.
"After losing two years ago to the same team, you come back as a senior, and I wanted it more than ever," Mallozzi said.
The ninth-seeded Cadets (13-6) were playing for a title for the eighth time in those 10 years. The two seasons they didn't make the final, they missed the playoffs by a game.
That included last year.
"To be the champ, you've got to beat the champ. We wanted to put St. Joe's back on top," Talbot said. "We had to grow up. We only had three seniors last year. You saw the result, back on top of the mountain."
Somers (18-3), the second seed, played without senior standout Colin Whitford, injured in the semifinals. Senior Dante Giachello had three goals and assisted on another, but the Spartans weren't able to catch up to the Cadets on Saturday.
"This is a celebration here, still, for this program, these kids. It's not a huge downer. It's not huge fuel for the fire, either," Somers coach Ken McCarthy said. "We wanted to be here in the very last game. St. Joe's was very good today, and we weren't. … It wasn't because we weren't playing, weren't trying hard. We just made a few mistakes."
PLAYER OF THE GAME
Talbot and Mallozzi both said they were disappointed that goalie Burbank wasn't chosen to either the All-FCIAC or all-state teams, and after Saturday's performance, it's understandable.
"That's crazy, a kid that can go all season against FCIAC teams, put up numbers like he did, especially today," Mallozzi said. "You get nervous on the sideline, and all of a sudden he hits one up, and it's like, 'wow.'"
McCarthy said the Spartans had a plan to beat Burbank, but it didn't happen often enough.
"Their goalie was going low. We told our kids to drop their shoulder and shoot high, and for whatever reason, we didn't," McCarthy said.
SCATTERED FLURRIES
Late in the first quarter, the game still 1-0, Burbank stopped Avery Foye in front. Somers quickly moved the ball to set up Foye again on the doorstep; Burbank stopped his one-timer, then reset to stop Scott Symington.
"I just try to put myself in best position to make saves. Sometimes it comes out good. Sometimes it comes out bad," Burbank said. "I've got to give credit to my teammates. We had all of our players making 90 percent of our team lifts (in the offseason). We're state champs."
HALF MEASURES
We wondered from a distance what Pasmeg was telling his teammates, animatedly, at halftime, when the Cadets led 5-3.
"It was really, you've got to pull everything together," the defender said. "At the state championship, you have a longer break. You really have to collect yourself. You're sitting for 10 minute and not focused on the game."
QUOTABLE
"It was kind of unfortunate he didn't get recognized (on all-state or All-FCIAC teams), but on this stage: If there's better goalies than him in Connecticut, you can count them on one hand." —St. Joseph coach Brendan Talbot, on Burbank
ST. JOSEPH 11, SOMERS 6
ST. JOSEPH 3 2 4 2—11
SOMERS 0 3 1 2— 6
Records: St. Joseph 13-6; Somers 18-3. Scoring: SJ—Jared Mallozzi 4 goals, Matt Labash 3 goals, 1 assist, Jack Carpenter 2g, Declan McGinley 2a, Dan Tobin 1g, Cole daSilva 1g, Preston Kral 1g; S—Dante Giachello 3g, 1a, Tim Lynch 2g, Avery Foye 1g, 1a, Riley Burgmyer 1a. Goalies: SJ—Kyle Burbank (14 saves); S—Chris Allen (6). Shots: SJ—21; S—29
We recently redesigned GameTimeCT.com and would appreciate your feedback to continue improving the site. This survey should only take 5 minutes and you could win a $50 Amazon gift card!
Thank you, from the GTCT Team
Survey Link: https://www.surveymonkey.com/r/NYDRF5H