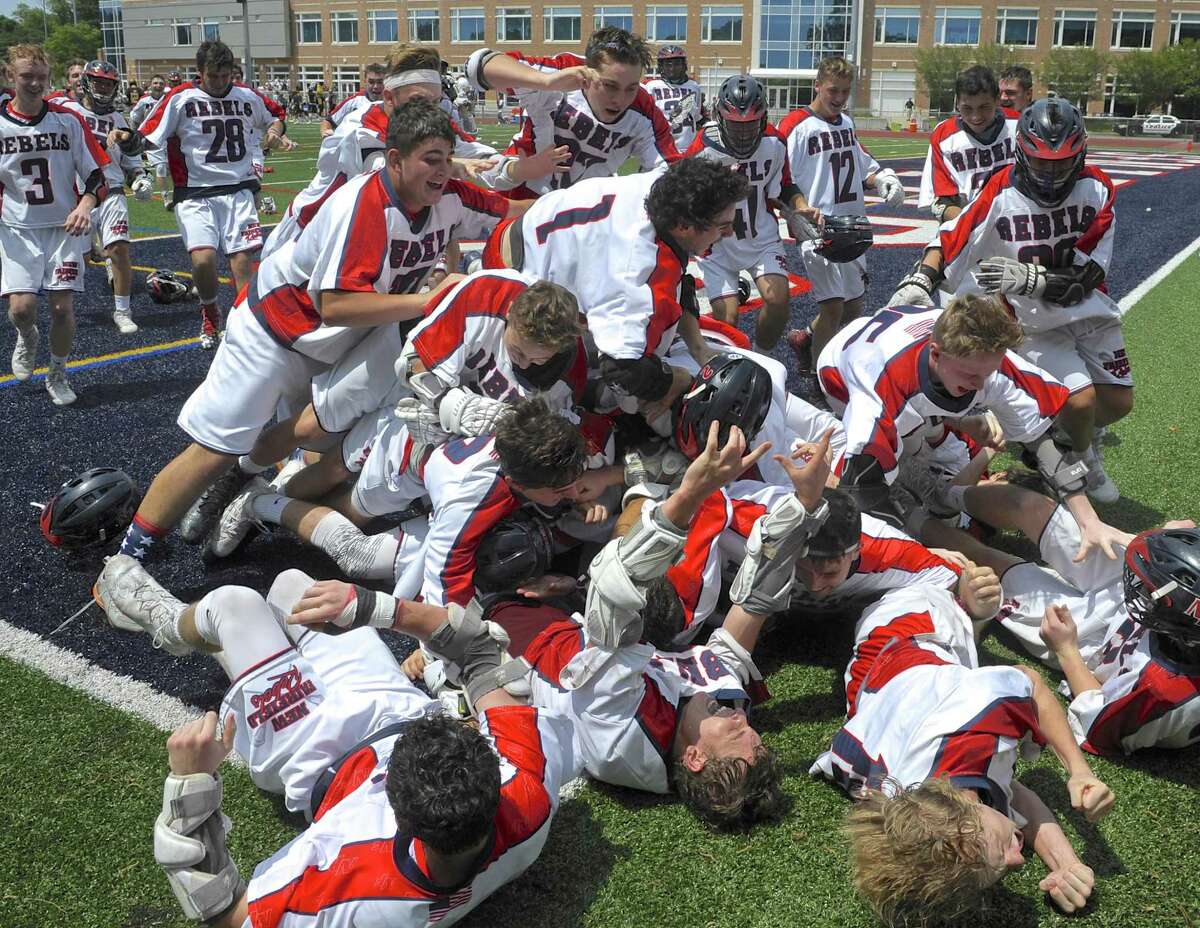 NORWALK — When Matt Carlucci and Liam Ford first joined forces as lacrosse players, back in their youth days, they let their minds wander far ahead and they dreamed big.
They wanted to win a state championship.
On Saturday morning at Casagrande Field, their New Fairfield Rebel team did just that.
The Rebels stormed back from a three-goal half-time deficit to win the 2018 CIAC Class M boys lacrosse championship, 13-11, over Daniel Hand.
"I think we all knew what he had to do," said Carlucci, one of just six seniors on the junior-laden team. "This was my only title, but I'm going to out with a bang. I wouldn't want it any other way.
CIAC SPRING CHAMPIONSHIP SCOREBOARD
Carlucci scored two goals and Ford, a junior, and John Morgan tallied in the opening six minutes of the second half, turning a 7-4 deficit into an 8-7 lead for the undefeated Rebels.
"I just told them, 'Three goals is nothing,' " New Fairfield coach Marty Morgan said. "We had made our mistakes and it was basic stuff. It wasn't anything we had to recreate or do. We just weren't winning face offs."
New Fairfield finishes off Hand with this goal with 26.5 seconds left. 13-11 Rebels. #ctlax @GameTimeCT pic.twitter.com/j9zALzVaen

— John Nash (@NikonNash) June 9, 2018
New Fairfield then build a three-goal (11-8) with 8:51 left to play before Hand scored twice to pull within 11-10 with 7:03 left.
Ford answered again, though, giving the Rebels that cushion they needed to hold on.
"Matt and I did what we had to do," Ford said. "We just took them to goal and we came out on top. That's about it. I'm excited to win. It was an awesome game and an awesome season."
Ford led New Fairfield with four goals and one assist while Carlucci had three goals and an assist. Morgan scored twice and set up a goal while Dylan Hanley scored twice. Brett Tenaglia (2 assists) and Drew Von Werne (1 assist) also scored. New Fairfield goalie Brennan Hart made 14 saves.
For Hand, Thomas Swank scored four goals. Liam Regan and John Ruggerio added two each while Nate Palumbo, Tripp Bordiere and Jack Flanagan scored one goal each.
Goalie Griffin Fitzmaurice made 10 saves.
"The kids fought. Nothing went wrong," Hand coach John Orlando said. "We competed to the end and we were in the game for the whole run. They just had a big run and finished it off at the end. Nothing happened that went wrong. It was just kids playing with a lot of heart on both sides of the ball."
BACK AND FORTH FIRST HALF
New Fairfield actually took a 2-0 lead out of the gate as Ford and Hanley got the Rebels on the board.
The Tigers, however, stormed back with five straight controls behind a yeoman's effort at the X by Mark Hartmann.
Swank scored three of his goals during that run as the Tigers led 7-4 at the half.
"To be down at the half and come back and win?" Carlucci said. "That's perfect."
DEFENSIVE DIAMOND
One of the defensive keys to New Fairfield's success was limiting standout Nate Palumbo to just a single goal — which gave the Tigers a 3-2 edge in the second quarter.
From there, the Rebels defense clamped down.
"We put No. 40 on him, Nick Alviti," Morgan said. "He's one of my best one-on-one defenseman. He's disciplined enough to say I'm going to do this and I'm not going to let him do that. He's just awesome."
Alviti knew he'd have his work cut out for him, but he and his fellow Rebel defenders proved up to the task.
"He's a good player, he's a quicker player," Alviti said. "As a defense, we just wanted to shut down their best players and, at times, we did that."
Holding the Tigers to just one goal in the third quarter and four in the second half was a big key.
"It was the recognition of having just 24 minutes left in the season," Alviti said. "All that hard work and all those practices and it came down to this one moment."
QUOTABLE
"Honestly, I don't really know what was said at halftime," Carlucci said. "I was just focused on the fact we were 21-0 and we weren't going to lose our last game. We just kept telling the boys, believe in yourself."
NEW FAIRFIELD 13, DANIEL HAND 11
DANIEL HAND 3 4 1 3—11
NEW FAIRFIELD 2 2 4 5—13
Records: Daniel Hand 11-6, New Fairfield 22-0; Goals: DH—Thomas Swnk 4, Liam Regan 2, John Ruggerio 2, Nate Palumbo, Tripp Bordiere, Jack Flanagan; NF—Liam Ford 4, Matt Carlucci 3, John Morgan 2, Dylan Hanley 2, Brett Tenaglia, Drew Van Werne; Assists: DH—Palumbo, NF—Tenaglia 2, Ford 1, Carlucci 1, Morgan, Von Werne; Goalies: DH—Griffin Fitzmaurice (10 saves), NF—Brennan Hart (14 saves)
We recently redesigned GameTimeCT.com and would appreciate your feedback to continue improving the site. This survey should only take 5 minutes and you could win a $50 Amazon gift card!
Thank you, from the GTCT Team
Survey Link: https://www.surveymonkey.com/r/NYDRF5H