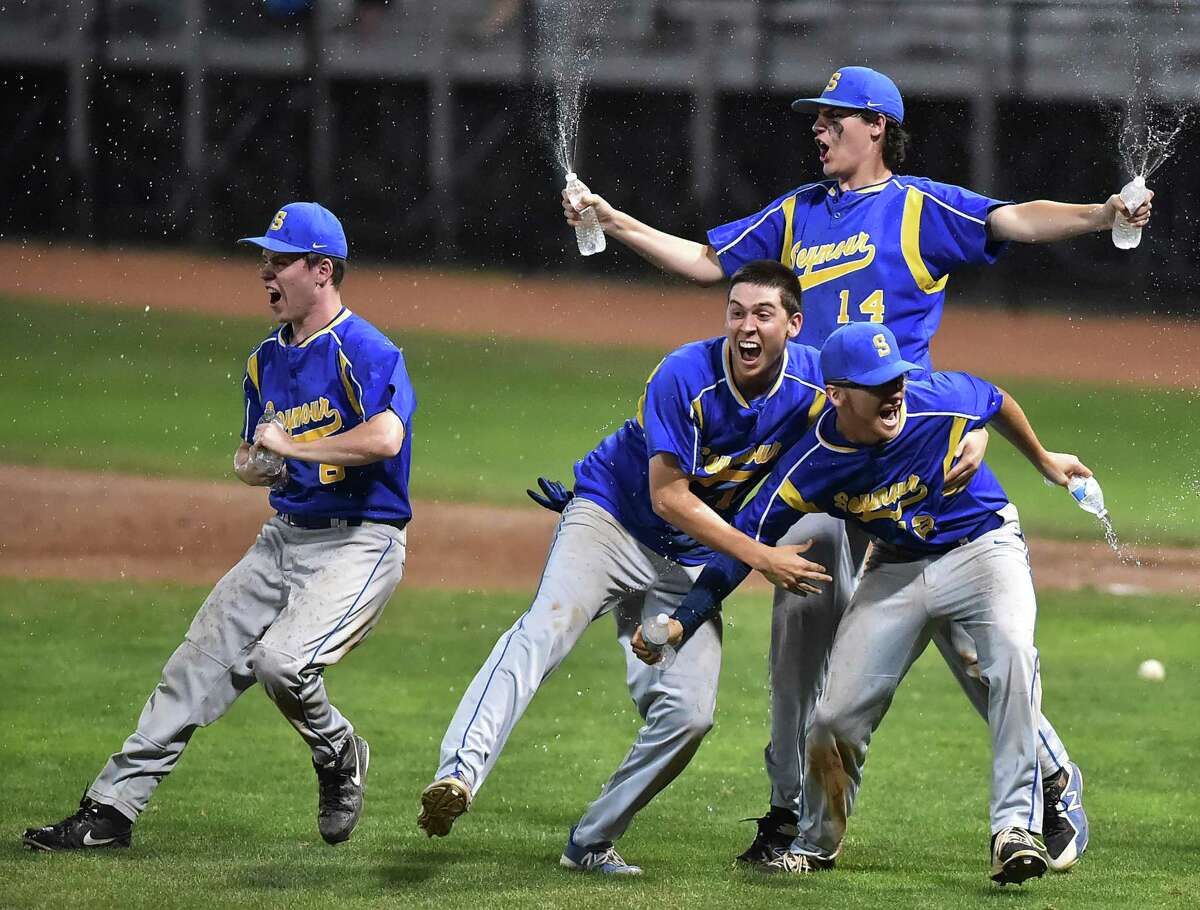 MIDDLETOWN – It had been 11 years since two Naugatuck Valley League teams had met in a state tournament final.
A pair of NVL teams got together Saturday night as 9th-seeded Seymour won its fifth state title with a 13-2 victory over 3rd-seeded Wolcott in the CIAC Class M championship game at Palmer Field.
Seymour (19-6), which won its first title since beating Waterford in 2007, took advantage of five Wolcott errors that led to six unearned runs.
"Our bats have been hot. We needed to throw strikes, play defense and the rest would take care of itself," Seymour coach Jeff Gilbert said. "I knew we had to take advantage of their mistakes. A mistake isn't a mistake unless we take advantage of it."
Austen Green allowed just five hits and struck out eight to get the complete game win for Seymour.
"He never gave me a reason to take him out of the game," Gilbert said. "He stayed in command the whole time. He bent a few times, but never broke."
Jack Drewry opened the scoring with a long blast into the right field seats in the bottom of the first to put Wolcott up, 1-0.
"I knew one run can't win a baseball game," Green said. "I knew my team could hit the ball and I had a good feeling about it."
An old baseball adage is when you score, put a zero right on the board in the next half inning. But Seymour put that to rest in the top of the second with four runs, two of which were unearned.
Brandon Ellsworth got the Wildcats started with a one-out single to center. One out later, Ethan Szerszen brought him in with a double to right center to tie it at 1-1.
After Nick Marchetti walked, Jake Todice singled to right. Seymour coach Jeff Gilbert stopped Szerszen at third. But when Wolcott rightfielder Dane Hassan air-mailed the throw to the backstop, Szerszen scored to put the Wildcats ahead.
CIAC SPRING CHAMPIONSHIP SCOREBOARD
Drewry ran into even more trouble when he hit Zach Edwards with a breaking ball to load the bases.
It got even worse for Wolcott when John Chacho's hard hit ground ball to second base was booted by Nick Trager as two runs scored to give Seymour a 4-1 lead. One saving grace for the Eagles was that Chacho tried to go to second base and was nailed in a rundown.
Wolcott closed the gap to 4-2 in the bottom of the fourth when Ethan Gilotti doubled to left and Jeff Nicol followed with a single to left.
The Wildcats got that run back and more in a hurry in the top of the fifth. Edwards reached on an error to lead off the inning. Chacho followed with a triple over the head of Wolcott centerfielder Ciarlo Santino to plate Edwards. Christian DeJarnette then singled to score Chacho and he scored later in the inning when Santino misplayed Austin DeRosa's fly ball to center field that made it 7-2.
A sac fly by DeJarnette in the sixth and a RBI single by Dan Manente helped Seymour take a 10-2 edge after six innings.
A two-run double by Jeff Nicol and run-scoring triple by Chacho closed out the scoring in the seventh.
Wolcott finished at 21-4.
"I'm very disappointed," Wolcott coach Tary Scott said. "We didn't come out and play Wolcott baseball. That's the most errors we've had in a game since I've been here."
SEYMOUR 13, WOLCOTT 2
SEYMOUR 040 033 3 — 13 13 1
WOLCOTT 100 100 0 — 2 5 5
Records: Seymour, 19-6. Wolcott, 21-4. Batteries: S – Austen Green and Zach Edwards. W – Jack Drewry, Ethan Gillotti (6), Jon Moore (7) and Jeff Nicol. 2B: S – Ethan Szerszen, Jake Todice. W – Gillotti. 3B: S – John Chacho (2), HR: W – Drewry. RBI: Szersen, Chacho, Dan Manente, DeJarnette (2), Edwards (2), Nicol (2) W – Nicol, Drewry. Winning pitcher: Green. Losing pitcher: Drewry
We recently redesigned GameTimeCT.com and would appreciate your feedback to continue improving the site. This survey should only take 5 minutes and you could win a $50 Amazon gift card!
Thank you, from the GTCT Team
Survey Link: https://www.surveymonkey.com/r/NYDRF5H