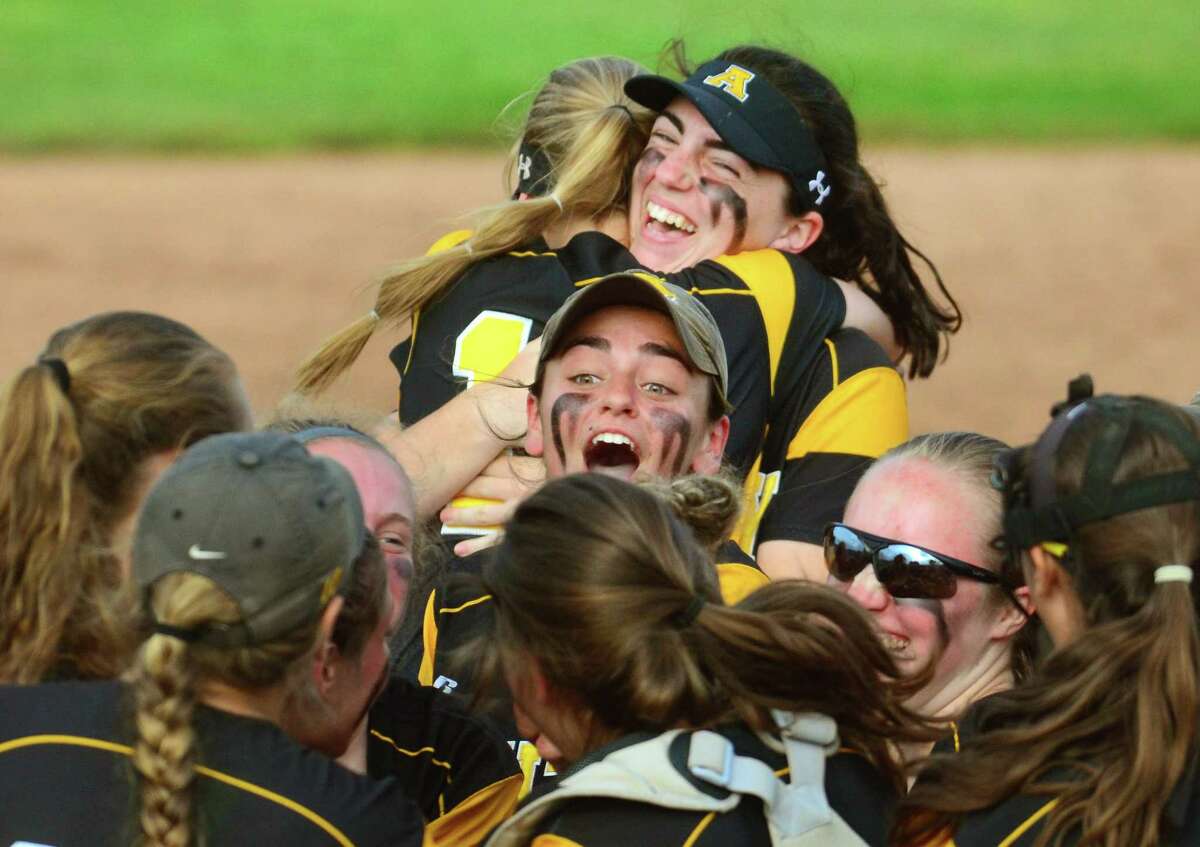 WEST HAVEN — Five days after staging one of the most memorable comebacks in the Class LL softball tournament, fifth-seeded Amity was back to business. There was a championship at stake, and the Spartans made sure not to let it slip out of their grasp.
Showing the same poise and determination at the plate that helped fuel their miraculous seventh-inning rally against Southington in the semifinals, the Spartans made the most of their return to the big stage. They knocked around Trumbull's pitching for 17 hits and rolled to a 13-7 victory in the LL final on Saturday at Biondi Field.
"We needed to hit. We knew we needed to string hits together and get on the board early and as often as we can," Amity coach Sara Hale said. "We wanted to win every inning."
The Spartans delivered all the offense they needed. Seven different players tallied at least one hit, including Brooke Matyasovsky and Danielle Nordyk. The duo combined to go 9-for-10 at the plate and were named co-MVPs of the tournament.
Amity collects its 6th state softball trophy. Dani Nordyk and Brooke Matyasovsky named co-MVPs #ctsb pic.twitter.com/7dlTRFqFVe

— GameTimeCT (@GameTimeCT) June 9, 2018
"You have to credit Amity," Trumbull coach Jacqui Sheftz said. "Seventeen hits, that's obviously no joke."
For the Spartans, it was their first title since 2012 and sixth in program history. It was the perfect ending to a season that included 24 wins in 28 tries and a runner-up finish in the SCC tournament.
Bidding for its second straight state championship, Trumbull (24-3) watched the Spartans jump out to an 11-0 lead after five innings. That lead grew to 13 runs in the seventh before Trumbull tried staging a rally against right-hander Grace Whitman. A grand slam by first baseman Courtney Fairfield cut the lead to 13-5, but Kelly Pritchard came on to record the final out. A long-awaited celebration ensued.
Took awhile, but Amity finally gets the last out to defeat Trumbull, 13-7, for the Class LL softball title #ctsb pic.twitter.com/gw5lo5Xl6k

— GameTimeCT (@GameTimeCT) June 9, 2018
"We wanted to have fun and we wanted to play hard," said Matyasovsky, who went 4-for-5 with a game-high six RBIs, including a two-run single to open the scoring in the first inning. "I think that we wanted it more."
Nordyk, the center fielder, had five hits, including a single off Mackenzie Bruggeman in the sixth inning to give the Spartans an 11-0 lead. Marissa Dwyer went 2-for-4 with two RBIs, and Nicole Koshes added a two-run triple.
The Spartans, who staged a five-run rally to beat Southington 6-5 in the semifinals on Monday, made their at-bats count against Bruggeman and reliever Emily Gell. They held leads of 4-0 after the third inning and 8-0 after the fourth.
"When we started hitting, we started scoring more runs, which motivated us to score even more," Nordyk said.
Added Sheftz: "Defensively, my team, throughout this season, made some of those plays that we didn't quite make today. That's softball. Amity found holes. Their hitters found holes, and we hit balls at people."
PLAYER OF THE GAME
Brooke Matyasovsky, Amity: The senior had four hits and drove in six runs to pace the Spartans' attack.
QUOTABLE
"We were on a roll. We knew we could do it. We had confidence in them." — Amity coach Sara Hale
CLOSE CALL
Second time in 2 games, runner is safe at home on a close play at plate. Jacqui Sheftz not happy. Amity's 3rd run… #ctsb pic.twitter.com/7fs1cg91dF

— Sean Patrick Bowley (@SPBowley) June 9, 2018
Trumbull left fielder Ava Dunn appeared to throw out Danielle Nordyk at the plate in the third inning, but Nordyk was ruled safe because of an obstruction call. It was a critical moment in the game for both sides, as Amity saw its lead grow to 3-0 with still only one out on the scoreboard. The Spartans went on to score another run in the frame on a double by Melissa Dwyer. "I think that's a huge call in a state playoff game," Eagles coach Jacqui Sheftz said. "It's 2-0 and you get that obstruction call. That would've been out No. 2. The next girl (grounded out), we would've been out of the inning. … I think that was a huge turning point."
AMITY 13, TRUMBULL 7
AMITY 202 430 2 — 13 17 2
TRUMBULL 000 000 7 — 7 12 1
Records: Amity 24-4; Trumbull 24-3. Batteries: A — Grace Whitman (W), Kelly Pritchard (7) and Rachael Crow; T — Mackenzie Bruggeman (L), Emily Gell (4) and Cassi Barbato. Highlights: A — Brooke Matyasovsky went 4-for-5 with six RBIs. Danielle Nordyk went 5-for-5 with one RBI. Marissa Dwyer went 2-for-4 with two RBIs. T — Courtney Fairfield had two hits, including a grand slam. Alexa Adinolfi singled home a run.
We recently redesigned GameTimeCT.com and would appreciate your feedback to continue improving the site. This survey should only take 5 minutes and you could win a $50 Amazon gift card!
Thank you, from the GTCT Team
Survey Link: https://www.surveymonkey.com/r/NYDRF5H