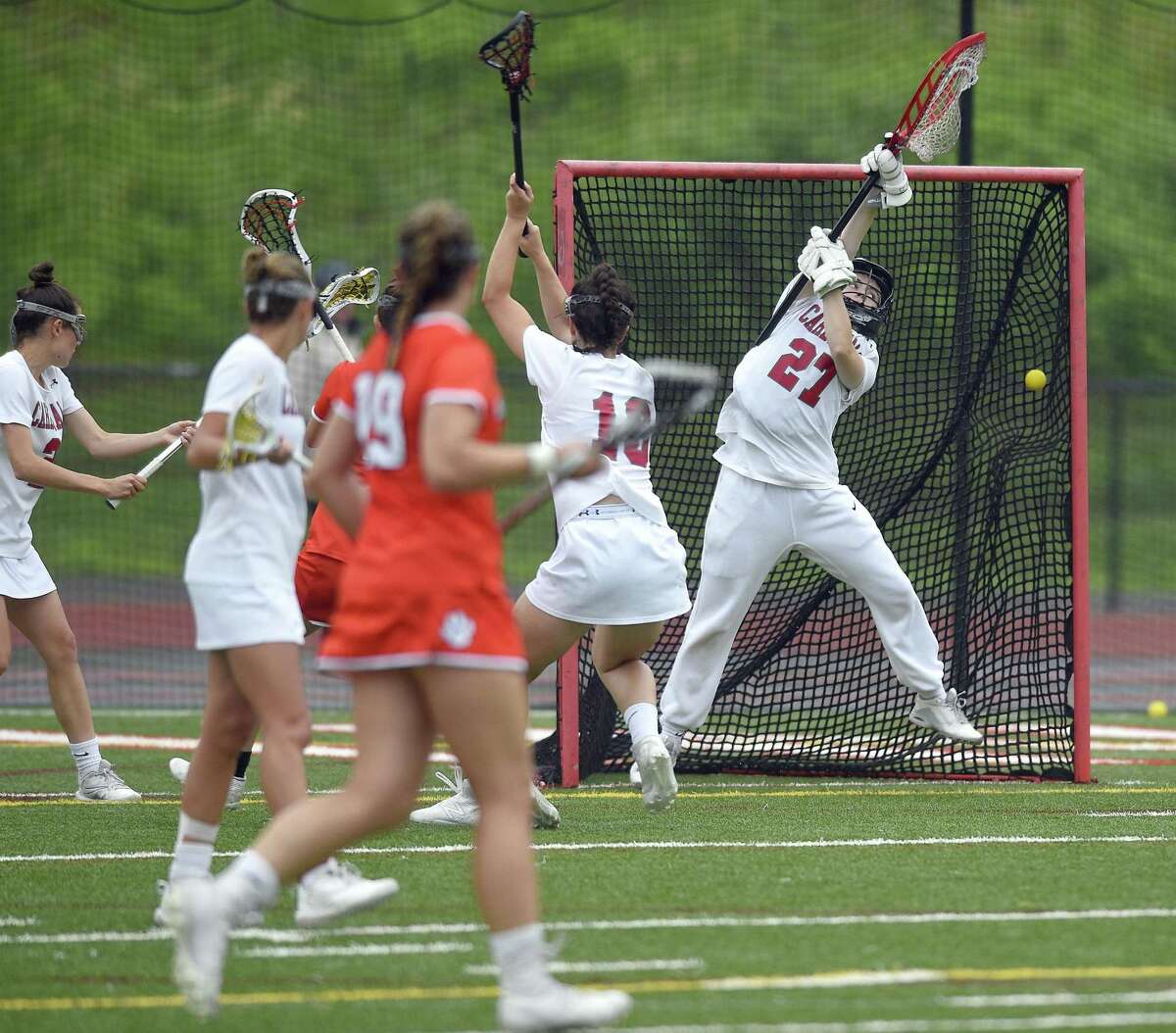 GREENWICH — After suffering two losses to Greenwich this spring, Ridgefield was determined to have a different outcome when if faced the Cardinals in Thursday's Class L tournament quarterfinal-round showdown.
Caitlin Slaminko, Caroline Curnal and an outstanding defensive effort enabled the Tigers to accomplish their mission.
Slaminko recorded a hat trick, Curnal tallied twice and sixth-seeded Ridgefield held some of Greenwich's top scorers in check in its exciting 7-6 win in a tough, physical matchup at rainy Cardinal Stadium.
The Tigers (13-5) advanced to the Class L tournament semifinals, where they will play second-seeded Cheshire on Tuesday at a site yet to be determined.
"We definitely knew them since we've seen them twice before this season, once in the regular season once in the FCIAC tournament they ended our FCIAC run," said Curnal, a senior attack. "Losing to them in FCIACs definitely gave us that little piece of aggression coming into this game."
Mae Briody and Maeve Tobin added one goal apiece for Ridgefield, which received 10 saves in goal from sophomore Lexi Held.
"We connected with each other better and the intensity was better the third game around and I think we gave them a shock," said Slaminko, a sophomore midfielder. "This is the first time ever in program history that we are in the semifinals, so it feels great."
Greenwich (16-4), which was seeded third, received two goals from sophomore Leah Caputo and one each from Maggie O'Gorman, Paige Finneran, Lucy Saleeby and Olivia Caan. Junior goalie Sloane Loveless made 10 saves for the Cardinals, who like the Tigers, turned in a strong defensive effort.
"It was a battle out there," GHS first-year coach Kaitlin Gaghan said. "Between the weather and not getting the right bounces and them coming up with the ball and finishing on some possessions they had — those were some of the keys of the game. I'm proud of our kids, they fought right up until the end. For me, it was an amazing first season with the team. I couldn't be happier with the program."
With the score tied at 5-5, Tobin gave the Tigers the lead when she converted a free position shot with 18:28 remaining in the second half. Greenwich, which eliminated Ridgefield from the FCIAC tournament in the quarterfinals, knotted the score at 6-6 on Finneran's tally off a free position attempt at the 16:09 mark of the second half.
Slaminko's third goal of the game off a free position attempt with 11:06 to go in the game put Ridgefield on top for good at 7-6. Ridgefield ran an effective stall toward the end of the secon half, until Caan caused a turnover and scooped up a ground ball. But Greenwich couldn't convert on its final possession with 30 seconds remaining and Ridgefield was on to the semifinals.
"The second half we knew they were trying to connect with each other more, so we made adjustments to lock out the attacker and take away their pass game," Ridgefield coach Cece Berger said. "At halftime we talked about how the defense was keeping us in it."
Said Curnal: "Our defense played great today, for them to step up like they did today was huge. For them to hold a great team like Greenwich to six goals was impressive."
This defensive-minded matchup was tied at 1-1 until Curnal tallied from close in with 8:49 remaining in the second half. Slaminko made an 8-meter shot and Curnal scored off a dodge, making it 4-1. Goals from Caputo and junior Lucy Saleeby brought GHS to within 4-3, before Slaminko tallied in transiton, putting the visitors ahead, 5-3, at halftime.
"It was realy messy toward the end, but overall, our off-ball movement and setting screens really worked today, which is what made the difference," Slaminko said.
Caputo and O'Gorman knotted the score at 5-5 early in the second half for Greenwich, which had a player receive two yellow cards early in the opening half. The Tigers regained the advantage, courtesy of Tobin, midway through the second half.
"There was nothing they did that we weren't expecting," said O'Gorman, a senior tri-captain. "We beat ourselves during this game, by not executing our best. But kudos to Ridgefield, they were the better team today. I couldn't be prouder of our team and the season we had."
PLAYERS OF THE GAME
The Curnal-Slaminko combination keyed the Tigers offensively. Junior Erika Linke helped fortify the Tigers' defensive effort.
QUOTABLE
"I think playing a team three times is extremely tough," GHS senior tri-captain/midfielder Genevieve DeWinter said. "The first time we played them we were unstoppable, the second time we played them it was a little bit closer, but we were still amazing. It's just really tough to compete at a high level against a team that knows you so well. Overall, I am so proud of our team, it's been an honor to be captain of this team."
"We lost to them twice before knew it was going to be tough today, but we came together nicely," Briody said. "We are a cohesive team with a lot of heart for the game and we played so well today."
RIDGEFIELD 7, GREENWICH 6
RIDGEFIELD 5 2 – 7
GREENWICH 3 3 – 6
Records: Ridgefield 13-5; Greenwich 16-4; Scoring: R – Caitlin Slaminko 3 g; Caroline Curnal 2 g; Maeve Tobin 1 g, 2 a; Maeve Briody 1 g; Grace Eagan 1 a; G – Leah Caputo 2 g, Maggie O'Gorman 1 g, Lucy Saleeby 1 g, 1 a; Paige Finneran 1 g, 1 a, Olivia Caan 1 g; Goalies: R – Lexi Held (7 saves); G – Sloane Loveless (10 saves).