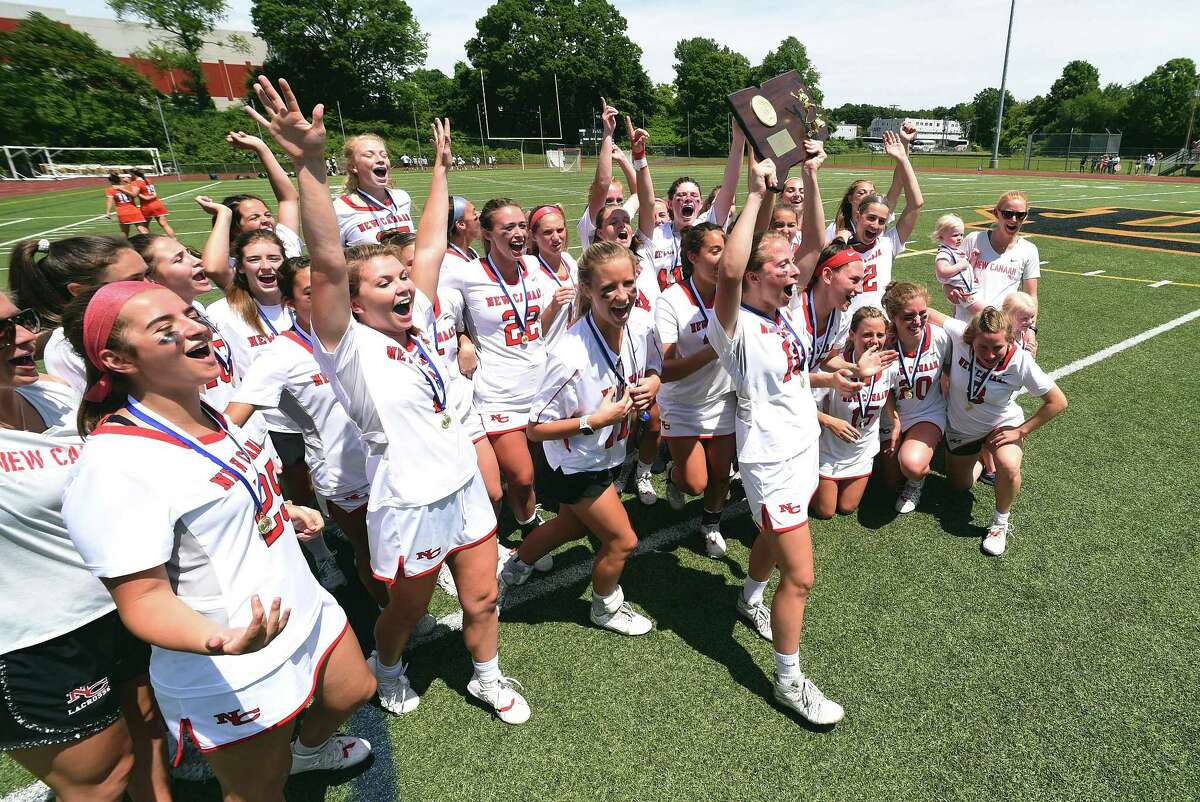 MILFORD — In the end, it was a simple plan for the New Canaan High School girls lacrosse team.
Be intense. Be patient on offense. Be physical at both ends of the field. Win critical draws.
The No. 5 seeded Rams checked all the boxes and earned their just reward —a 19-7 triumph over No. 6 Ridgefield in the Class L state championship final Saturday at Jonathan Law High School.
It was New Canaan's first Class L girls lacrosse crown, but the Rams' third state title in four years having won Class M in 2015 and 2016.
CIAC SPRING CHAMPIONSHIP SCOREBOARD
"We played our hearts out," New Canaan senior tri-captain Braeden Dial said. "Having all the seniors on the field in the closing minutes was so great. But we made it clear to everybody on the team that as wonderful as our win over Darien (first time ever for the NC seniors) was in the L semifinals, it meant nothing if we didn't finish the job today."
Dial certainly took those sentiments to heart. She was named the game's Most Valuable Player, collecting six goals and eight assists to haunt the Ridgefield defense. Dial, who will play lacrosse at Davidson in the fall, concluded the state tournament with 23 goals and 15 assists in four victories.
"I was so proud of the focus, competitiveness, patience and determination I saw on the field," New Canaan coach Kristin Woods said. "We saw how important our captains were to our success. They will be so successful on the field and in their lives."
Senior tri-captain Karlie Bucci was the recipient of passes from Dial on three of her four goals. Bucci also won five straight faceoffs in the second half, allowing New Canaan to push the contest into running time (10-goal edge) with 7:28 left to play.
Senior tri-captain Julia Ozimek was stout on defense early and scored a key first-half goal to give New Canaan a 6-3 edge and stop a Ridgefield surge.
New Canaan and Bucci had an 8-4 edge in draws in the first half as the Rams (17-5) led 8-3 at intermission. New Canaan finished with a 14-12 edge in draws.
"We didn't have a lot of possessions in the contest," Ridgefield coach Cece Berger said.
Defensively, New Canaan chose to shadow and faceguard Ridgefield senior tri-captain Caroline Curnal from opening draw to final buzzer. New Canaan junior Caroline Schuh did the job, limiting Curnal to a pair of second-half goals.
"Caroline Schuh is an extraordinary athlete and a quick defender," Woods said. "Getting into Curnal's head every moment made a big difference. We wanted to stop the fastbreak goals by Curnal and (sophomore) Caitlin Slaminko."
Curnal, senior Mae Briody and junior Maeve Tobin each had two goals while Slaminko tallied once for Ridgefield (14-6).
New Canaan junior goalie Caroline O'Dea registered five saves but did her best work against Ridgefield's free position situations.
"Our defense was strong in front of me," O'Dea said. "My philosophy on free positions is 'Look at the ball. Attack the ball. Don't look at the player.' "
New Canaan had offensive balance as junior Campbell Connors scored three times in the first half while junior Lauren Bisceglia tallied three times in the second half. Jane Charlton added two goals.
It all added up to a well-deserved Class L championship plaque for New Canaan, which beat FCIAC powers Wilton, Darien and Ridgefield (along with Glastonbury) to the title.
"The best thing about playing the first state championship game of the day," Dial said. "Is you have the rest of the day to celebrate."
Ridgefield will graduate six seniors. But fifth-year coach Berger is happy the Tigers reached an important milestone.
"It's a huge step forward for us to be in the final. Especially when you see all the powerhouse programs in the Class L bracket," Berger said. "The school and the town has embraced girls lacrosse. I see Ridgefield girls lacrosse getting better and better with the support on the youth level. We're sad about today's result. But we see a bright future ahead."
NEW CANAAN 19, RIDGEFIELD 7
RIDGEFIELD 3 4—7
NEW CANAAN 8 11—19
Records: Ridgefield 14-6, New Canaan 17-5.
Scoring: R—Maeve Tobin 2 goals, 1 assist; Caitlin Slaminko 1 goal, 1a; Mae Briody 2g, 1a; Caroline Curnal 2g; Erika Linke 1a. NC—Braeden Dial 6 goals, 8 assists; Karlie Bucci 4g, 1a; Jane Charlton 2g, 1a; Campbell Connors 3g; Julia Ozimek 1g; Lauren Bisceglia 3g. Goalies: R—Lexi Held (4 saves); NC—Caroline O'Dea (5 saves). Highlights: NC—New Canaan's 1st Class L title. Rams have won three state titles (2016, 2015 Class M) in last four years.
We recently redesigned GameTimeCT.com and would appreciate your feedback to continue improving the site. This survey should only take 5 minutes and you could win a $50 Amazon gift card!
Thank you, from the GTCT Team
Survey Link: https://www.surveymonkey.com/r/NYDRF5H