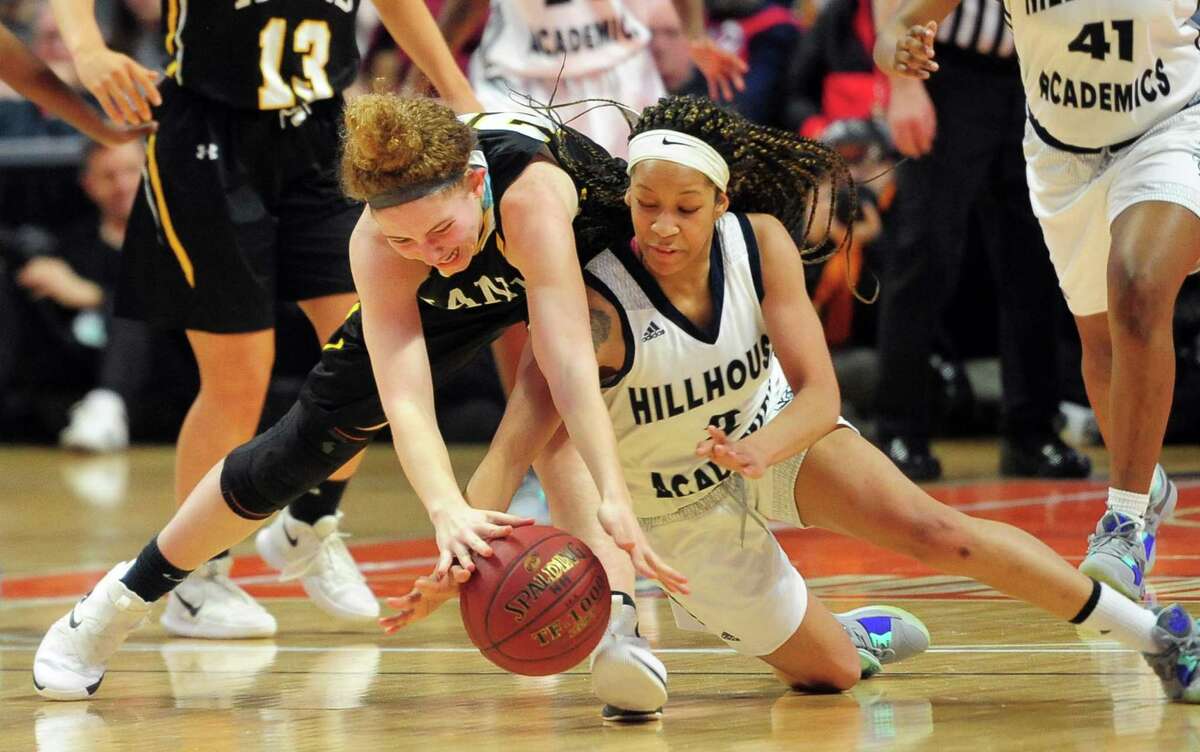 UNCASVILLE — It has been eight years since the last state championship trophy was raised for the girls basketball team at Hillhouse High. That wait is over.
Behind 17 points and 12 rebounds from Tanayja London, 11 key points from Tyree Allen Chappell and an undeniable effort to win in honor of a beloved member of the Hillhouse family, the fourth-seeded Academics topped No.19 Daniel Hand 39-34 in the Class L finals at the Mohegan Sun Arena on Saturday for the program's 10th state title.
"This feels great," Hillhouse coach Catrina Hawley-Stewart said after winning her sixth state title at the helm of the Academics. "No one knows the hard work we put in as a program. These players have heart and a desire to get better every single year. It is not just talent. It is heart and determination."
Playing this state tournament in the honor of the late Melvin Wells, who was tragically killed in a car accident two weeks ago, Hillhouse was not going to be denied a title dedicated to a man who meant so much to them.
"It was definitely a very emotional day," London said. "We know he would be right here supporting us. He always took pictures and came to our games. We know he is smiling up there."
The Academics, who have started each state contest quickly, jumped out to a 14-0 lead in the game, before watching Hand even the game at 29 with 6 minutes, 12 seconds to go in regulation. Allen Chappell then followed seconds later with a key 3-pointer, and the Academics never trailed again.
"We had that mindset of 'All for Wells'", Allen Chappell said. "It means a lot to us. Coach Wells was one of our main supporters. It hurt us when we heard. That was our main goal, to win it for him.
"We didn't panic. We just knew what we did in the first half to start the game was what we needed to do in the second half. We were able to do that after they tied the game."
The start of the game could not have gone any worse for Hand as the Tigers could not get going on offense, hitting on just a combined 2-of-10 from inside and behind the arc. Hand hit on just 14.3 percent from field goal range in the opening quarter.
"(They) have so much heart and so much guts," Hand coach Tim Tredwell said. "Hillhouse is unbelievably skilled. They are athletic. They are quick at every position. We did not come out swinging. We took a pretty big shot in the mouth right away. We chuckled. We made the first free throw and we said we are not going to get shut out. We are good. At halftime, we came in and we are down ten. Against Wilbur Cross in the quarterfinals of the SCC, we were down 21 and we got that one back."
While the Tigers (14-13) cut the deficit to 21-12 at the half, it was the third quarter where Hand made its move. A 3-pointer by Summer Adams got the Tigers within 23-19 with 5:51 left in the third, and a bucket by Julia Kuhn had the Tigers within a basket at 29-27 with 55 seconds left in the third.
"I thought for a couple of minutes there Hillhouse was getting a little loose with the ball," Tredwell said. "We tought that maybe we would have a shot."
Hillhouse, which swept all three meetings against Hand this season, never wavered. After Adams evened the game at 29 just 1:37 into the fourth, Hillhouse held Hand to just five points the rest of the way.
"Our rebounds were great and our put backs were great," Hawley-Stewart said. "We knew they were going to have a run. Tim Tredwell is an amazing guy and coach. We anticipated their runs. They have a great offense. But, our girls studied film of three or four of their games."
Not only did the defense step up, so did Allen and London as Allen banged in a big 3-pointer 20 seconds later and London connected with 4:16 to go for a 34-31 Hillhouse lead.
"We wanted to get this," London said after finishing with 12 rebounds. "We watched a ton of film on them. We knew they are a very good team. The key was we had to lock them down. We knew we would get it done if we did that."
The Academics (24-4) were not to be denied their first state title since 2011 as they set the tone right from the start, scoring the first 14 points of the game. Even an ankle injury to Allen Chappell, which forced her to miss almost six minutes in the opening quarter, could not slow down Hillhouse.
Ranasha Frazier scored four points in the early run, finished with six in the quarter, and helped the Academics to an 11-0 lead. Hand did not get on the board until 3:12 remained in the quarter on a free throw by Sara Wohlgemuth, and did not connect on its first shot other than a free throw until Wohlgemuth nailed a 3-pointer with 2:20 to go in the first quarter.
The Tigers made a game of it with an 8-0 run to get within 16-11 as Wohlgemuth drained a 3-pointer at the end of the opening quarter, and Kuhn and Anna Beccia hit field goals to open the second quarter.
Hillhouse, on baskets by London, closed the quarter on a 5-2 run and took a 21-12 lead to the half.
Wohlgemuth and Kuhn each led Hand with 12 points.
PLAYER OF THE GAME
Tyree Allen Chappell — Hillhouse senior scored 11 points, including a key 3-pointer which put Hillhouse on top for good, and added six rebounds.
QUOTABLE
"He (Melvin Wells) came to a lot of our games. The girls just loved to see him."
— Hillhouse coach Catrina Hawley-Stewart on dedicating the title to Melvin Wells.
HILLHOUSE 39, HAND 34
HAND (34)
Julia Kuhn 5 1 1-2 12; Anna Beccia 1 0 2-4 4; Sara Wohlgemuth 2 1 7-11 12; Summer Adams 2 1 1-3 6; Totals: 10 3 11-23 34
HILLHOUSE (39)
Tyree Allen Chappell 4 1 2-3 11; Keyshan Moore 1 0 0-0 2; Ciara Little 0 0 1-2 1; Ranasha Frazier 4 0 0-0 8; Tanayja London 7 1 2-3 17; Totals: 16 2 5-8 39
HAND 6 6 15 7 — 34
HILLHOUSE 16 5 8 8 — 39