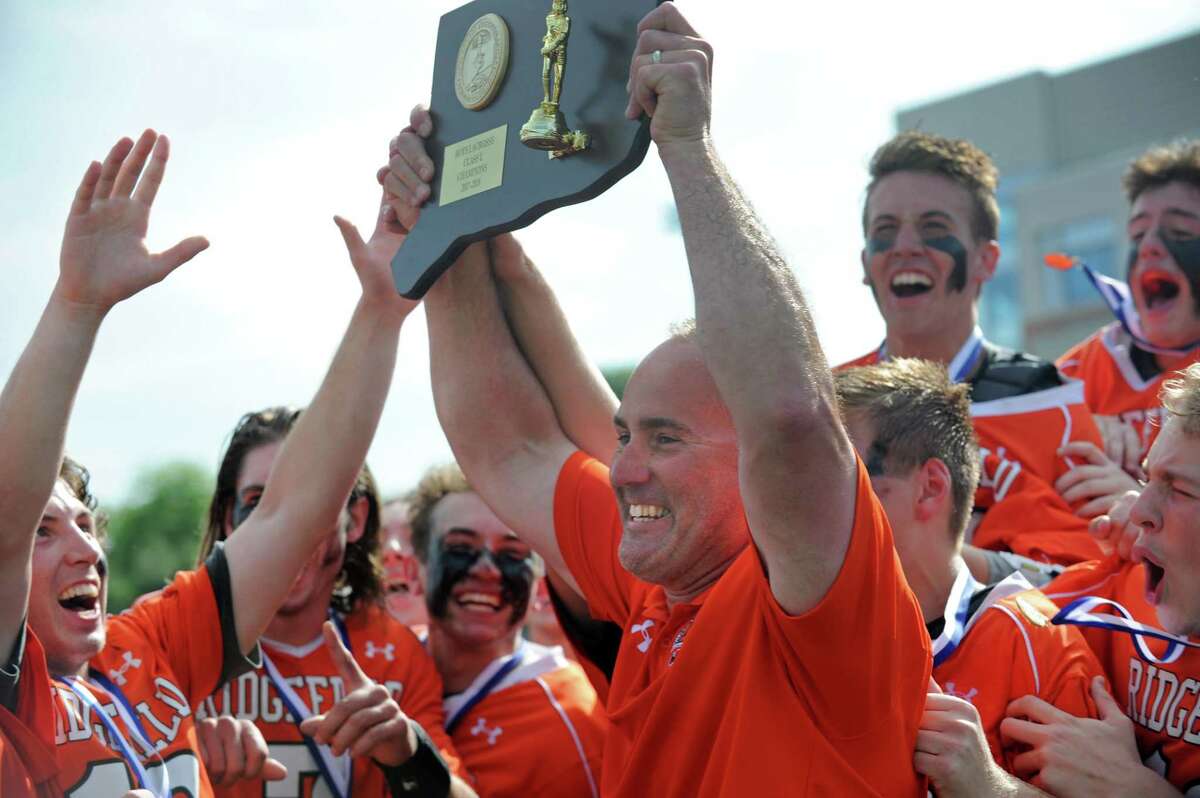 NORWALK — Ridgefield coach Roy Colsey held his play sheet up after the Class L boys lacrosse finals and one word stood out, capitalized, circled and underlined.
The word was boring, and for 44 minutes of No. 6 Ridgefield's 9-8 upset over top-ranked Darien for the Class L crown, that's exactly the way the Tigers played.
"It's hard to practice boring," said Colsey, who is bringing the title back to Ridgefield for the first time since 2011. "But, they could not have executed the game plan any better. They exceeded my expectations, were smart and executed their chances. We're not going to beat that team many times, but we just talked about beating them once."
Colsey's blueprint for ending Darien's 76-game win streak was simple: gain possession, kill clock, make the most of each opportunity.
After Darien's Hudson Pokorny scored the opening goal just 48 seconds in, that's exactly what the Tigers did.
Ridgefield's Weston Carpenter and Darien's Logan McGovern traded goals to make it 2-1 Darien after one.
Then, Ridgefield settled in.
The Tigers controlled possession for virtually all of the second and third quarters, scoring five times in the second to bring the halftime score to 6-2.
Final: Ridgefield 9, Darien 8. Wow. pic.twitter.com/nxUKqo2j4V

— Anthony E. Parelli (@reportedbytheAP) June 9, 2018
Early in the third, Darien finally got possession and a look it wanted, but Brian Minicus's shot rang off the crossbar. From there, Ridgefield held the ball for 7:28 before notching the lone goal of the third off the stick of John Mathes.
Facing a five-goal deficit and not scoring since 3:25 into the contest, Darien was forced to double the ball in the fourth quarter. However, the tic-tac-toe passing of Ridgefield resulted in two empty-net goals from Carpenter and Dawson Muller, sandwiching a Pokorny strike for the Wave.
Down 9-2 with four minutes left, Darien showed why it's won the last three Class L titles.
The Blue Wave scored five times in less than two minutes, the final two — off the stick of Henri Pfeifle — made the game 9-8 with 1:55 left to play.
"Obviously, it's a great testament to their character," Darien coach Jeff Brameier said. "Battling back from one of the largest adversities they've faced all year to actually have an opportunity to tie the game."
— Dane Street (@RidgefieldAD) June 9, 2018
After the teams traded possessions, Darien called a timeout with 16 seconds left and the ball at midfield. Enough time for one last opportunity.
The Wave got the ball to McGovern, who was double-teamed. After losing and regaining control, McGovern tried one last pass inside that bounced off several sticks before eventually being corralled and cleared by the Tigers.
"The first thing we said before the game is, 'listen, we're going to go out and try to take it slow and the hope at the end it'll be tied 6-6 with two minutes left,'" Muller said. "And we looked at the clock with 16 seconds left and we were up by one, and we said, 'this is more than we could ever imagine…just one more play, one more stop and that would be it.' That's what happened and here we are."
PLAYER OF THE GAME
Muller, Ridgefield. The senior registered a hat trick and two assists in the win. His empty-netter with 5:19 left proved to be the difference.
"There's no better feeling," Muller said. "We came at the beginning of the season and said we wanted to come in and at the end of the day take that state championship away from Darien and no one else. When they ended up making it and we did, we knew it was our time."
THE BIGGER PICTURE
"Part of the reason you play sports is life lessons," Brameier said. "Things don't always go the way you expect them. This is not the time anybody wants to learn a life lesson, but it's how to survive and get through disappointments in your life and move on. This was a great season, you have to tip your hat to the way Ridgefield played."
NO. 6 RIDGEFIELD 9, NO. 1 DARIEN 8
RIDGEFIELD 1 5 1 2—9
DARIEN 2 0 0 6—8
Scoring: R—John Mathes 1g, Raymond Dearth 1g 3 assists, Dawson Muller 3g 2a, Weston Carpenter 4g; D—Hudson Pokorny 3g 1a, Logan McGovern 1g 1a, Brian Minicus 1g, Henri Pfeifle 2g, Jackson Peters 1g. Goalies: R—Daniel Parson (3 saves); D—Sean Collins (5). Shots: R—20; D—25.
We recently redesigned GameTimeCT.com and would appreciate your feedback to continue improving the site. This survey should only take 5 minutes and you could win a $50 Amazon gift card!
Thank you, from the GTCT Team
Survey Link: https://www.surveymonkey.com/r/NYDRF5H