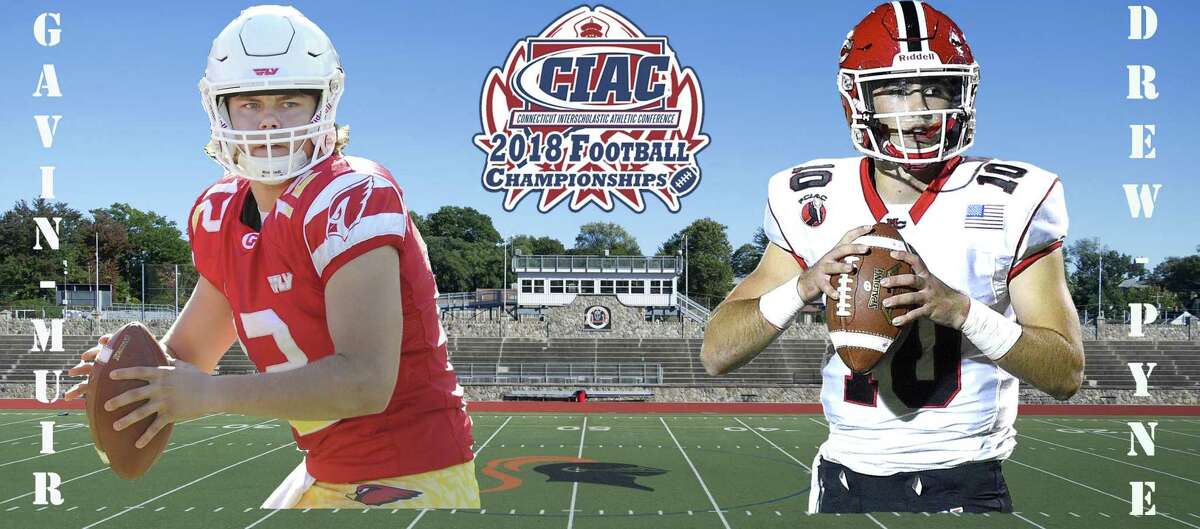 Drew Pyne has thrown 16 touchdown passes and a mere one interception for New Canaan his last seven games, while his Greenwich counterpart, Gavin Muir, has 28 scoring strikes, while being picked off only six times this season.
Yes, like their respective teams, Pyne and Muir are playing at a sky-high level and with the strong-armed quarterbacks leading their offenses, it's no a coincidence their squads will collide in Saturday's CIAC Class LL football final.
The much-anticipated 10 a.m. matchup at Stamford High School's Boyle Stadium is a rare father-and-son competition, between New Canaan coach Lou Marinelli and his son John, Greenwich's coach. It's also a game featuring two of the premier quarterbacks in the state.
Pyne and Muir are each adept at making big plays with their arm and legs, while breaking team records along the way.
In the Rams' eighth game of the season, a win against Norwalk, Pyne broke Matt Milano's team record career passing total of 6,335 yards. Adding to the accomplishment is the fact that the Notre Dame-bound Pyne is only a junior. Heading into Saturday's state final showdown against rival Greenwich, Pyne, a starter at quarterback since his freshman season, has an eye-popping 7,188 career yards for the Rams (10-2).
Greenwich, which has yielded 54 points the entire season, knows it's facing a surging Rams offense, led by Pyne and his array of receivers. Pyne has passed 2,486 yards through 12 games.
"There is no play on the football field that Drew Pyne can't make," Greenwich coach John Marinelli said. "As a quarterback guy myself, I would have loved to have coached him. His speed, his arm and his character is so impressive. I have all the amount of respect in the world for him. It's going to be a major challenge for our defense and our guys to win a state championship. It should be a fun game to watch with two great quarterbacks competing."
Muir is not putting any undo pressure on himself with a game against Pyne and the Rams on the horizon.
"Going up against him (Drew Pyne) doesn't really provide extra motivation for me, he's such a great player, he's going to Notre Dame for a reason," Muir said. "When you look at the film and see some of the reads he makes, the throws he makes — they're really incredible. Notre Dame is going to be lucky to have him and New Canaan is lucky to have him now."
Since being intercepted twice in a season-opening loss against St. Joseph, the 6-foot-1 inch Pyne has only been picked off twice since, while tossing 30 touchdown passes. He's also been effective scramble for yards, gaining 663 on the ground.
"Drew Pyne has gotten better and better as the season has gone on," said Rams coach Lou Marinelli, who will be seeking his 13th state title on Saturday. "Over the course of the season, our seniors and some other players got together and made a commitment that they were going to write the ship. We had two losses and one more loss meant we would be out of the playoffs, so they've really come together and stepped up."
In the Rams' 38-7 win over Fairfield Prep in the Class LL semifinals, Muir completed 23 of 29 passes for 224 yards with one touchdown. Twelve of those completions went to senior star wide receiver Quintin O'Connell, who also caught 12 passes in the Class LL quarterfinals against Shelton.
"Drew Pyne and Quintin O'Connell are the scariest quarterback-receiver duo in a long time," John Marinelli said. "O'Connell is one of the best receivers in the state, if not the best receiver in the state."
Following a breakout junior season that saw the Cardinals soar to the Class LL final, Muir has thrown for 2,215 yards as a senior this fall. His stellar play continued in the Cards' 50-0 semifinal victory against Newtown, connecting on 15 of 21 passes with four touchdowns passing and one rushing.
Lou Marinelli noted that Muir reminds him of former New Canaan quarterback Michael Collins, who is currently playing on the collegiate level at TCU.
"I've watched Gavin develop through the 7-on-7 camps and everything, kind of like what happened with Michael Collins," Lou Marinelli said. "Like Michael, Johnny spends a lot of time with him and has mentored him. Johnny knows his strengths and calls plays to his strengths. I think Drew and Gavin are alike in a lot of ways. They are both really good quarterbacks, with really good arms and they are smart. Also the experience factor is key — they have both played at this level of competition. Certain things happen during a game that both quarterbacks can handle."
Both Marinellis are impressed with Muir's humble nature.
"To read some of his comments in the newspaper, you can tell he is a team guy. It's all about the team and winning," Lou Marinelli said.
"The best part about Gavin is he is more than happy to give credit to the offensive line, or running backs," said John Marinelli, whose Cardinals sport a record of 12-0. "He knows how to get us in great situations and how to continue to move us toward our mission."
In Greenwich's 42-14 regular-season win over New Canaan in September, Muir needed only 12 completions to amass 261 passing yards and three touchdowns.
"We're not really thinking about that game at all, New Canaan is a completely different team since then," Muir said. "It's going to be a completely new game. Right now, their Division I guys are playing at that level, so we have to be able to manage those guys and go from there."
Heading into the season, Muir was the already the holder of seven GHS passing records and he would no double like to add another accomplishment to his resume in his final game with the Cardinals — a state title.
"For the seniors to be in the state championship our last game, I couldn't think of a better way to end our careers," Muir said. "Being in this game and hopefully, winning a state title would be a great experience."
dfierro@greenwichtime.com