No. 3 Darien (2-0) at No. 1 St. Joseph (2-0), Saturday, 1:30 p.m.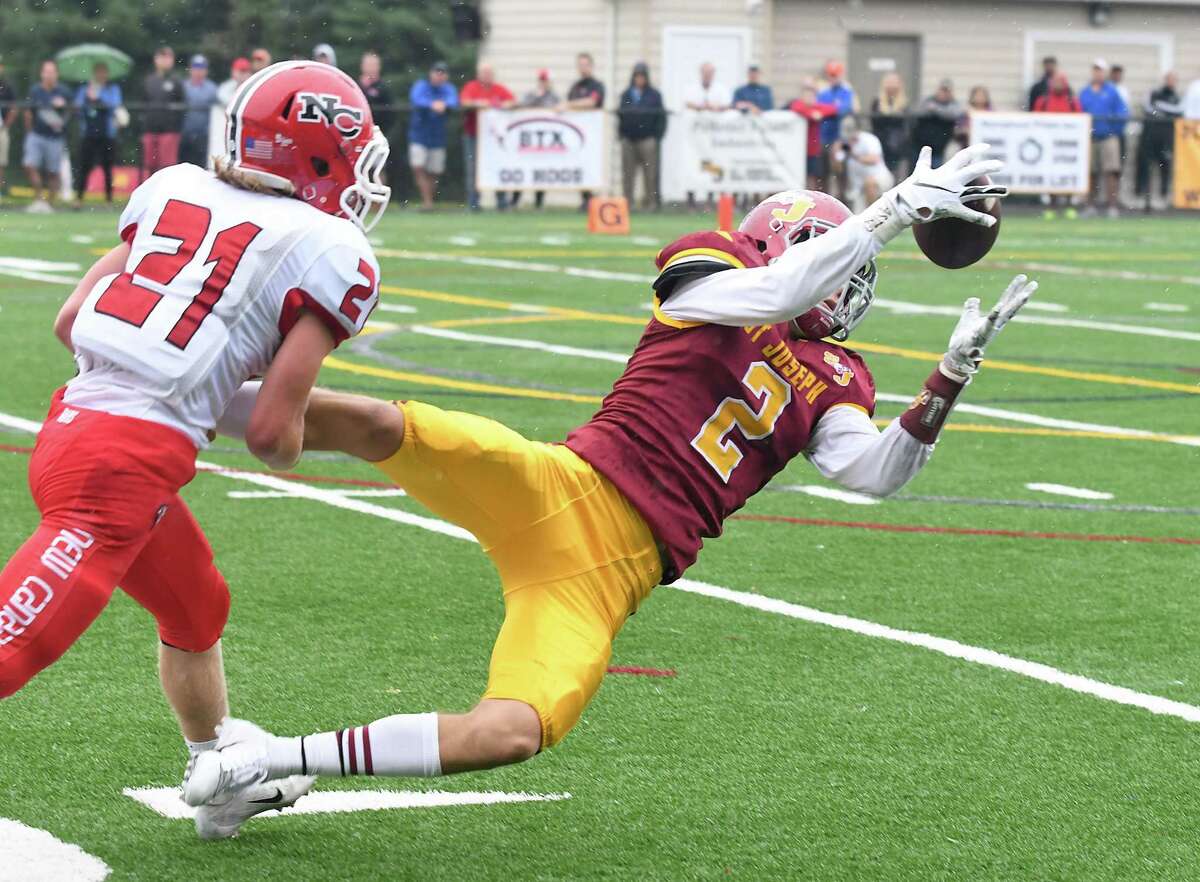 TRUMBULL — Believing the cliché you have to beat the best in order to be the best is nothing groundbreaking in sports.
It is rare however, to see a matchup where both teams have that same belief about each other.
And, in this instance, both have a point.
GameTimeCT No. 1 St. Joseph dominated then-No. 1 New Canaan at home in its opener to the tune of 28-0, while No. 3 Darien has won the last three Class LL titles and has outscored its opponents 65-6 through two games.
The two heavyweights will do battle Saturday at 1:30 p.m. at St. Joseph High School in Trumbull.
"Right now, they're ranked No.1, so we know what this game entails for us," Darien's senior quarterback Cooper Hancock said. "The winner of this will be the No. 1 team in the state."
Darien has defeated St. Joseph — the defending Class S champion — the last four seasons, and Cadets coach Joe Della Vecchia said that, until they lose a game, the Blue Wave are No. 1 in his mind.
What makes Saturday's matchup even more intriguing is the difference in each team's strengths, and which will be able to exploit the other's weakness.
The front seven of St. Joseph, which has wreaked havoc all year led by 305-pound defensive tackle Jermaine Williams, is facing an undersized Blue Wave offensive line, meaning Darien will be relying as much on Cooper's legs as his arm.
"The quarterback is going to have to A, run the ball, and B, be mobile in the pocket," Darien coach Rob Trifone said. "He's not going to be able to sit back there. We'll roll him out, we have plenty of QB runs, so I think it's an important factor."
The back end of the Cadet defense however has been a concern for Della Vecchia thus far, and will have the unenviable task of facing a Darien receiving corps featuring four seniors that can all hurt defenses from anywhere on the field.
"We haven't seen anything close to what they have in games or scrimmages," Della Vecchia said. "So, that's going to be a big challenge. Their guys won't just run a route and stand there. They're attacking the ball, they know how to get open, so that's a big challenge for us."
On the flip side, the Darien secondary is the strength of its defense, but will have to corral an explosive St. Joseph attack that features Maryland-commit David Summers throwing to a talented duo of receivers in Jesse Bike and William Diamantis.
In 2015, Darien had one of the most talented secondaries in program history — led by Trifone's twin sons Bobby and Christian — and he's every bit as confident in the ability of this year's cast.
"I told them that those guys were no more talented than you," Trifone said. "But, they watched hours and hours of film. They knew every break and every step. You can't shut them down, but if you can control them, you have a much better shot."
The St. Joseph attack has been at its best this season when feeding junior running back Jaden Shirden.
Trifone called Shirden one of the two best backs in the league, and his numbers back it up.
In week one, a sluggish Cadet offense was energized by Shirden, who eclipsed 100 yards and ran for two scores in the statement victory. Last week, the dynamic back followed up with a 52-yard score on a screen and a 20-yard touchdown run to help take down Fairfield Warde 44-6.
"In the past when we were successful against Darien, we were able to run the ball," Della Vecchia said. "We didn't run very well at all the last couple years, so if we're going to win this game we have to be able to run the whole game."