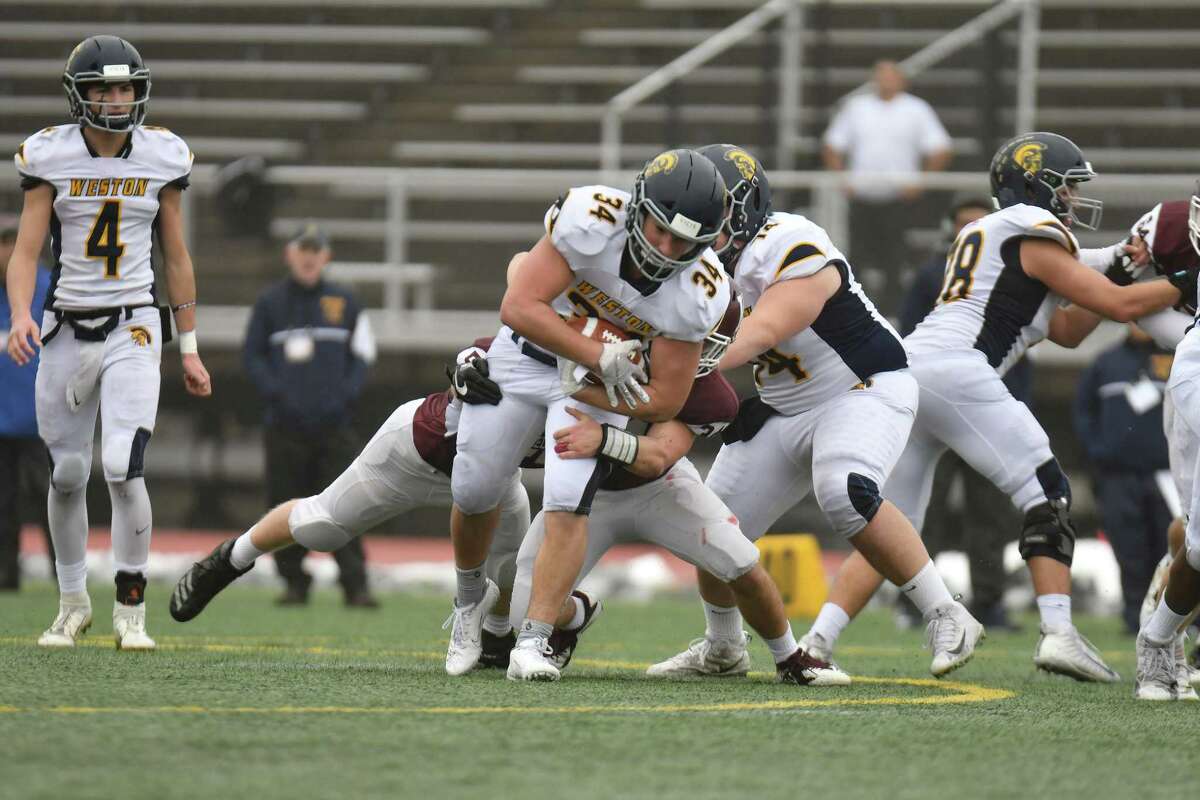 High school football will not be held this fall in its current 11-on-11, full-contact format, the CIAC Board of Control voted Friday morning.
The state's governing body for high school sports is following the guidance of the Department of Health. In an email response Thursday to CIAC executive director Glenn Lungarini, DPH acting commissioner Deidre S. Gifford reiterated the department's stance against football being played in its present form at this time. Lungarini had requested further information in an email to DPH on Aug. 28.
"For our board, for our superintendents, for our kids, we have reached that point and that timeline where an alignment and a position needed to come into agreement with CIAC and DPH," Lungarini said. "We feel like we have exhausted every scenario we could to present our position, and reaching that impasse, we need to respect and align with their position that high-risk football just can't take place this fall."
Gifford's email stated, "With regard to CIAC's consideration of additional mitigation strategies for indoor girls' volleyball and football that may lower their risks for person-to-person respiratory droplet spread, DPH has suggested that CIAC consider modifications to higher risk activities, and we continue to encourage such modifications. Absent such modifications, DPH is unlikely to support higher risk activities for the Fall term."
Lungarini said he feels the move to cancel 11 on 11 football "is worse today" than when the CIAC had to cancel the winter postseason or the entire spring season because he feels full-contact football could have been played.
But the CIAC couldn't afford to go against the DPH's wishes.
"To not offer that opportunity does not correlate with our belief that according to medical science, now is the best opportunity to provide kids a chance to play," Lungarini said. "That makes this decision more disappointing, more disheartening and much more difficult than we had to make in March or May."
The DPH also recommends girls volleyball should be held outdoors to lower the risk of spread of the coronavirus. However, by having players wear masks, the CIAC feels that this will allow the sport to remain indoors and "aligned volleyball with DPH's previous support of full-team practice and game schedules for (fall sports) soccer, field hockey, cross country, and swimming."
Ultimately, the decision to play any fall sports falls will be determined by individual school districts.
The reaction to canceling the football season was passionate.
"I would like someone to explain to my team why they will not give us a chance to try," Notre Dame-West Haven coach Joe DeCaprio said. "We were at 0.7 (COVID positivity rate in Connecticut) yesterday. We have done everything, wellness check, temperature check before practice. We are in those ridiculous cohorts of 10. … If the numbers spike, then shut it down, but to make the kids go through all this and not even try? Pure torture."
A petition to bring back high school football started on Change.org had topped 17,000 signatures by late Friday afternoon.
"Some of these kids, football is all they got," McMahon coach Jeff Queiroga said. "We can look at it as adults and put it in perspective, but for a senior who gets a lot of pride and self-worth from being on the football team, that is lost for them."
Said Xavier coach Andy Guyon: "I think the thing that is going to hurt them the most is watching the other states play high school football on ESPN."
So where does football go from here? The CIAC did say it would work with "athletic directors, coaches, and medical experts to provide football players with meaningful low to moderate risk fall activities."
The DPH has maintained that a 7 on 7 format could be used instead of 11 on 11. Lungarini wouldn't rule that option out, but it didn't have much traction among coaches when it came up last month.
Southern Connecticut Conference commissioner Al Carbone said however football is conducted this fall, he feels the SCC needs a "centralized message" on how to proceed.
"This was inevitable. We weren't going to play football. We should have been planning all along for the alternatives," Carbone said. "I still have schools in my league that weren't playing football regardless (New Haven and Bridgeport). My message to our league athletic directors is for all of us to figure out the best option. We can do something with the sport of football."
Another option is moving the sport to the spring. The CIAC football committee voted for a move to spring on Aug. 10, only to have the Board of Control decide two days later to proceed with fall sports as planned.
Then after the CIAC paused all fall sports conditioning on Aug. 14 to review the DPH's recommendations issued the day before, the Board of Control determined on Aug. 23 any sport not played this fall would not be moved to the spring.
"I absolutely believe there's still some legs out there in terms of moving forward and continuing a discussion to play a traditional 11 on 11 season in the second semester of our academic school year," said Ledyard athletic director Jim Buonocore, a member of the high school football committee. "I think it is a disservice if we don't look at 11 on 11, full-contact football in the spring."
Like 7 on 7, a move to spring is a possibility, but it is all dependent on what the COVID-19 metric numbers look like at that point in time.
"If things substantially change in a positive direction, we will certainly look at what the climate is, but right now based on all of the information we have, it does not appear playing in the spring is a realistic option," Lungarini said.
Connecticut's decision makes it the 17th state high school athletics association to drop traditional football in the fall. Rhode Island followed suit Friday afternoon, but left the option open to play in the spring.
Other New England states to make moves with high school football are Vermont, which has gone to the 7 on 7 model, and Massachusetts, which has moved its season to spring 2021.
Michigan became the first state to reverse its decision on playing football in the spring on Thursday, following an executive order by its governor.
Staff writers Michael Fornabaio, Sean Patrick Bowley and Jim Fuller contributed to this story.