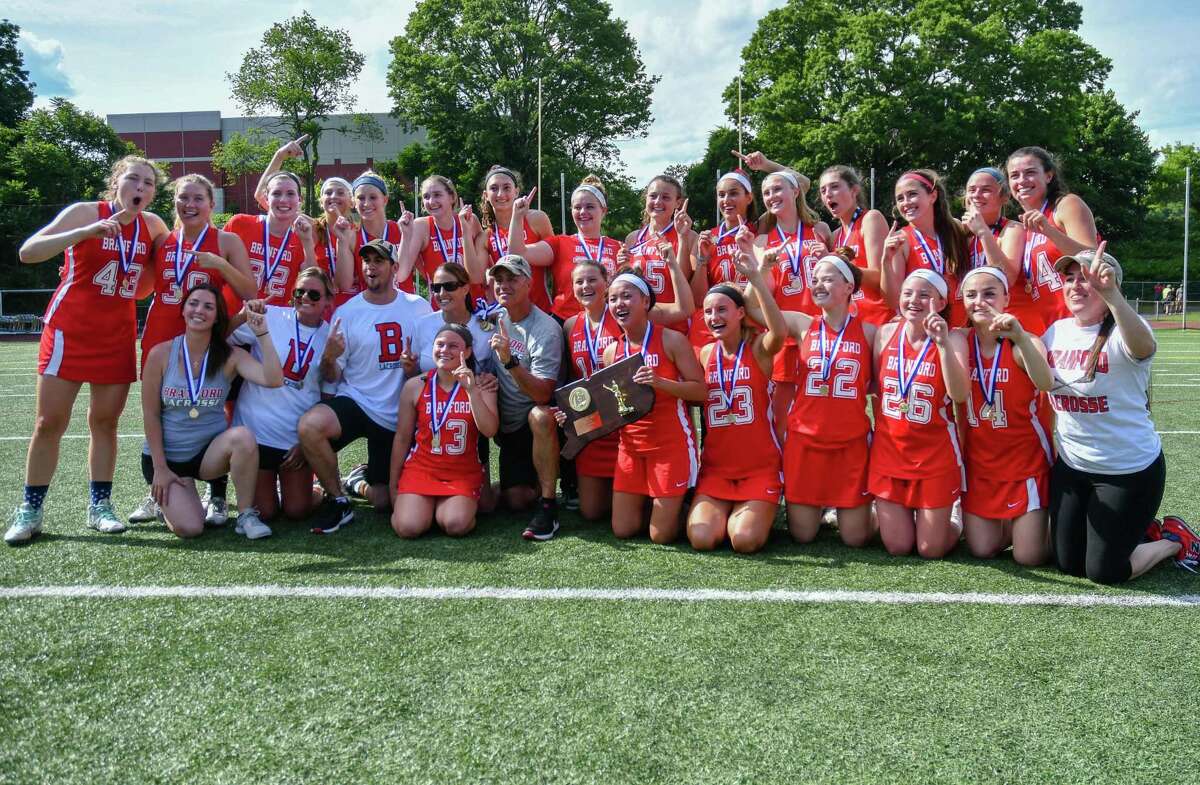 MILFORD — The Branford and Hand girls lacrosse teams have a long history of playing exciting, hard-fought close games and their matchup in the CIAC Class M championship game on Saturday continued that trend.
Sophie Spencer scored the Hornets' last three goals and ended up with five overall and Daly Hynes had 10 saves to lead No. 2 Branford to an 11-8 win over No. 1 Hand at Law High for the Hornets' second straight Class M title.
"This was a huge win, it's always huge when you get a win over Hand," Spencer said. "Hand is a great team. They took a 2-0 lead but lacrosse is a game of runs. It was early at that point and we knew it wasn't a big deal to be behind two goals. We knew we would have a run or two of our own.
CIAC SPRING CHAMPIONSHIP SCOREBOARD
"This was an emotional game and to win two titles in a row is amazing. We made history last year winning our first title and made history today with our second title."
Haley Maercklein added two goals and Autumn McHenry and Erin O'Brien each added a goal and an assist for the Hornets (19-3).
"This title today means a lot to all of us," Branford coach Jackie Ceccolini said. "It's really a community effort with the players and their parents that started years ago. Sophie came up big time as she always does and those last three goals were big for us.
"But Autumn (McHenry) winning draws, Karly King doing a great job marking (Hand's) Taylor Scully and Daly Hynes coming up with some big saves added to the strong effort that everyone gave us."
The wild first half set the tone for the game early and often with both teams putting together multiple scoring runs. Emma Sullivan gave the Tigers a 2-0 lead with 22:15 to go in the first half.
The Hornets responded with a 6-0 run with Erin O'Brien giving Branford a 6-2 lead with 15:21 to go in the half.
The Tigers answered with a 3-0 run to get within a goal when Chloe Sullivan scored to trim the Hand lead to 6-5 with 4:15 to go.
Sabrina Torcellini and McHenry gave the Tigers an 8-5 lead and Riley Kokoruda scored for Hand with 7 seconds left in the half for an 8-6 halftime score.
Glenna-Kate Gies opened the second half with a goal for Hand to trim Branford's lead to 8-7. But Spencer scored the next three goals for an 11-7 lead with 3:29 left in the game and the Tigers never recovered.
An emotional Hand coach Kevin Siedlecki said it was a typical tough, close game between the teams.
"We were down four goals to them in the regular season and came back to win, it just wasn't meant to be today," Siedlecki said. "I have to give a big sigh because I just feel so bad for my seniors. I really wanted this for them so bad. Our players played their butts off today.
"This was a great game between two great teams, two of the best teams in the SCC and in Class M. Branford's goalie was phenomenal and made some big saves. Our players never gave and fought until the last seconds. I am so proud of all them."
Gies led the Tigers (19-3) with two goals and four assists and Kokoruda added two goals. Mackenzie Larson had five saves.
BRANFORD 11, HAND 8
BRANFORD 8 3—11
HAND 6 2—8
Scoring: Branford-Sophie Spencer 5g, Haley Maercklein 2g, Autumn McHenry 1g, 1a, Erin O'Brien 1g, 1a, Lanle Crotty 1g, Sabrina Torcellini 1g.; Hand-Glenna-Kate Gies 2g, 4 a, Riley Kokoruda 2g, Taylor Scully 1g, Dory Howard 1g, Emma Sullivan 1g, Chloe Silva 1g, Janet Howard 1a; Saves: Branford-Daly Hynes 10; Hand-Mackenzie Larson 5. Records: Hand 19-3; Branford 19-3
We recently redesigned GameTimeCT.com and would appreciate your feedback to continue improving the site. This survey should only take 5 minutes and you could win a $50 Amazon gift card!
Thank you, from the GTCT Team
Survey Link: https://www.surveymonkey.com/r/NYDRF5H