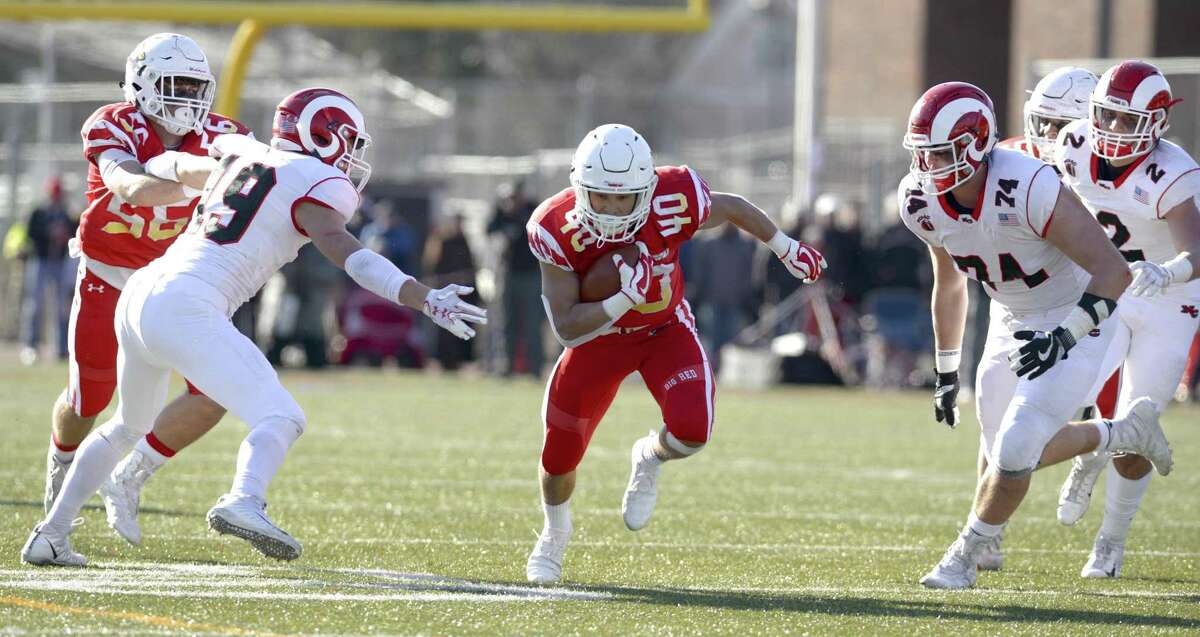 STAMFORD — With A.J. Barber catching and throwing touchdowns, Gavin Muir consistently moving an up-tempo offense and the defense displaying its usual dominance, the first half just kept getting better and better for Greenwich in Saturday's Class LL football final against New Canaan.
By the time the first 24 minutes of play concluded, the Cardinals held a commanding 27-point lead and were soaring toward something they hadn't reached since 2007 — the state title.
Putting a huge exclamation point on an undefeated season, Greenwich rolled from start to finish in registering a resounding 34-0 win over New Canaan in the championship CIAC Class LL Tournament before a big crowd at Boyle Stadium.
This family coaching matchup, featuring son John Marinelli of Greenwich and father Lou Marinelli of New Canaan, saw the Cardinals seize a 27-0 halftime advantage en route to sealing their unbeaten season with their 13th victory.
"I don't want it to end, I want to keep playing," John Marinelli said. "This is a great group of boys, they were the first freshman class in 2015 when I got hired. They are great, high character kids and I'm emotional, because I don't want it to end."
Barber, the son of former New York Giants star running back Tiki Barber, had nine receptions for 153 yards and three touchdowns and also threw a 27-yard touchdown pass to sophomore running back Hunter Clark off a trick double-pass play.
"Winning the championship feels amazing," said Barber, a sophomore. "After last year, when we lost to Darien in the finals, our only goal was to get back to where we were today and have a different outcome."
AJ Barber… going HAM today.
Let us count the ways:
ONE-handed catch on lateral, and then the halfback option TD pass to Hunter Clark.
My.
Goodness. 19-0 Greenwich mid 2nd #cthsfb pic.twitter.com/LBlV79yBum

— Sean Patrick Bowley (@SPBowley) December 8, 2018
Muir passed for 262 yards and three touchdowns and ran for another score for Greenwich, which ended its memorable season with its sixth shutout.
"It feels great to come out here and do it in this fashion," said Muir, a senior, who produced a fitting finish to his standout Cardinals career. "Everyone played great and it was nice to see us get the shutout."
New Canaan, which entered the matchup with seven straight victories, had trouble extending drives against Greenwich's speedy defense and slowing down its faced-paced offense.
"I am proud of my son, he did a hell of a job," New Canaan coach Lou Marinelli said of John's coaching performance. "If that's not the best team in the state, I don't know who is. No team has come within 28 points of them all season. We had no answer for them. Their defense took away everything we tried to do."
New Canaan coach Lou Marinelli following his team's LL final loss to son John's Cardinals #cthsfb pic.twitter.com/iqhKhIyDbR

— Sean Patrick Bowley (@SPBowley) December 8, 2018
Junior quarterback Drew Pyne passed for 163 yards for the eighth-seeded Rams (10-3).
"It speaks volumes for us that we made it to the state final after starting the season 3-2," Pyne said. "This was the closest team I've ever played for and I'm going to miss the seniors on the team. It will be hard to see them go."
SETTING THE TONE
Greenwich, ranked No. 1 in the state in GameTimeCT.com's poll, imposed its will in the first half. The Cards drove 62 yards in five plays for the game's first score.
After catching an 8-yard pass from Muir, putting the ball on the 2-yard line, Barber hauled in a Muir pass in the end zone the ensuing play, giving Greenwich a 7-0 lead with 2:27 remaining in the first quarter.
Senior Lance Large's 33-yard reception off a pass from senior wideout Stephen Bennett on a trick play called arsenal, keyed the drive.
The Cardinals extended their edge on their ensuing drive, with Muir connecting with the elusive Barber down field for a 60-yard touchdown at the 10:43 mark of the second quarter.
Barber began the season with a three-touchdown game against Trumbull and capped it with Saturday's sensational showing.
Greenwich's victorious fourth year coach John Marinelli on winning his first state championship "Sports!" #cthsfb pic.twitter.com/VvPZzQhofi

— Sean Patrick Bowley (@SPBowley) December 8, 2018
"He is wise beyond his years," John Marinelli said of Barber. "All of the seniors have pushed him and treated him like a kid brother. They've challenged him to get better and better and he's been an incredible player for us."
Following a New Canaan three-and-out, Barber accounted for another touchdown, this time with his hands and arm. Muir threw a lateral to Barber, who snared the pass with one hand. He then set himself and delivered a 27-yard touchdown pass to a wide open Clark, making it 19-0 with 7:35 to go in the second quarter.
"My job was to look confused on that play, like I didn't know what was going on, to confuse the defense," Barber said. "When the ball came to me, I just stuck my hand up and hoped for the best."
A New Canaan drive sparked by several receptions from senior Quintin O'Connell, was halted at the Cardinals' 32-yard line by Ryan Raybuck's interception in the second quarter.
"I knew it was going to be a fade and I just was at the right place at the right time and came down with it," Raybuck said. "We take pride in getting goose eggs on the scoreboard. Not only coming back here, but winning it, shows our hard work paid off."
Following the turnover, Greenwich scored its final touchdown of the opening half, an 8-yard run up the middle from Muir with 17 seconds left.
"When our offense doesn't score, we get upset, because our goal is to put points on the board," Muir said. "We want to keep putting points on the board."
PLAYERS OF THE GAME
Barber capped his 153-yard receiving day with a 10-yard catch in the end zone in the fourth quarter.
"Our offense was very productice, but we give a lot of credit to our defense," Barber said. "Very few drives start in our own territory because of them."
Anchored by senior center Jack McBreairty, Greenwich's offensive line performed well against New Canaan's formidable front.
"We just stayed composed, focused on doing what we do best and went out there and took on the giants," McBreairty said. "This will be a season we'll never forget."
As usual, defensive linemen Mozi Bici, Eddy Iuteri, Emilio Camou, Joe Kraninger, along with linebackers Jack Feda and Larry DeLuca, pressured the quarterback throughout.
"All three phases connected in the, game we all did what we were supposed to do and we came out with a championship," Bici said. "It's unreal to finish a season like that."
EXTRA POINTS
Large had nine receptions for 94 yards, senior Tysen Comizio had 144 yards rushing for the victors. … O'Connell had seven receptions for 41 yards for the Rams and teammate Wyatt Wilson had five catches for 52 yards.
"Our passing game and running game were clicking, you can't ask for anything more from our offensive line," Comizio said.
QUOTABLE
"From defense, to offense, to special teams, I think we set state records," John Marinelli said. "All the credit to my coaching staff, who challenge the kids every day and the kids, who always rise to the challenge."
"Our goal was to finish this out with a win, but we are more than pleased to play 13 games with our brothers," New Canaan senior lineman Jack Conley said. "We are very sorry go out without a title, but credit Greenwich. They are a great, fantastic team."
GREENWICH 34, NEW CANAAN 0
NEW CANAAN 0 0 0 0 — 0
GREENWICH 7 20 0 7 — 34
G — A.J. Barber 2 pass from Gavin Muir (Toby Turnbull kick)
G — Barber 60 pass from Muir (kick failed)
G — Hunter Clark 27 pass from Barber (kick failed)
G — Muir 8 run (Lance Large pass from Muir)
G — Barber 10 pass from Muir (Ben Howarth kick)