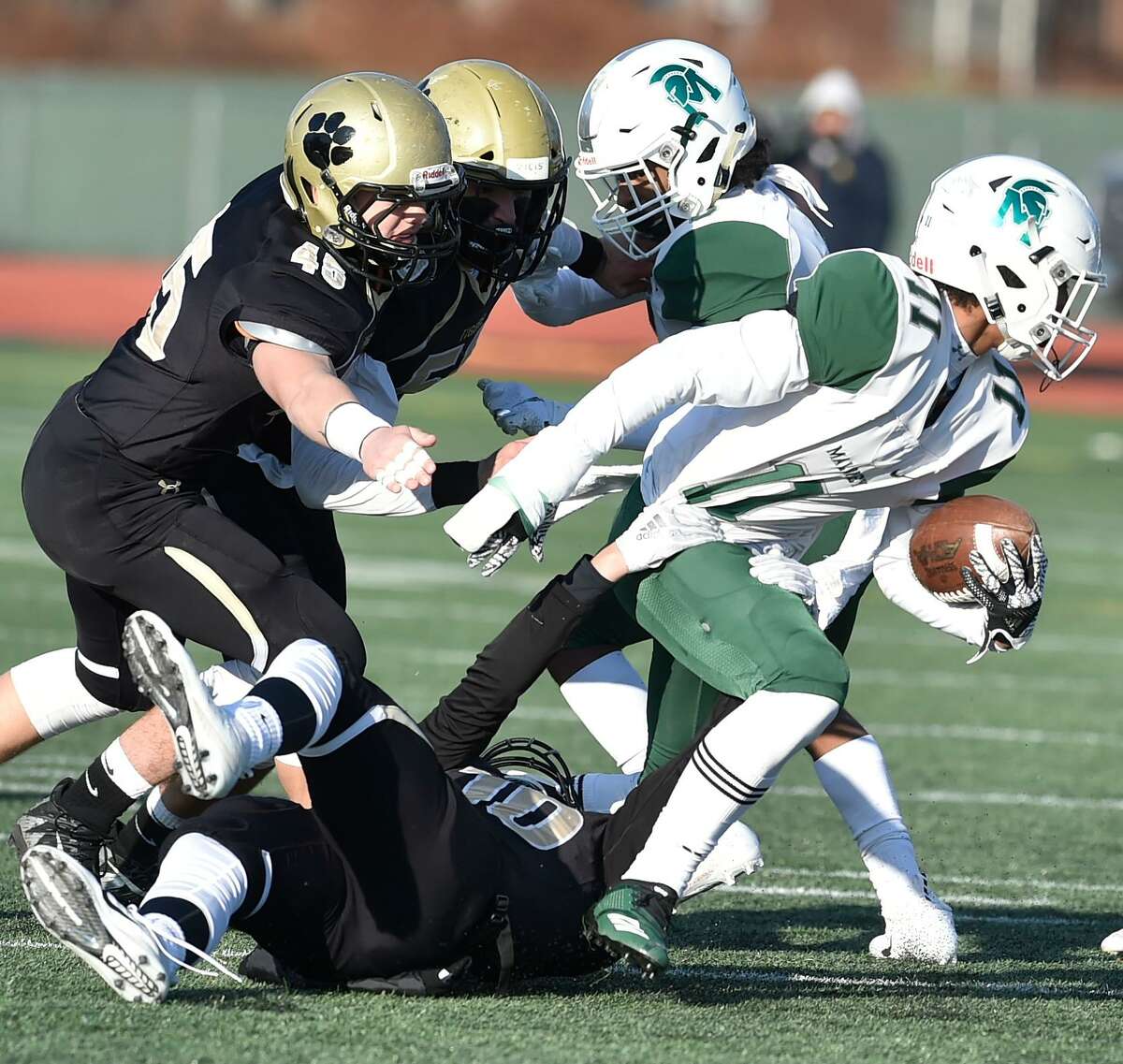 NEW BRITAIN — The outcome of Saturday's Class L state football final was decided long before the game reached halftime.
Hand was in the midst of one last dominating performance in a season full of them. The top-seeded Tigers scored 54 unanswered points to blitz No. 7 seed Maloney 54-14 at Veterans Stadium.
"It feels fantastic. There is not a greater feeling in the world," said Hand running back Colin McCabe, who scored twice.
There are two questions that remain up for debate. The first is where this Hand team ranks in the annals of a proud program that won its 13th state championship in 19 tries.
Hand (13-0) allowed just two offensive touchdowns in their three state tournament games. Maloney scored on the game's first play and then in the fourth quarter.
Hand finished as the highest-scoring football team in the 25-year history of the Southern Connecticut Conference, compiling 653 points and averaging 50.2 per game. The Tigers' closest game was a 29-point win over New Fairfield.
It's also the team's 24th straight victory, which includes back-to-back state titles after beating Masuk in this division last season.
"I've been here for 13 years, only been head coach for two years," Hand coach Dave Mastroianni said. "It's more important what the alumni say and what they think. We just did the best we could and went from there."
The second question is where Hand will rank in the final GameTimeCT Top 10 poll. The Tigers are one of just two unbeaten teams in the state.
"With our program's stature, we don't have to beg," Mastroianni said. "I'll take 25-1 the last two years, I'll take a 24-game winning streak…. Whether we finish No. 1 or not doesn't matter to us. I was able to experience this with our guys, our coaches and our community and that makes me happy."
Hand came into the game ranked second in the GameTimeCT Top 10 poll to Greenwich, which dominated the LL division, hammering New Canaan 34-0 in the final on Saturday. The final poll will be released on GametimeCT on Monday and appear in Tuesday's Register.
"I wish we would get to play them, it would be an amazing game," Hand quarterback Phoenix Billings said. "Like I said before, we've done everything we can this year. You can't deny watching any of our games, say what you want about our schedule, that we haven't dominated every facet of the game in every game so that's all we can do. At the end of the day, it's up to you guys (the media). We will go home and be happy with our two state championships."
Maloney is still searching for its first state championship in three tries. It was the Spartans' first appearance in a championship game since 2006.
"I told them afterwards I want them to leave with their heads held high," Maloney coach Kevin Frederick said. "We had a great season. We didn't come to finish second so we are obviously disappointed."
Jaylon Nixon recovered an onsides kick for Maloney on the opening kickoff. Maurice Brackett caught a 43-yard touchdown pass that a Hand defensive back tipped in the air.
"We knew we had to steal some possessions from these guys," Frederick said. "The onsides kick was something we thought about all week. … It was tough to sustain. They are the No. 1 football team for a reason."
Then the offensive avalanche began. It took just four plays for Hand to answer as McCabe (game-high 144 yards on eight carries, all in the first half) scored on a 31-yard run. A three-and-out and a shanked punt later, Hand had the ball in Maloney territory and scored two plays later. Billings scored on a 15-yard run. The 2-point conversion made it 16-6.
"The fact we were able to bounce back so quickly and able to go out about their business and not let it deter them that's a credit to them," Mastroianni said.
Then came a safety (Ben Corniello sacked Maloney quarterback Elliott Good in the end zone), a pair of touchdown receptions to Chris Bartosic (6 yards) and Kevin Girardi (36), respectively, Julian Banerji's 47-yard punt return for a score, McCabe's second touchdown, this one for 46 yards and Ethan Haberman's 22-yard TD reception – all in the first half.
HAND 54, MALONEY 14
MALONEY 6 0 0 8 — 14
HAND 32 22 0 0 — 54
M–Maurice Brackett 43 pass from Elliot Good (pass failed)
H–Colin McCabe 31 run (Isaiah McNeilly run)
H–Phoenix Billings 14 run (Isaiah McNeilly run)
H–Safety (quarterback sacked in end zone)
H–Chris Bartosic 6 pass from Billings (pass failed)
H–Julian Banerji 47 punt return (McNeilly run)
H–McCabe 46 run (McNeilly kick)
H–Ethan Haberman 22 pass from Billings (McNeilly kick)
M–Kamron Moreno 20 pass from Good (Victor Marquez pass from Good).
Records: M 10-3; H 13-0.