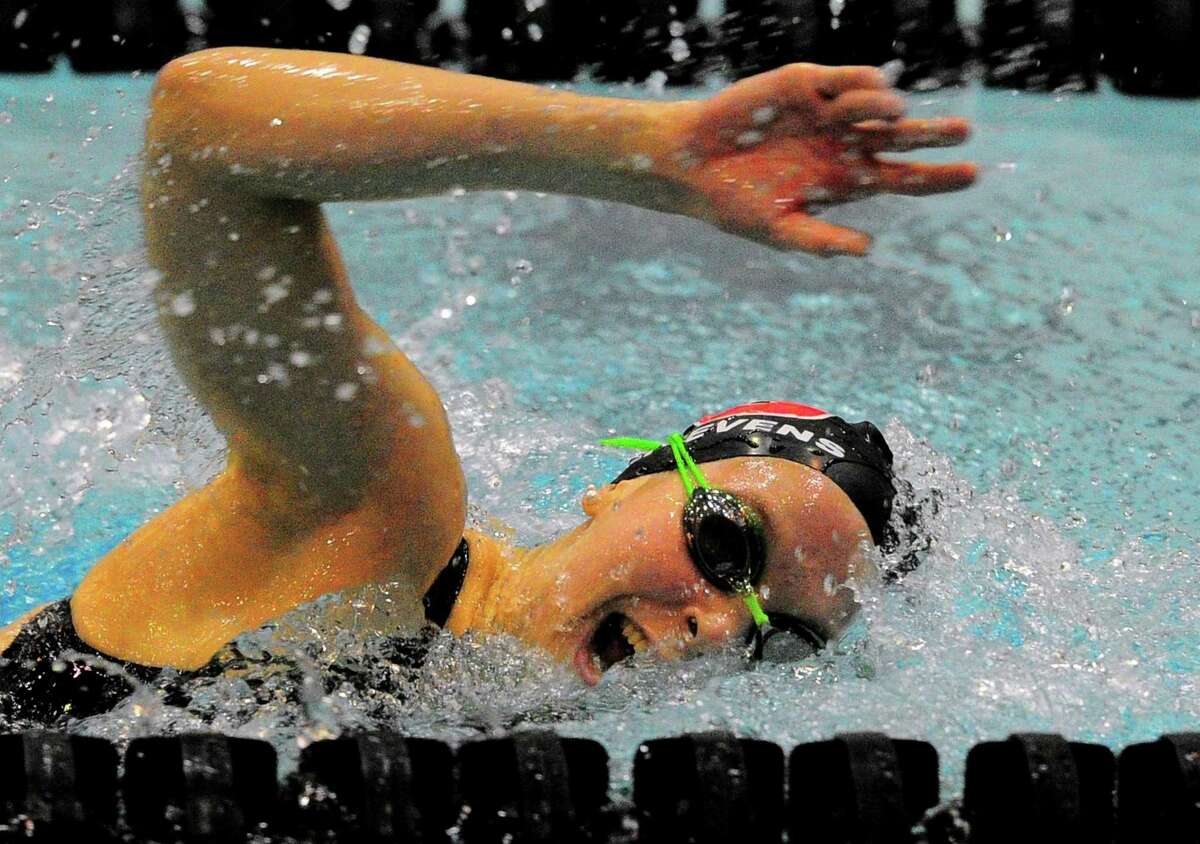 NEW HAVEN — After a full night of swimming, Cheshire didn't want to come out of Southern Connecticut State University's pool.
And rightly so.
The Rams jumped in the pool in unison after the final team scores were announced at the conclusion of Tuesday's CIAC Class L Swimming Championships, as it was officially celebration time for their squad.
When Cheshire won the 200-yard medley relay title at the meet, it was a sign of a wealth of good things to come for the Rams.
Winning six events, Cheshire swam to a sweet repeat, adding another Class L team time to their collection by amassing 829.50 points at crowded Southern Connecticut State University.
Darien had an excellent meet, placing second with a team score of 681.50 points followed by Wilton (556) and New Canaan (447). Hall (381.5), Pomperaug (230.5), South Windsor (230), Lyman Hall (209.5) and Conard (189) rounded out the top 10 teams.
"From the very beginning of the season, all the girls wanted to do was jump in the pool at Southern," said Cheshire coach Dave Modzelewski, whose squad has won two straight Class L titles. "They swam really well tonight, they should be proud of themselves. Darien, Wilton, New Canaan had good swims, but I'm glad we came out on top."
The meet began in championship fashion for Cheshire, which won the 200-yard medley relay title. The foursome of twins Julia and Jillian Stevens, Alexandra Nawrocki and Esther Han combined to register a time of 1:47.87. Wethersfield, which led at one point during the race, was the runner-up (1:48.37) followed by New Canaan (1:49.66), which had the early edge.
Junior Julia Stevens of Cheshire captured the first-place medal in the 200-yard freestyle, touching the wall in 1:52.05.
"The medley relay gets everyone excited for the meet," Julia Stevens said. "Winning that got us super excited and helped set the tone of the meet for us. We all have been focusing on being a family and being the best teammates we can possibly be."
Darien freshman Kelly Dolce placed second in the 200 freestyle in 1:52.63 and Cheshire sophomore Nora Bergstrom finished fourth with a time of 1:55.41 and Natalie Chernysh from Conard was third (1:55.38).
"We went into this meet with a positive attitude and it helped out a lot," Bergstrom said. "I'm new to this team and it's been a great experience for me. Everyone supports each other and gets excited about each other's accomplishments."
Stevens opened a lead during the second lap, with Dolce coming close late in the race. Newington's Amber Rocheleau was fifth (1:55.45) and New Canaan's Maddie Haley placed sixth (1:55.63) in the 200 freestyle.
"I knew that I had to swim well to get points for our team," Dolce said. "I had to step up, just like all of my teammates did. Everyone on our team was so energized during this meet and we all supported each other. It was a lot of fun."
The 200 individual medley saw Abigail Francis of Wethersfield take top honors in 2:04.66. Sam Grenon, a Cheshire senior, was second with a time of 2:06.63 and Darien freshman Kaitlyn Holmes placed third (2:07.95).
"Every day, everyone trained so hard in practice and pushed each other for a meet like this, Grenon said. "We knew what we needed to do to have a moment like this and we came in here ready to swim fast."
The 50 freestyle, a lightning-fast event, had Cheshire sophomore Sophia Murphy touching the wall first in a blistering time of 24.14. Right behind her was Darien sophomore Cassandra Maroney (24.48) and Wilton senior Taylor Loud (24.58) and her Warriors' teammate, senior Katherine Stevenson (24.90).
"The 50 free is one of the scariest events, because one mess up messes up your entire race," Murphy said. "Watching Julia (Stevens) and my teammates compete inspired me to go as fast as I could."
Said Darien's Maroney: "I got second last year in the 50 freestyle, so I was happy to finish the same again this year. I definitely went up against great competition and I'm very happy with my time. Our whole team was great tonight."
After the 50 freestyle, Cheshire had 332 team points, while Darien totaled 316.50 and Wilton scored 206.
Hall enjoyed a 1-2 finish in the 100 butterfly. Junior Maggie Mantz garnered the first-place medal in the 100 butterfly, touching the wall in 56.41. Her Hall teammate, Aislinn Mitchell, a junior, placed second (57.23), followed by Junior Amber Rocheleau of Newington (58.51).
"It was a lot of fun to compete in the same race with Aislinn," Mantz said. "It's been a good year for our team, we just won the CCC team title and we continued to do so well here tonight. I definitely always look forward to competing in the 100 butterfly."
Mary Barton of Cheshire was fourth, while Alexandra Mehos from New Canaan and Hope Murray of Darien were sixth and seventh, respectively in the butterfly.
Murphy claimed her second individual title of the night, posting a winning time of 51.44 in the 100 freestyle. Senior Katherine Stevenson of Wilton was the runner-up, (52.30), followed by Warriors' teammate Taylor Loud (52.73).
"My teammates got me so excited for each race by cheering so loud," Stevenson said. "I could hear them yelling, 'go, go, go,' the entire race. That really helped me swim fast the entire race."
Said Loud: "Swimming in this atmosphere with so many people watching 100 percent helps us swim faster. This is one of the meets that we always looking forward to competing in."
New Canaan received a championship finish from Haley in the 100 backstroke (57.08). Haley took it out strong and held on to edge Rams teammate Alex Pastushan (58.12). Cheshire's Jillian Stevens finished third and Olivia Golden of Darien placed fourth in the backstroke.
"It's my best time, I went my best time at trials and then finals again here tonight," said Haley, a sophomore. "We all did really well, the energy among the entire team is really good. The entire team cheering us on at the side of the pool really helped all of us."
Said Pastushan: "It was a little hard to go from competing in the 500 to the backstroke, so all I cared about was going as fast as I could and finishing the best I could in the event."
In the 500 freestyle, Julia Stevens won the endurance test for the Rams, clocking in at 5:02.43. Grenon took second in 5:04.57, followed by Wilton junior Emma Babashak (5:06.55).
Wethersfield finished first in the 200 freestyle final, with Cheshire taking second and Darien placing third.
Francis grabbed her second first-place medal of the evening, finishing first in the 100 breaststroke (1:05.04). Holmes of Darien was the runner-up in 1:05.73.
Grenon, Bergstrom, Julia Stevens and Murphy put the finishing touch on the Rams' win by winning the 400 freestyle relay in 3:31.70.
"It was amazing to end the meet like that and to have these girls on my relay," Bergstrom said. "It was a perfect way to end the meet."
Coming into the meet, we weren't seeded to win any events," Modzelewski said. "But the girls set themselves up nicely in the preliminaries with great performances and tonight they finished the job."
Said Murphy: "Winning the title two years in a row shows how strong our team is and how hard we work," Murphy said. "I think 2003 and 2004 was the last time the team has won back-to-back years."