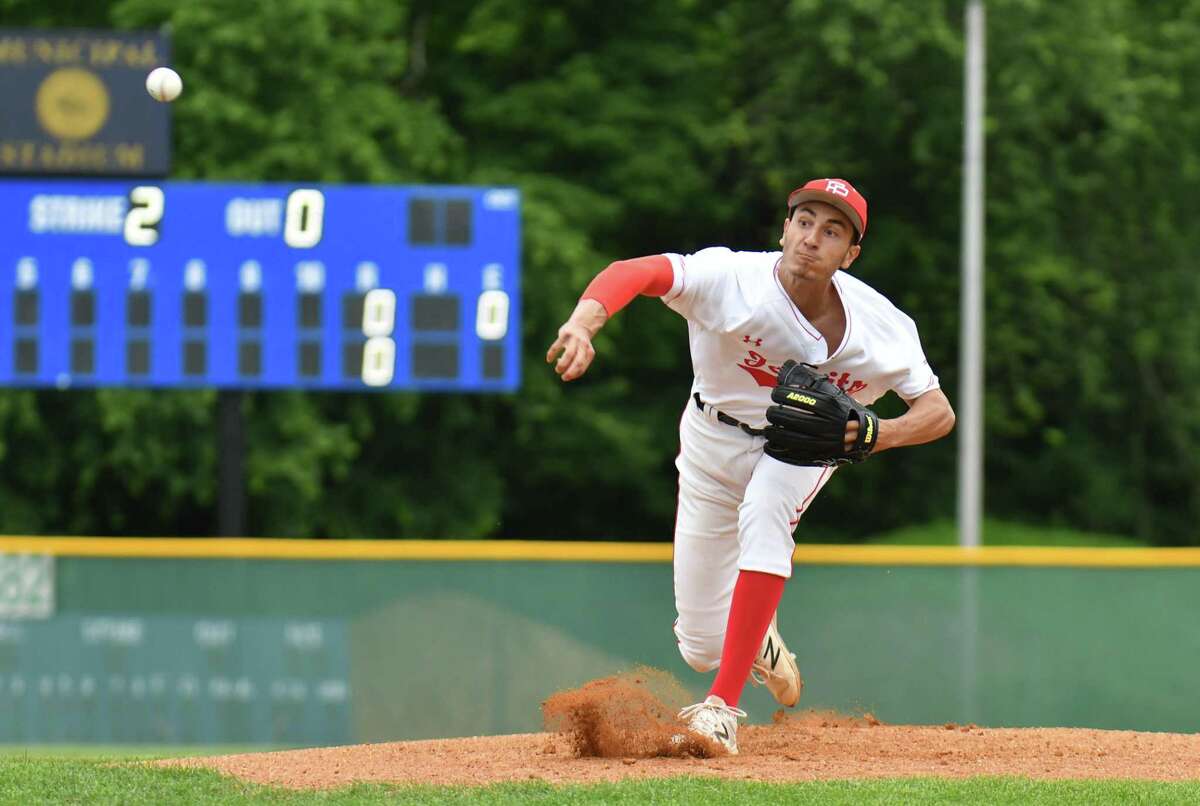 WATERBURY — Benjamin Shadeck just wanted to keep fighting.
Even though Cheshire's comfortable three-run lead had evaporated with one thunderous swing from Will Lucas, the senior left-hander knew he had no choice but to dig in and keep fighting. The Rams' season and championship hopes depended on it.
That attitude proved vital for Cheshire in the later innings of Wednesday's Class LL semifinal against Fairfield Prep, particularly when an opportunity to score presented itself. The fourth-seeded Rams made the most of that chance, getting a single from Ian Battipaglia to take down the state's top-ranked team 5-4 in 10 innings at Municipal Stadium.
"It's hard to stay up when you give up a game-tying, three-run hit, but the way that they didn't give up on me and the way they just treated me, it's like a family," said Shadeck, who pitched 3 1/3 scoreless innings in relief to earn the win.
The celebration that ensued after Shadeck struck out Austin Valus looking to complete a perfect 10th inning was worth the wait. The Rams (20-5) are headed to their first state final in 18 years.
CIAC BASEBALL TOURNAMENT SCOREBOARD
"It's awesome," said Cheshire coach Bill Mrowka, whose team will play either No. 3 Ridgefield or No. 7 Amity on Saturday at noon at Palmer Field in Middletown. "The last time that I (reached the final) as a coach was in 2000, so they remind me I'm feeling old. I'm glad these guys get an opportunity to experience that."
That opportunity seemed to be in doubt after Lucas ripped a two-out, two-strike double off Shadeck in the seventh inning to tie it 4-4. The game remained tied until the 10th inning, when Matt Downing, the Rams' starting pitcher, led off with a double against Lucas. Downing was later sacrificed to third and scored on a single by Battipaglia through the drawn-in infield.
"I was just trying to get it through the infield or hit a sac fly," Battipaglia said.
The Jesuits, who managed just five hits off Downing and Shadeck, saw their season end at 25-2. They were seeking their first appearance in the state final since 1985.
"They put together a great season and they put together a great effort tonight," said Prep coach Rudy Mauritz, who led the Jesuits to their first SCC title earlier this year. "A loss, any loss, is hard to take. A loss that ends it all, one game short of the ultimate destination … you've played 27 games, you want to play 28."
Prep's day started off in promising fashion when Dan Fallacaro homered over the left-field fence off Downing for a 1-0 lead in the second inning. However, Cheshire answered for three runs in the third against Adam Stone, two of which scored on a single by Shadeck. A sacrifice fly by Ben Schena in the sixth pushed that lead to 4-1.
The Rams' lead seemed to be in good hands with Downing on the mound. The Jesuits managed just two hits through six innings off the southpaw before rallying in the seventh.
"Matt was awesome," Mrowka said. "Matt has been awesome since the beginning of the year. He's been able to just kind of dominate. I wish we could've finished it for him, but Shadeck came in and picked him up."
PLAYER OF THE GAME
Ian Battipaglia, Cheshire: The junior's one-out single off Will Lucas in the 10th inning scored the winning run and sent the Rams to their first state final in 18 years.
QUOTABLE
"Given a lot of the things that have gone on, I think the guys really wanted to show what Fairfield Prep is all about. And they did that this year, they did it. I'm very proud of them." — Fairfield Prep coach Rudy Mauritz
HERE'S THE HISTORY
Cheshire will be making its seventh appearance in the state finals. The Rams have lost their last two appearances in 2000 and 1996. The school's most recent title was in 1993 in Class LL (9-3 victory over Norwalk).
CHESHIRE 5, FAIRFIELD PREP 4 (10)
CHESHIRE 003 001 000 1 — 5 7 2
FAIRFIELD PREP 010 000 300 0 — 4 5 3
Records: Cheshire 20-5; Fairfield Prep 25-2. Batteries: C — Matt Downing, Benjamin Shadeck (W, 7) and Matthew Costello; FP — Adam Stone, Grant Purpura (4), Will Lucas (L, 8) and Dan Fallacaro. Highlights: C — Ian Battipaglia had the game-winning single in the 10th inning. Downing struck out six over 6 2/3 innings, allowing three hits and four runs. Shadeck had a two-run single and pitched 3 1/3 scoreless innings in relief. P — Fallacaro hit a solo home run. Lucas hit a three-run double and pitched three innings in relief, allowing one run on two hits.