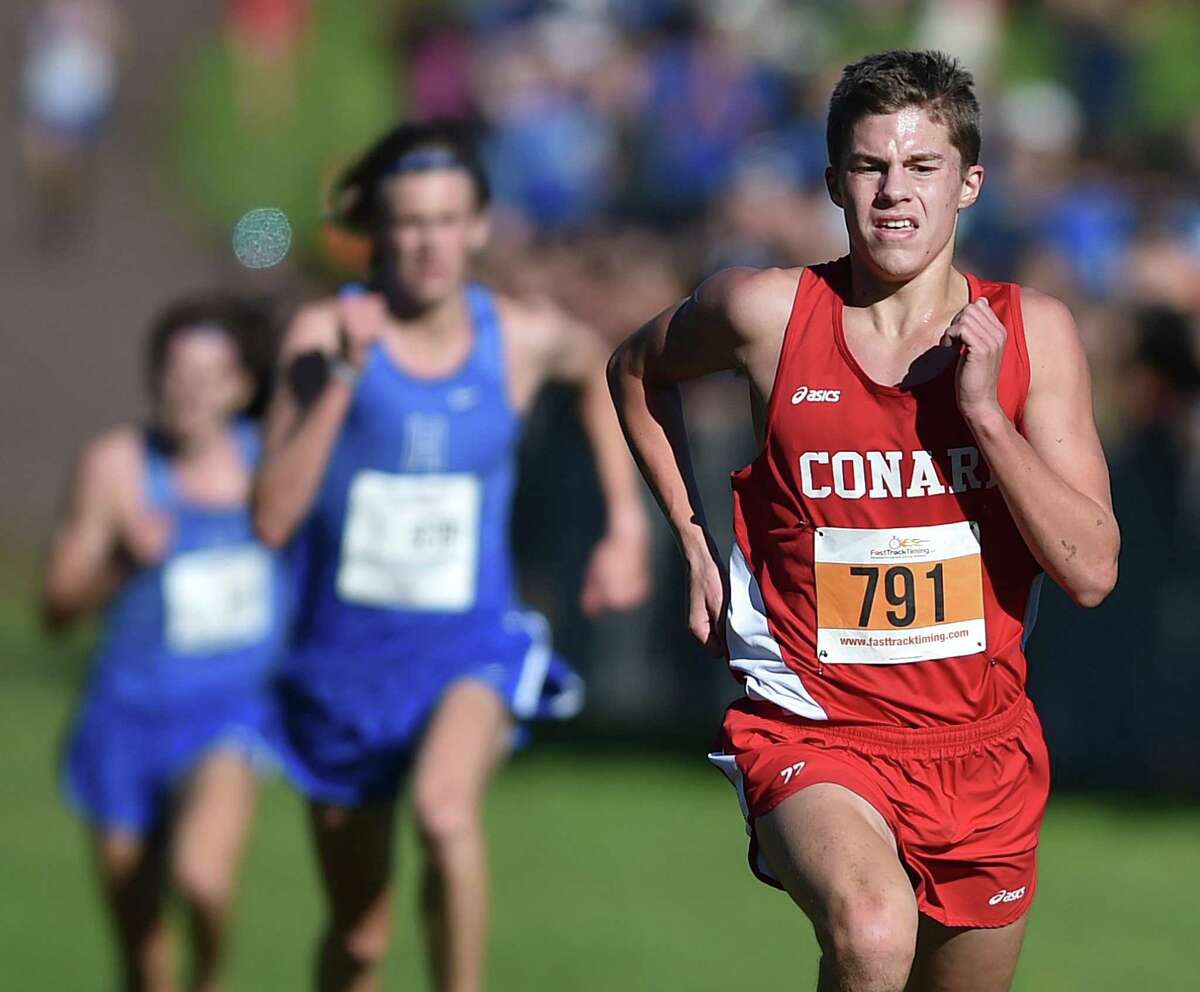 Conference championship week is off and running with the CTC and CCC races in the books and a host of others set to round out the week before the season peaks with states.
There will finally be high-stakes action at a course other than Wickham Park as the SWC championships were run Wednesday at Bethel High School, the NVL had its race Wednesday at Veterans Park in Watertown while the FCIAC (Waveny Park, Thursday) and SCC (East Shore Park, Friday) will have their races away from Manchester later this week.
The weather has affected races with muddy courses, and schedule changes were required to accommodate the heavy rain over the past month.
NEW CHAMPS
The CCC meet produced two new champions Tuesday as Rocky Hill's Elizabeth Stockman and Conard's Gavin Sherry won the girls and boys races at Wickham. Stockman overtook defending race champion Jenna Zydanowicz — who won the Wickham Invite earlier this month — in the final stages. Sherry edged a pair of Hall runners — Wickham Invite winner Miller Anderson and Trey Cormier, who was rested for that race — to the finish line.
Glastonbury's girls team breezed to the title for a fourth straight season while Tolland turned in a dominant performance to win the boys title. The Eagles (50 points) placed five runners in the top 14 to cement their place as State Open contenders. Jackson Cayward (16:42) led Tolland with a fifth-place finish while the top five runners finished about 20 seconds from one another.
Next up for the Eagles is the defense of their Class M title; Tolland was ranked No. 2 in last week's soundRunner Top 10 poll, less than 10 points behind Xavier. Glastonbury's girls won by a margin of 62-73 over Hall; the fourth and fifth runners making a difference in the final score. The Tomahawks — led by Casey MacElhiney's fifth-place (20:02.7) — placed all seven runners in the top 23 while Hall had three of the top eight finishers.
COMMANDING POSITION
Xavier's boys and Guilford's girls teams enter Friday's SCC championships in prime shape to claim back-to-back titles. Meredith Bloss helped the Indians clinch the Hammonasset Division with a 10-0 record with a series of wins this fall. Bloss won the championship race last year and will be joined by Clara Wiesler, Gianna Siciliano, Emma Bonz and Olivi Skapczynski.
The Falcons are after their 12th SCC title overall and have been ranked No. 1 in the state all season.
ELSEWHERE
The Abbott Tech girls and Windham Tech boys were crowned CTC champions Monday at Wickham Park. Marisa Shiland won the race to lead the Wolverines while Justin Graubaum, Jorge Agosto and Jacob Theriault went 2-3-4 for Windham to coast to the title.
The NCCC (Bolton High) and ECC (Norwich Golf Course) will have their championship races Thursday, while the Berkshire (Black Rock State Park) and Shoreline (Hale Ray) leagues will face off Friday.