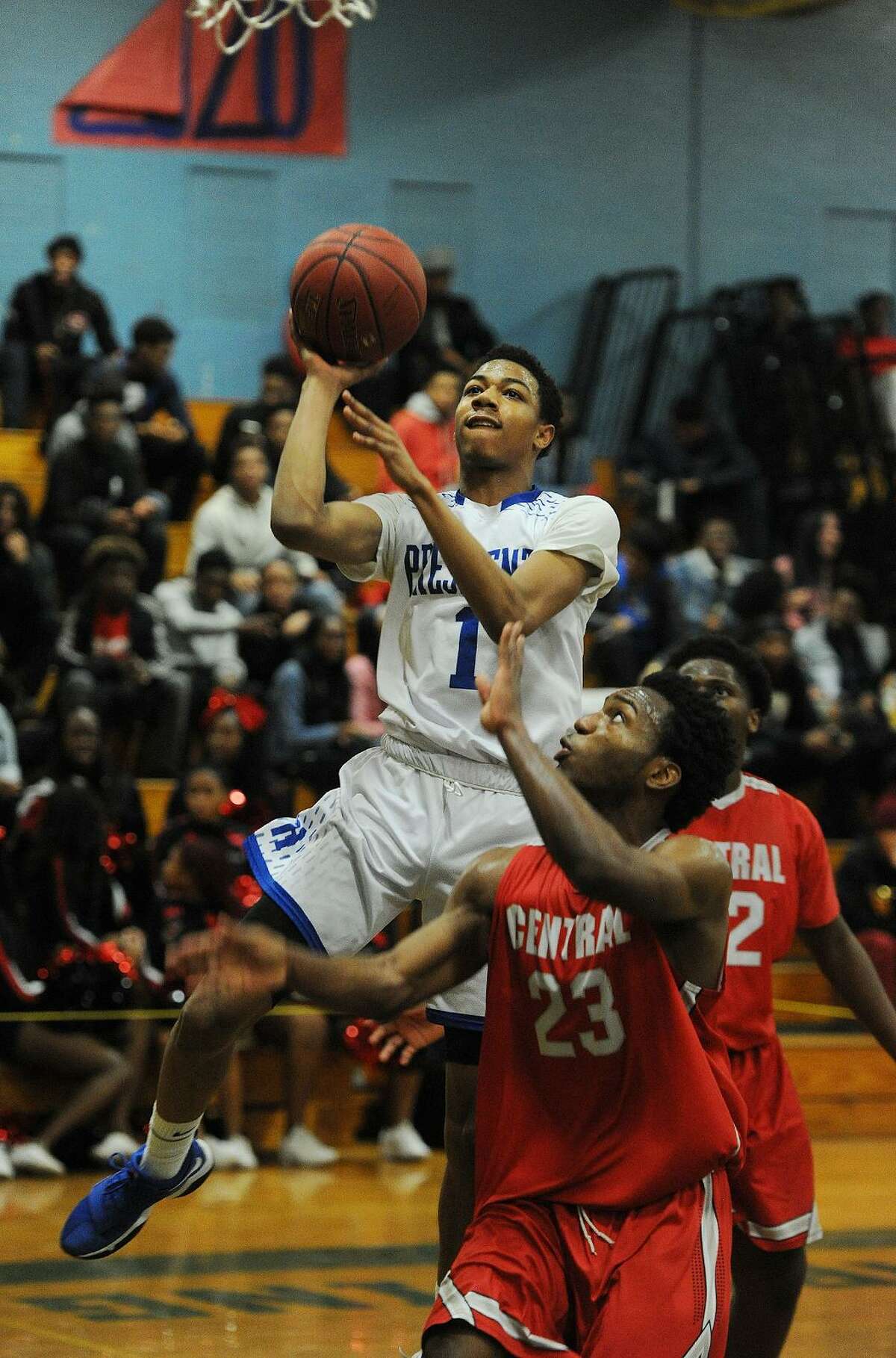 BRIDGEPORT — The Bridgeport Central boys basketball team sent Harding-Miska Gymnasium out in style Thursday night.
In what very well could be the last game played at the home of the Presidents, Central topped rival Harding, 69-60.
"You've got to shoot the ball. You've got to put the ball in the bucket," Harding coach John Bagley said.
The Presidents didn't do that nearly enough against the playoff-bound Hilltoppers, falling behind by as many as 14 points in the first half. The Presidents sliced Central's lead to two points on multiple occasions in the second half, but their comeback attempt fizzled.
Three Hilltoppers scored in double-figures, led by Raj Walker's 18. Zack William added 16 points with the help of three 3-pointers, and Ra'Quan Rilley scored 11.
"He's closing in the last couple games on what he was like last year," Central coach Barry McLeod said of Walker, a junior forward. "That doesn't sound very good since he should be a lot better, but … I'm really happy with the way they played tonight."
Added Walker: "I feel like I've been letting my team down lately. I had to get myself back."
Playing their third game in four days, the Hilltoppers (13-7) got off to a sluggish start in the second half. Harding sliced the Hilltoppers' lead to 40-38 with a 10-3 run to begin the third quarter. The Hilltoppers, however, never relinquished their lead.
"I'm really happy with the way they played tonight," McLeod said. "It was a tough game last night (a 66-56 win at Brien McMahon)."
Central led 54-47 after three quarters and by as many as 14 points in the fourth.
"We're working hard on defense, and we need something to help us keep working hard on defense," Bagley said. "We need a basket or something that spurs you on and gives you that extra energy. We weren't able to get that tonight."
As a result, Harding dropped to 9-10 overall with only a visit to rival Bassick (Monday at 7 p.m.) remaining in the regular season. The Presidents will likely open the Division-III state tournament on the road, which means, barring an upset, they've played their last game at Harding-Miska Gymnasium.
Tra'Vel Upchurch and Zamir Hairston scored 16 points apiece to lead Harding. Marcell Robinson finished with 10 points.
Central will make its first appearance in the FCIAC playoffs since 2014 when it faces third-seeded Danbury on Saturday at noon at Fairfield Warde. The Hilltoppers, who are seeded sixth, lost to Danbury 80-60 on Feb. 9.
PLAYER OF THE GAME
Raj Walker, Central, F: The 6-foot-2 junior scored a game-high 18 points.
SCHEDULE-MAKERS DRAW MCLEOD'S IRE
Thursday's victory over Harding was Central's fifth game in seven days. And Hilltoppers coach Barry McLeod was none too happy about it.
"Nobody is doing us any favors with the schedule," said McLeod, whose team will return to the court Saturday to face Danbury in the FCIAC quarterfinals. "Nobody's playing tonight. All the other FCIAC teams are resting and getting ready for Saturday. We have no voice. What's going on here? We [Central and Harding] are 10 minutes from one another. We couldn't have found another time to play this game?"
QUOTABLE
"I'm trying to give my team the best possible chance to win." — Walker
CENTRAL 69, HARDING 60
BRIDGEPORT CENTRAL (13-7)
Fab Agramonte 2 4-8 8 Zack William 6 1-2 16 TyQuan Fleming 0 0-1 0 Darius Washington 1 0-0 3 Ra'Quan Rilley 4 3-7 11 Raj Walker 7 4-9 18 DJ Fulton 3 2-2 8 David Brown 2 1-2 5. Totals 25 15-31 69.
HARDING (9-10)
Keith Bush 2 0-1 4 Xavier McBride 2 0-2 4 David Council 2 0-0 4 Zamir Hairston 5 3-4 16 Tion Hampton 0 1-2 1 Tra'Vel Upchurch 7 1-4 16 John Hypolite 1 3-4 5 Marcell Robinson 5 0-0 10. Totals 24 8-17 60.
CENTRAL 17 20 17 15 — 69
HARDING 10 18 19 13 — 60
3-pointers: C — William 3, Washington; H — Hairston 3, Upchurch.