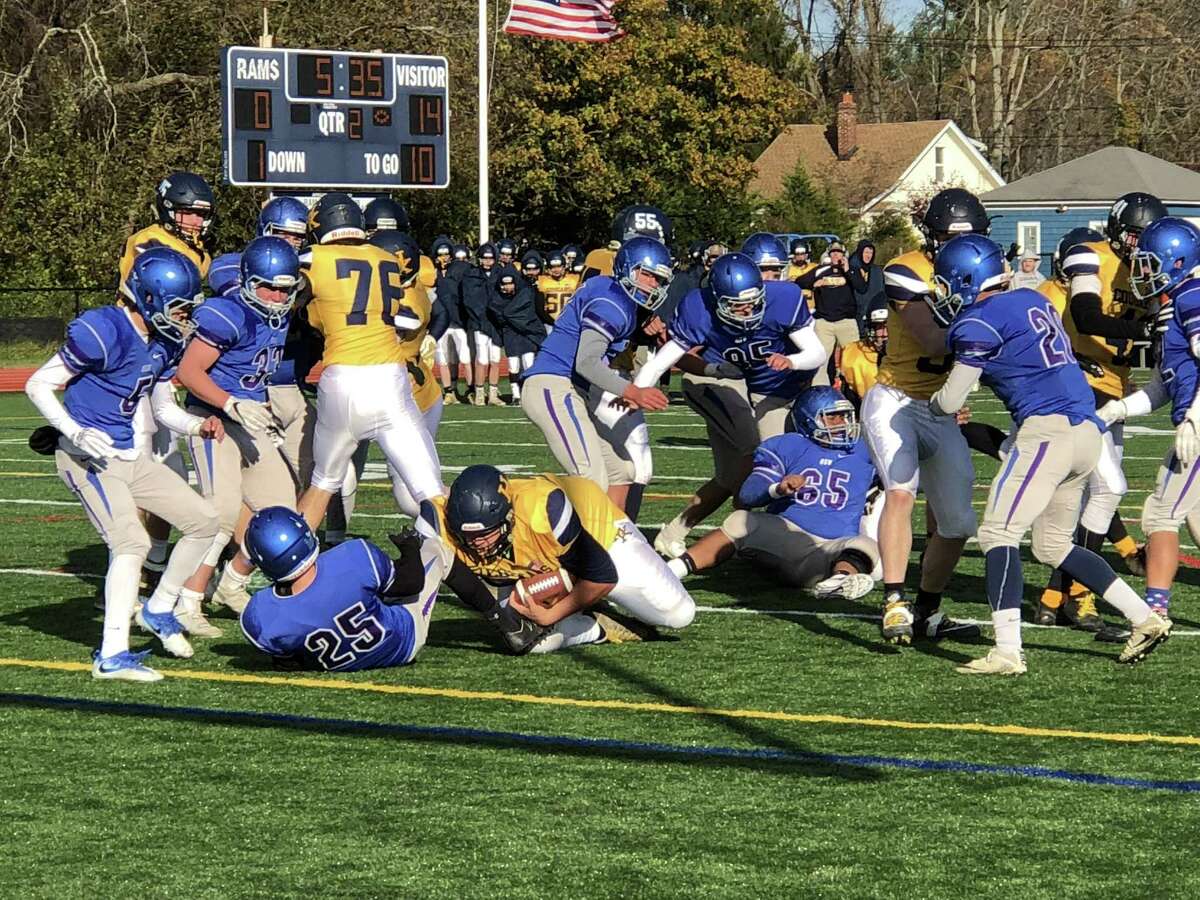 HIGGANUM — There are two players named Callender on the Haddam-Killingworth football roster, and another is on the way next fall. Their father, who has been involved in the sport for decades, coaches the Cougars' offensive and defensive linemen.
The Callenders — assistant coach George, senior leading rusher Tobey, and junior two-way lineman Trey — are the family within the extended H-K football family. They have enjoyed the ride this year as much as any of the seventh-seeded Cougars, who enter the final day of preparation for the Class S championship game Saturday against No. 4 Bloomfield.
"We're looking to hold on to George," H-K coach Mike Baklik said.
But when it comes to H-K football in the home, George Callender isn't going on and on about his kids' or the team's success, or what Tobey and Trey might need to do to be better players. There is a line drawn, and all of them like it that way.
"There is excitement about playing for the title, but the boys pretty much disappear from me in the house. The only time we talk football is if there is a game on TV, or if we're talking about how my youngest son (Tate) is doing," he said. "That's pretty much my approach. I don't want to overwhelm them. They have me at practice. They don't want to listen to me all over again at home."
George Callender grew up in Boston, played at Central Connecticut State and was an assistant coach at Farmington, St. Paul and Vinal Tech over the years before joining H-K's staff. He has seen the other side — fathers as assistants going hard on their own kids and maybe destroying their spirit for the game.
"I've seen it. I've experienced it, coaching all those years," he said. "My kids are not living my dream. They are doing their own thing."
His perspective aligns with the themes of H-K football under Baklik — humility, enjoying the moment, sticking to the plan, playing within one's capabilities.
"Just execute and enjoy what you're doing and do it well," Callender said. "That's pretty much what Mike preaches to them. As long as all of the kids stay together and do what they are supposed to do, we'll be successful with what we're doing here."
H-K (11-1) has won eight straight games. The Cougars might not have realized it at the time, but when they lost to Cromwell/Portland in Week 4, they were in a must-win scenario the rest of the way.
In early November on the road, the Cougars faced an Old Saybrook/Westbrook team that had defeated Cromwell, and they won by 30 points. Two nights before Thanksgiving, they knocked off rival Valley Regional/Old Lyme for the first time in seven years in the annual Principal's Cup game to finish 9-1 and qualify for the playoffs.
In the Class S quarterfinals, the Cougars buried Bullard-Havens for their first-ever playoff win. In the semifinals, they scored first in overtime, then stopped undefeated Stafford/East Windsor/Somers at the goal line on fourth down to advance to their second title game in the program's 43-year history.
Yet there is not a hint of tension or pressure in H-K's ranks ahead of the final. After all, it's not as if this team still needs to prove itself. This is a reflection on players like Tobey Callender, one of five captains and the team's leading rusher in yards (1,462) and average per carry (7.5) — he is as loose and grounded as a star player can be.
After the 52-0 win over Bullard-Havens, Callender said he could have told Bullard's defensive line what H-K's next play would be and the Cougars still would have been successful running it. It was said partly in jest and he took a lot of good-natured flak from the coaching staff about it.
"Tobey is humble and not a big showboat. He does his thing and does his thing well," Baklik said. "He sees the big picture. This year he's been like a role model, not just a leader of the pack. He knows when to go have fun and when to get down to business."
With junior running back Dalton Modehn (team-best 21 rushing touchdowns), Callender (20 scores) gets the bulk of the touches. This would have been the case last season, but Callender dislocated his elbow in Week 2 and did not play again. He and Modehn, plus Zach Kauffman, have combined for 491 carries on 566 running plays, proving that three options are better than one.
"You probably hear a lot of teams talk about the spread, different formations on offense. We don't have the kids to throw the ball around, we just keep them within what they are capable of doing," George Callendar says. "We're not asking them to do anything they can't do. We just ask them to be consistent in what they can do."
Trey Callender, at 6-foot-2 and 285 pounds, is the biggest of the underclassmen on H-K's lines and, like his brother, totally fun to be around. He is agile enough to be used occasionally in the double wing (10 carries, one touchdown). He is also the team's long snapper. Baklik loves his versatility. Trey's father believes his son is just beginning to realize his potential.
"Trey has a very capable body. For a big man, he is pretty quick. As the kids will say, every time someone is within one of Trey's fingers, Trey is going to take him down," Baklik said. "And he can get down the field. Most teams use their running backs and wide receivers to return punts, and Trey can get down the field (on coverage).
"We can give him the ball at fullback, he can be our lead blocker, he's got the biggest hands on the team. He can catch and he can throw. He will be a weapon somewhere in the next couple of years."
There is a fourth Callender, too. The oldest, Torren, played football for a couple of seasons and now helps with filming games from the end zone. Mother Callender, Robin, also is on the H-K sports scene — she coaches the varsity volleyball team.
George Callender was active in H-K's youth football program but largely unknown to the staff when he came aboard. Since the beginning, Baklik said he can coach the sons without looking over his shoulder.
"I'm allowed to make coaching decisions (with Tobey and Trey) without having to ask," Baklik said. "George's answer usually is, 'Whatever you think is best for my kids.' "
Callender now bleeds blue and gold like the other assistants, most of whom have deep roots in the program.
Barth Keck, who also coaches the linemen, spent stretches of time as an assistant dating to 1993, the year before H-K last played for a state championship. Offensive coordinator Tyler Wilcox and defensive coordinator Jared Hickey are both former H-K players. Assistant head coach Rob Grasso built this staff and "has been the heart of our program for the last five years and even more than that," Baklik said.
And there's Baklik himself, only the second head coach in the 43-year history of the program. He played for its founder, Dennis O'Rourke, and took the reins from his mentor at age 29, after O'Rourke's 37th and final season in 2013.
For the Callender family, George said his wife is having the most difficult time managing the excitement of the Cougars playing for the state title.
"I think Robin is ecstatic than we are, to tell you the truth," George said. "She's been calling everybody about this game. She's ready to go. She's ready to go."