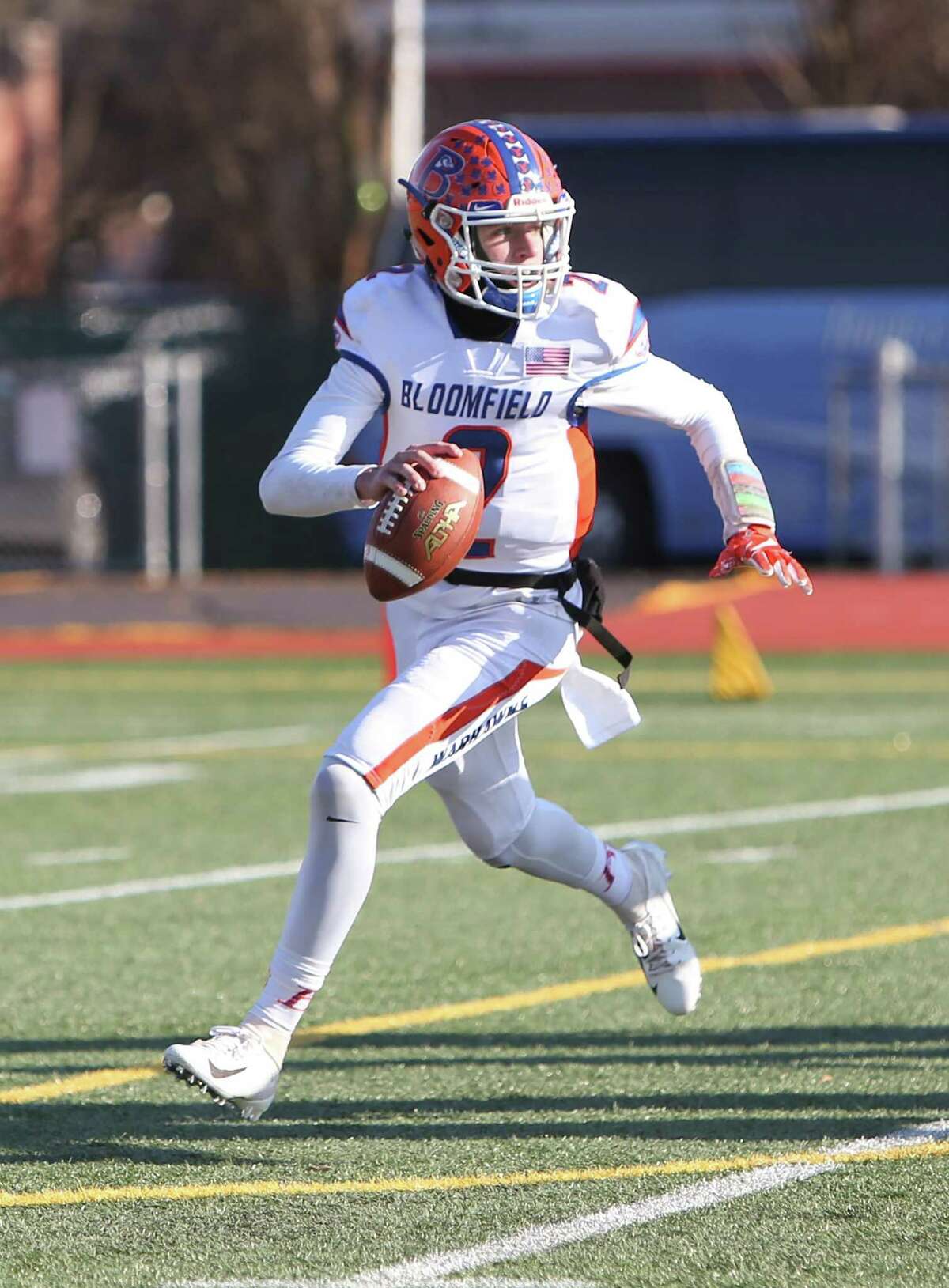 NEW BRITAIN — Fumbling away the ball on the first play from scrimmage in a state final might have shaken some players, but not Bloomfield's Ky'Juon Butler.
The senior running back had been here before Saturday as the only starter on the Warhawks' last state championship team in 2015. He took a deep breath and some direction from his teammates, who told him to work harder and get over it.
And he did.
After Haddam-Killingworth converted Butler's turnover into its only touchdown of the game, Butler wound up rushing for 151 yards and a score. His touchdown was the first of four unanswered scores that lifted Bloomfield past H-K 25-7 in the CIAC Class S final at Veterans Stadium.
"Nothing's easy for us. They have me stressed out all the time," Bloomfield coach Ty Outlaw said, the smile still on his face after hoisting the championship plaque. "But that's this team."
The championship was the fourth this century for Bloomfield, which finished 12-1. The favored Warhawks have won nine state titles in 14 finals appearances, while H-K (11-2), which had been riding an eight-game winning streak, was playing for a title for only the second time in the program's 43-year history.
"We approached this game like any other, go out there and battle," H-K coach Mike Baklik said. "We told the kids earlier in the day, 'We can't lose this game. It's not possible.' They played hard like they did all year and I'm proud of them."
Butler was able to provide bookends to his spectacular four-year career, as noted on his orange-and-blue cleats beforehand — "2015 champs" written on one side of his left cleat, "2018 champs" on the other side, with his stats on the right. His season totals: 2,348 yards rushing and 23 TDs.
"Ky has only lost four games in his high school career, so he had been on a pretty good run," Outlaw said.
Following Butler's turnover at his own 42-yard line, H-K fired up the double wing. With Bloomfield trying to figure out the snap count and deciphering which of H-K's backs would get the ball, the Cougars moved steadily down to the 2. On fourth down they went for it, with quarterback James Murphy sneaking in for the score. Jordan Callahan's kick made it 7-0.
"It took us a while to catch on," Outlaw said. "Guys were really excited and they were on the big stage. Once we settled down we felt like we were in a good place."
Bloomfield and H-K ended up turning the ball over three times apiece in the first half, but H-K's proved costly as the Warhawks converted two into touchdowns.
After Zach Kauffman's interception stopped a Bloomfield drive at the 5-yard line, the Cougars fumbled five plays later. Bloomfield took over at H-K's 38 and began to stretch the field with its passing game. Quarterback Daron Bryden connected with three different receivers to get to the 2, and Butler ran it in from there with 10:22 left in the second quarter. The point-after kick went wide right.
H-K junior Dalton Modehn, who rushed for 100 yards in the first half and 154 yards in all, fumbled on the second play of the ensuing possession. Taking over at its own 44, Bloomfield drove a dagger into the Cougars on the first play. Bryden found Anthony Simpson in the right flat, Simpson sprinted to the sideline, then spun back into the middle, eluding a tackler near the 20 and scoring untouched.
The conversion run failed as Bloomfield took a 12-7 lead into halftime.
"You can't give them a short field like that," Baklik said. "They made a couple of plays in wide-open space and broke off into bigger plays. You can't let those happen."
H-K went three and out to start the second half, but pinned Bloomfield inside its own 10 thanks to Callahan's 43-yard punt. But the Warhawks ended up going on a game-deciding drive — 12 plays covering 91 yards, with Michael Raiford streaking along the left sideline and beating his defender to Bryden's ball in the end zone for a 30-yard score with 4:03 left in the third quarter.
"We have a lot of speed on this team and it allowed us to make big plays," Simpson said.
H-K moved the ball into Bloomfield territory right at the end of the third quarter. On fourth-and-1 near midfield, however, Modehn lost his footing and slipped at the line of scrimmage, giving the ball away on downs.
Bloomfield tacked on its final score early in the fourth quarter. Bryden threw a little bit behind Simpson (five catches, 92 yards), who pulled the ball in for a 17-yard score.
Simpson said his team's only loss, to Class M finalist Berlin, was a wake-up that allowed the Warhawks to reset themselves. Butler said this year's team had a "little more heart" than the 2015 champions.
Outlaw liked seeing his team overcome a slow start to overwhelm the Cougars.
"Taking nothing away from H-K, they played a heck of a game. They had a great year and I'm proud of them, too," he said. "But we finished the job."
BLOOMFIELD 25, H-K 7
HADDAM-KILLINGWORTH 7 0 0 0 — 7
BLOOMFIELD 0 12 6 7 — 25
H-K — James Murphy 2-yard run (Jordan Callahan kick)
B — Ky'Juon Butler 2-yard run (kick failed)
B–Anthony Simpson 56-yard pass from Daron Bryden (pass failed)
B–Michael Raiford 30-yard pass from Bryden (run failed)
B–Simpson 17-yard pass from Bryden (Sean Dixon-Bodie kick)