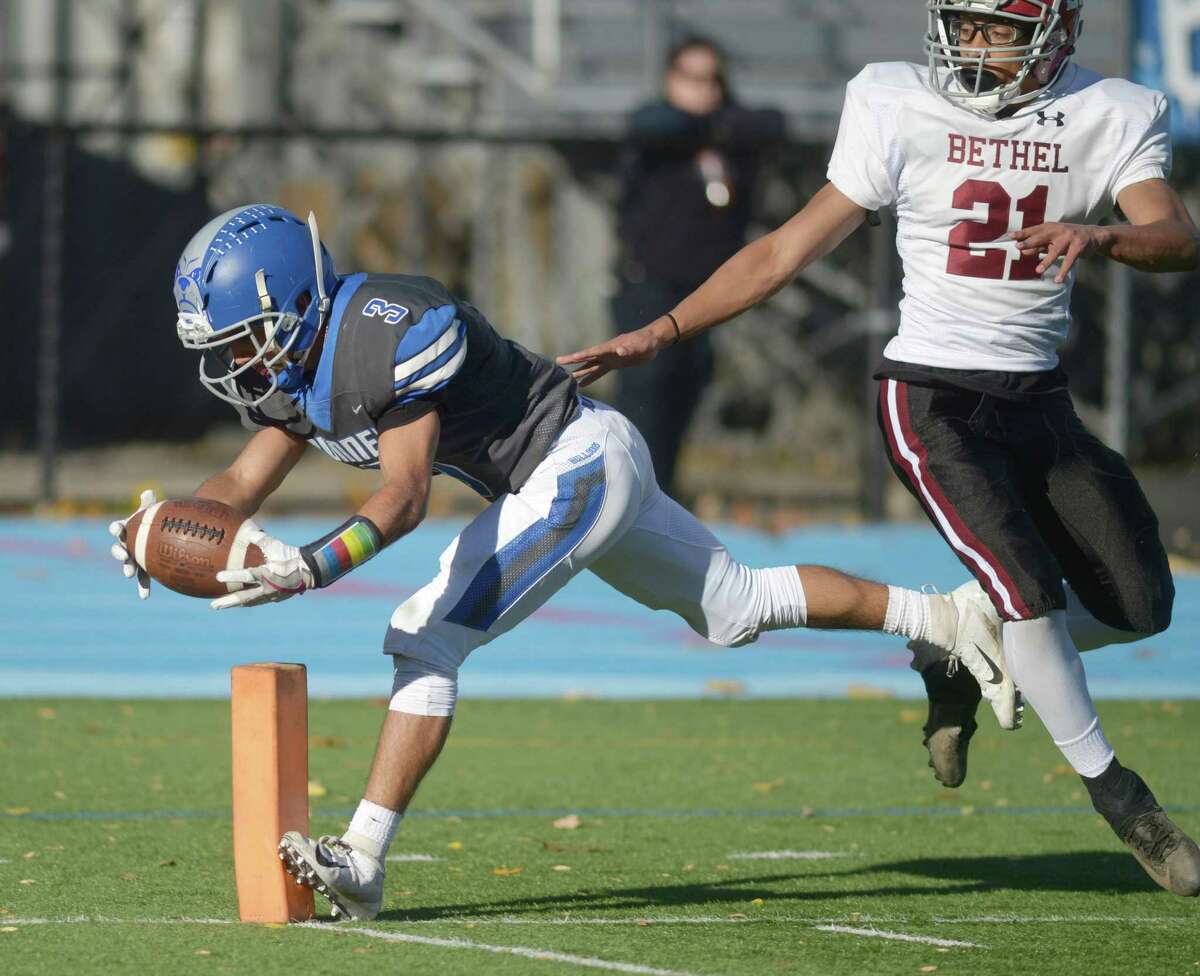 STRATFORD — One week after losing their first and second string quarterbacks to injury while suffering their first loss of the season, things seemed to be getting even worse for the Bunnell football team Saturday.
The Bulldogs found themselves trailing a weak Bethel team in the first quarter and finished the first half committing 13 penalties for 115 yards. You couldn't hear the collective "Uh-oh" on the Bunnell sidelines but you could feel it.
Fortunately, however, there was one area of their game that remained constant: Speed. And it's hard to defend speed, so the football season at Bunnell just might have a chance of moving past Thanksgiving.
"They have so much speed that losing their two quarterbacks didn't seem to matter," Bethel coach Jason Gill said after watching Bunnell overcome a slow start and sprint to a 48-14 SWC victory.
The Bulldogs (7-1), who remained among the top eight in the Class L state playoff race, scored seven touchdowns Saturday and five of them were from 60 yards or more, with another coming from 37 yards.
"We are blessed to have that much speed on our team," Bunnell coach Sean Mignone said. "We lost our quarterback Brian (Carrafiello) and then Jovan (Eggleston) last week (in a 45-7 loss to LL power Newtown), but we still have Tyreek (Smith), Christ (N'Dabian) and Eli (Alexandre)."
Hey, and don't forget James Savko and Josh Lisi on defense. Savko started the big-play day with a 61-yard interception return before Bethel (1-7) went ahead 7-6 on a one-yard run by Morgan Haskett.
Then the fireworks really started. Before halftime Smith (100 yards on six carries) scored on a 60-yard run, Alexandre caught a 60-yarder from third-string QB Dylan Vancho, and Lisi scored on a 37-yard run allowing the Bulldogs to feel comfortable with a 26-7 lead.
"This is our third straight year that we lost our starting quarterback to injury," Mignone said. "So we have to be creative. We were undisciplined early with the penalties (20 for 184 yards in all), but our speed was too much for them."
Bunnell had 304 yards rushing on 26 attempts (11.7 per carry) led by N'Dabian who had 167 yards on 18 carries. Coupled with the passing attack (Vancho, up from the JV team, was 4 for 6 for 94 yards), the Bulldogs averaged over 12 yards per play.
"Dylan did a good job," Mignone said. "I said, 'OK, you're up next' and he managed the game well."
Having that stable of speedy backs certainly helped the young QB.
"We knew we had to step up," N'Dabian said. "We started slow, there were a lot of penalties. Then we just tried to get the taste of last week out of our mouths and we were able to do that."
N'Dabian then broke free and raced into the end zone on a 62-yard run late in the third quarter before Lisi picked off a Derek Lewis pass and bolted 70 yards for a 40-7 Bunnell lead. N'Dabian added a five-yard scoring run in the fourth quarter. Haskins (62 yards on 19 carries) then had his second one-yard TD run to cap the scoring.
BUNNELL 48, BETHEL 14
Bethel 7 0 0 7—14
Bunnell 20 6 6 16—48
Bunn — James Savko, 61 interception return (run failed)
Beth — Morgan Haskett, 1 run (Coplin Cleary kick)
Bunn — Tyreek Smith, 60 run (Eli Alexandre run)
Bunn — Alexandre, 60 pass from Dylan Vancho (run failed)
Bunn — Josh Lisi, 37 run (run failed)
Bunn — Christ N'Dabian, 62 run (run failed)
Bunn — Lisi, 70 interception return (Alexandre run)
Bunn — N'Dabian, 5 run (Alexandre run)
Beth — Haskett, 1 run (Cleary kick)
Records: Beth 1-7, Bunn 7-1