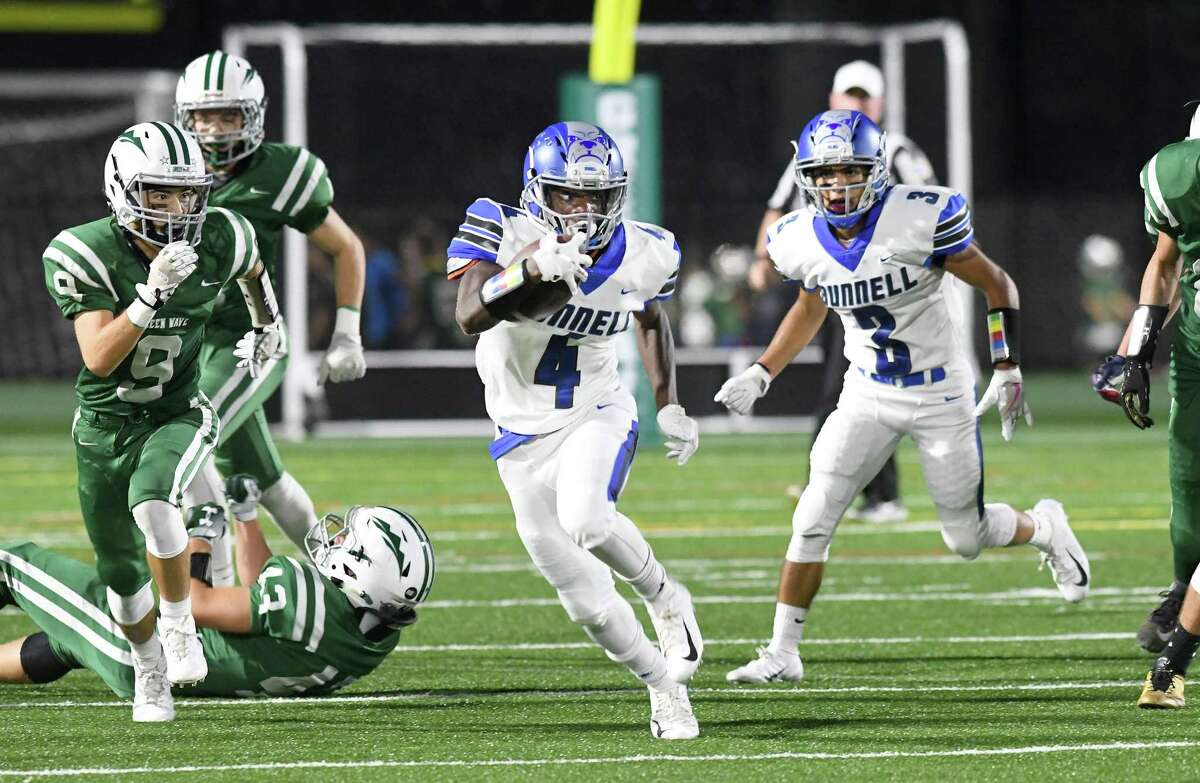 NEW MILFORD — Christ N'Dabian burst through the line of scrimmage and turned on the jets, leaving only one defender to beat. There was no helping the New Milford defense at that point, not in a footrace with a track and field star.
With help from N'Dabian, Bunnell ran and ran some more against the Green Wave. Really, they did whatever they wanted.
The Bulldogs made it look easy, using a 34-point first half to roll past New Milford 41-3 on Friday.
"We have a few players — Tyreek (Smith), Christ, Eli (Alexandre) — when they get the ball, no matter where we are in the field, it's a possible touchdown," Bunnell coach Sean Mignone said. "It could be a kickoff return, it could be an inside handoff, it could be a screen pass. They have the speed where they can go the distance on any play."
New Milford (0-3) found that out the hard way. Five different Bulldogs scored touchdowns in the first half, starting with Smith. The junior's 5-yard scamper into the end zone on his team's first possession was just the beginning of a long, frustrating night for the Green Wave.
N'Dabian, who ran the 4×100 meter relay at the New Balance Outdoor Nationals in June, showcased his electrifying speed on Bunnell's next possession. He sprinted down the sidelines 76 yards untouched for a quick 13-0 lead.
Bunnell RB Tyreek Smith feeling good about his team's 3-0 start #cthsfb pic.twitter.com/pGBunSYTGN

— Doug Bonjour (@DougBonjour) September 22, 2018
The Green Wave had no answer for Bunnell's torrid start. They fell behind 22-0 after the first quarter, and headed into halftime down 34-0 following a 3-yard touchdown run by Anthony Trovarelli.
"It's hard. It's hard to come back from that," Green Wave coach Chuck Lynch said.
Unfortunately for the Green Wave, things didn't improve to start the second half. They only got worse. Smith returned the third-quarter kickoff 85 yards for a touchdown, his second of the night.
"Once we get a good start, we've just got to keep going and keep pushing," Smith said. "We have to do the same thing over and over."
For the Bulldogs, the dominant performance was a continuation of the first two weeks of 2018. Despite losing a bulk of talent from last year's co-South-West Conference championship team due to graduation and transfers, they find themselves at 3-0. Their closest victory to this point was a 34-0 rout of Notre Dame-Fairfield.
"I feel like we've gotten better each game. I still don't feel like we're where we need to be," Mignone said. "There's a lot of stuff both offensively, defensively and special teams we can improve on. … The last three years at Bunnell, no one really gives us a chance in the beginning of the year and then we have to go out there and we have to prove what we have."
Conversely, New Milford has continued to struggle regardless of who's coaching. Lynch, now in his second stint with the program, has seen his team score only nine points over its first three games.
"We saw marked improvement between weeks one and two," Lynch said. "I feel like maybe we didn't see the same jump from two to three. We've got to re-assess and re-evaluate."
New Milford's lone points came on a 31-yard field goal by Andrew Santos late in the third quarter.
Sean Mignone on Bunnell's unbeaten start #cthsfb pic.twitter.com/KLFboT9x2E

— Doug Bonjour (@DougBonjour) September 22, 2018
PLAYER OF THE GAME
Tyreek Smith, Bunnell, RB: Smith jump-started his big night with a 5-yard touchdown run on his team's first possession. He also returned a kickoff 85 yards for a score.
QUOTABLE
"(New Milford) played hard. They did their thing. But they just really couldn't match up with our athletes in the backfield and the outside." — Bunnell coach Sean Mignone
WHAT'S NEXT?
Bunnell will look to build on its unbeaten start when it visits New Fairfield next Friday. That same night, New Milford will host Joel Barlow. Both games are scheduled to kick off at 7 p.m.
BUNNELL 41, NEW MILFORD 3
BUNNELL 22 12 7 0 — 41
NEW MILFORD 0 0 3 0 — 3
B — Tyreek Smith 5 run (Kick failed)
B — Christ N'Dabian 76 run (Jovan Eggleston run)
B — Eggleston 3 run (Smith run)
B — Eli Alexandre 43 pass Brian Carrafiello (Run failed)
B — Anthony Trovarelli 3 run (Run failed)
B — Smith 85 kick return (Dominic Girardi kick)
NM — Andrew Santos 31 field goal
Records: Bunnell 3-0; New Milford 0-3